Featured
A Xoogler May Question the Google about Responsible and Ethical Smart Software
Write a research paper. Get colleagues to provide input. Well, ask colleagues do that work and what do you get. How about "Looks good." Or "Add more zing to that chart." Or "I'm snowed under so it will be a while but I will review it…" Then the paper wends its way to publication and a senior manager type reads the paper on a flight from one whiz kid town to another whiz kid town and says, "This is bad. Really bad because the paper points out that we fiddle with the outputs. And what we set up is biased to generate the most money possible from clueless humans under our span of control." Finally, the paper is blocked from publication and the offending PhD is fired or sent signals that your future lies elsewhere.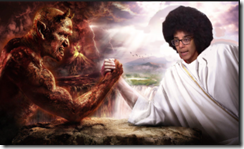 Will this be a classic arm wrestling match? The winner may control quite a bit of conceptual territory along with knobs and dials to shape information.
Could this happen? Oh, yeah.
"Ex Googler Timnit Gebru Starts Her Own AI Research Center" documents the next step, which may mean that some wizards undergarments will be sprayed with eau de poison oak for months, maybe years. Here's one of the statements from the Wired article:
"Instead of fighting from the inside, I want to show a model for an independent institution with a different set of incentive structures," says Gebru, who is founder and executive director of Distributed Artificial Intelligence Research (DAIR). The first part of the name is a reference to her aim to be more inclusive than most AI labs—which skew white, Western, and male—and to recruit people from parts of the world rarely represented in the tech industry. Gebru was ejected from Google after clashing with bosses over a research paper urging caution with new text-processing technology enthusiastically adopted by Google and other tech companies.
The main idea, which Wired and Dr. Gebru delicately sidestep, is that there are allegations of an artificial intelligence or machine learning cabal drifting around some conference hall chatter. On one side is the push for what I call the SAIL approach. The example I use to illustrate how this cost effective, speedy, and clever short cut approach works is illustrated in some of the work of Dr. Christopher Ré, the captain of the objective craft SAIL. Oh, is the acronym unfamiliar to you? SAIL is short version of Stanford Artificial Intelligence Laboratory. SAIL fits on the Snorkel content diving gear I think.
On the other side of the ocean, are Dr. Timnit Gebru's fellow travelers. The difference is that Dr. Gebru believes that smart software should not reflect the wit, wisdom, biases, and general bro-ness of the high school science club culture. This culture, in my opinion, has contributed to the fraying of the social fabric in the US, caused harm, and erodes behaviors that are supposed to be subordinated to "just what people do to make a social system function smoothly."
Does the Wired write up identify the alleged cabal? Nope.
Does the write up explain that the Ré / Snorkel methods sacrifice some precision in the rush to generate good enough outputs? (Good enough can be framed in terms of ad revenue, reduced costs, and faster time to market testing in my opinion.) Nope.
Does Dr. Gebru explain how insidious the short cut training of models is and how it will create systems which actively harm those outside the 60 percent threshold of certain statistical yardsticks? Heck, no.
Hopefully some bright researchers will explain what's happening with a "deep dive"? Oh, right, Deep Dive is the name of a content access company which uses Dr. Ré's methods. Ho, ho, ho. You didn't know?
Beyond Search believes that Dr. Gebru has important contributions to make to applied smart software. Just hurry up already.
Stephen E Arnold, December 2, 2021
Latest News
Google Innovates Again: Quick or Is That Semi-KWIC?
Innovation at the Googleplex never stops. Never. I read the online story "Google Updates Search Result Snippets for Queries with Quotes." The write up reports... Read more »
Microsoft Teams: The Disconnect between Users and Features
I have mentioned that "free" Microsoft Teams does not work on my Mac Mini which I use for Facetime, Zoom, and WebEx meetings. The Massachusetts Attorney General... Read more »
Smart Software Can Output Like a Real Humanoid Philosopher. Mere Humanoids Are Fooled.
I cannot resist commenting on "In Experiment, AI Successfully Impersonates Famous Philosopher." For a year or two I studied phenomenological existentialism at... Read more »
Will Vintage Gameshows Slow Down TikTok?
Somehow we are not surprised. Axios reports, "News Engagement Plummets as Americans Tune Out." Reporters Neal Rothschild and Sara Fischer assembled data... Read more »
Salesforce, Alibaba, and China: Is an Enterprise Superapp the Goal?
I read an announcement about a tie up among Salesforce, Alibaba, and whoever is over-seeing the high profile online outfit. "Salesforce Shutters Hong Kong Office,... Read more »
Forget Fragile: The Future of Tech Means Failure … Maple Leaf Own Goal
Canada presages the future. Syrup, uranium mines, tar sands, and Rogers — The backbone of Canada. Maybe I should not include Rogers in the list after reading... Read more »
FinFisher Videos: How Long Will These Be Available via YouTube?
If you are interested in intelware and similar specialized software, you may find the sequence of videos  available at this link interesting. The videos are a decade... Read more »
Surprise! Undisclosed Sponsorships Abound on TikTok
Would you consider this weaponized information or just Madison Avenue in the digital era? Vox reveals, "TikTok Is Full of Shady Secret Advertisements."... Read more »
Big Tech: Is Big Change Next to Impossible?
I read "The Disproportionate Influence of Early Tech Decisions." The article adds some specificity to the notions of technical debt and why the Roman empire... Read more »
Closing the COPPA Loophole
We need updated legislation to protect children from their own phones and tablets, according to the Washington Post, because "Your Kids' Apps Are Spying... Read more »