Teslas are popular and expensive cars. Tesla owners love their cars with the same fervor as Prius owners, except with a more elitist attitude. Fears of Elon Musk acting as Big Brother have been placated, but Electrek shares how that subject comes into question again in: "Tesla Will Make Sure You Are A Good Driver Before Giving You Access To Fill Self-Driving Beta."
Musk said that his company will use telemetry data to guarantee its customers are "good" drivers before giving them access to the cars' self-driving option. That is a problematic approach, because Tesla owners already paid for the software. In September, Tesla released an update to its Full Self-Driving Beta v10 software. The software realizes the dream of cars self-driving, however, drivers are still required to pay attention at all times and keep their hands on the steering wheel.
Teslas still have bugs with its self-driving feature, but Musk promises the upgrade is "mind-blowing." But Musk only wants "good" drivers with a high safety record to use the beta. Since Teslas are linked to a "hive mind," Musk has access to their driving data. The "good" driving requirement is a way for Musk to prevent accidents and deaths, but it begs the question if it is legal.
Insurance companies already monitor their customers with safe driving applications to receive discounts. Law enforcement also install breathalyzers in cars to prevent drunk driving. Limiting the self-driving beta is in the same vein, but the pros and cons must be investigated.
It also brings Musk's intentions into question. Will he take responsibility if a Tesla terminates an annoying humanoid?
Whitney Grace, October 21, 2021
I read "Slowed Canonical Progress in Large Fields of Science." My take on the write up is different from what the authors intended. The notion of "science" I bring ignores physics, medicine, mathematics, and computational chemistry.
The write up is about marketing, good old-fashioned salesmanship. Don't take my comment as that of a person annoyed at academics or big thinkers. I believe that the authors have articulated an important idea. I simply view their insight as an example of a a particular manifestation of generating buzz, closing a deal, making a sale, or believing the assertions so common in advertising.
The write up states:
Rather than causing faster turnover of field paradigms, a deluge of new publications entrenches top-cited papers, precluding new work from rising into the most-cited, commonly known canon of the field.
Isn't this "more is better" similar to generating clicks to a Web page — whether the content of the Web page is germane to a topic or not? I do.
I call this the SEO-ization of knowledge. Dr. Gene Garfield, the father of citation analysis, did not anticipate search engine optimization becoming the objective of his approach to determining importance in a scientific field.
The write up makes clear that:
As fields get larger, the most-cited papers become durably dominant, entrenched atop the citation distribution. New papers, in contrast, suffer diminished probability of ever becoming very highly cited and cannot gradually accumulate attention over time. Published papers tend to develop existing ideas more than disrupt them, and rarely launch disruptive new streams of research.
The effect of this "entrenchment" is little more than finding a way to get attention in a setting which resists change.
I think that the data presented in the paper provide an insight useful to understanding the vapidity of so-called corporate white papers to the interesting expressions of business ideas on LinkedIn and much more.
Advertising and search engine optimization are the defining characteristics of the last 10 years. The fact that it permeates scientific and technical work is evidence that intellectual endeavors are little more than key word stuffing.
Who "regulates" the behavior? A government agency? The reviewers of a technical paper? The publishers of journals dependent on commercial enterprises for survival? The young researcher who follows the well-worn path?
Search engine optimization-type thinking has been absorbed into the intellectual foundations of scientific and technical disciplines.
Now it's marketing which is much easier than innovating and discovering. Even Google advertises in the Wall Street Journal. Google!
Stephen E Arnold, October 11, 2021
Years ago my team took a look at a search system called EasyAsk (originally Linguistic Technology Corporation and eventually as a unit of Progress Software and then a stand alone company headed by Craig Bassin, founder of B2Systems.
Yes, EasyAsk is licensing a range of software, but the company seems to lead with search for eCommerce.
What's interesting is that the firm used what I called "payoff marketing." The idea is that use of a particular search-and-retrieval system with appropriate technical enhancements can deliver a big financial return.
Here's a snip from the EasyAsk Web site. Note the tagline: "Cognitive eCommerce."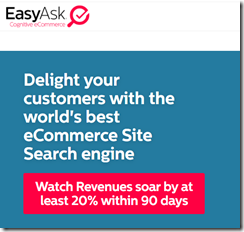 The "payoff" angle is evident in "Watch revenues soar by at least 20% within 90 days."
In some sales presentations from other vendors I have heard words that suggest increased return on investment, reduced cost of search, and increased sales. Not too many vendors have gone out on a limb at put a number in the customer's mind.
However, Yext has taken a page from the EasyAsk marketing playbook. I read "People's United Bank Sees 15x Annualized ROI from Site Search Integration between Yext, Virtusa, and Adobe." Wouldn't the word "among" be more accurate? Oh, well.
Here's the snippet I circled:
The launch of Yext Answers assisted in about a 50% and as much as 70% reduction in unnecessary support call volume in the months following its launch compared to the months before. By integrating locations into the Yext search experience with Adobe AEM, People's United saw an estimated 15x annualized return on investment (ROI) on the platform — a number that rose to 35x annualized ROI when including locations, FAQs, and products.
I think this is another example of payoff marketing.
I find the angle an interesting one. Search-and-retrieval systems have been seeking a model for sustainable revenue for more than 40 years. Subscriptions, license fees, and engineering support have worked. The winning method is to charge people to appear in search results and sell advertising.
What happens if the search system does not deliver a "15x annualized return"? My hunch is that companies confident enough to provide a numeric peg for search technology have the hard data to shoot down doubters.
Stephen E Arnold, October 8, 2021
We cannot decide whether this news represents a PR move or simply three red herrings. Reuters declares, "Money, Mimicry and Mind Control: Big Tech Slams Ethics Brakes on AI." The article gives examples of Google, Microsoft, and IBM hitting pause on certain AI projects over ethical concerns. Reporters Paresh Dave and Jeffrey Dastin write:
"In September last year, Google's (GOOGL.O) cloud unit looked into using artificial intelligence to help a financial firm decide whom to lend money to. It turned down the client's idea after weeks of internal discussions, deeming the project too ethically dicey because the AI technology could perpetuate biases like those around race and gender. Since early last year, Google has also blocked new AI features analyzing emotions, fearing cultural insensitivity, while Microsoft (MSFT.O) restricted software mimicking voices and IBM (IBM.N) rejected a client request for an advanced facial-recognition system. All these technologies were curbed by panels of executives or other leaders, according to interviews with AI ethics chiefs at the three U.S. technology giants."
See the write-up for more details on each of these projects and the concerns around how they might be biased or misused. These suspensions sound very responsible of the companies, but they may be more strategic than conscientious. Is big tech really ready to put integrity over profits? Some legislators believe regulations are the only way to ensure ethical AI. The article tells us:
"The EU's Artificial Intelligence Act, on track to be passed next year, would bar real-time face recognition in public spaces and require tech companies to vet high-risk applications, such as those used in hiring, credit scoring and law enforcement. read more U.S. Congressman Bill Foster, who has held hearings on how algorithms carry forward discrimination in financial services and housing, said new laws to govern AI would ensure an even field for vendors."
Perhaps, though lawmakers in general are famously far from tech-savvy. Will they find advisors to help them craft truly helpful legislation, or will the industry dupe them into being its pawns? Perhaps Watson could tell us.
Cynthia Murrell, October 4, 2021
"What the Wall Street Journal Got Wrong" is interesting, and you may want to read it. My synopsis is: "We're doing good."
I noted this passage from the firm's top PR dog:
Facebook understands the significant responsibility that comes with operating a global platform. We take it seriously, and we don't shy away from scrutiny and criticism. But we fundamentally reject this mischaracterization of our work and impugning of the company's motives.
I like this statement. It's bold. It ignores the criticism. It sidesteps tricky issues like human trafficking. Very nice.
What makes me happy is the commitment to excellence. I do wonder where the Zuck is in this brutal rejoinder to leaked company info. Is he "leaning in"? Is his leaning out? Practicing a dose doe?
Stephen E Arnold, September 20, 2021
I read an article with a thought provoking message. The write up is "Changing Customer Behavior in the Next New Normal." How do these changes come about? The article is about insurance, which has seemed like a Ponzi pie dolloped with weird assurances when disaster strikes. And when disaster strikes where are the insurance companies? Some work like beavers to avoid fulfilling their end of the financial deal policy holders thought was a sure thing. House burn up in California? Ida nuke your trailer? Yeah, happy customers.
But what's interesting about the write up is that it advocates manipulation, nudges, and weaponized digital experiences to get people to buy insurance. I learned:
The experience of living through the pandemic has changed the way people live and behave. Changes which offered positive experiences will last longer, especially the ones driven by well-being, convenience, and simplicity. Thereby, digital adoption, value-based personalized purchasing, and increased health awareness will be the customer behaviors that will shape the next new normal. This will be a game-changer for the life insurance industry and provide an opportunity for the industry to think beyond the usual, innovate, and offer granular, value-based and integrated products to meet customer needs. The focus will be on insurance offerings, which will combine risk transfer with proactive and value-added services and emerge as a differentiator.
Not even the murky writing of insurance professionals can completely hide the message. Manipulation is the digital future. If people selling death insurance have figured it out, other business sectors will as well.
The future will be full of directed experiences.
That's super.
Stephen E Arnold, September 17, 2021
Enterprise search firm Yext is launching new features and a revamped algorithm, poetically named "Phoenix." We learn about the updates from the press release, "New Yext Features and Algorithm Update Bring AI Search Optimizations to Businesses" at PR Newswire. We learn:
"In addition to features powered by Phoenix like dynamic reranking, the release introduces revamped test search and experience training, as well as a reimagining of Yext's data connector and app frameworks — all to equip businesses with modern and powerful search solutions."
The dynamic reranking feature sounds promising. Phoenix analyzes user behavior to push the most relevant results to the top. We are given an example:
"If customers consistently click on a blog post when searching for vaccine information on a healthcare organization's website, dynamic reranking will push that content to the top of the search results page so it appears first any time someone searches about vaccines. The Phoenix update also introduces more relevant results for queries about locations that are 'open now' and rich text fields, like lists, in featured snippets."
Another feature is the ability to build Yext platform configurations and package them into installable apps. The update also makes it easy to test search experiences from the customer's point of view. But Yext may promise a bit much with its updates to data connectors:
"With the new update to Yext's data connectors framework, businesses can use a low-code 'extract, transform, load' (ETL) tool that extracts all of their data and transforms it into the same format for easy integration into their knowledge graph (a unique brain-like database of facts)."
We do not want to be critical, but we are skeptical when a vendor of search and retrieval uses the word "all." Certain types of data are notoriously difficult to access, like chemical structures, audio, video, images, and product-management quality assurance data, to name a few. Retrieving "all" data is unlikely at prices most organizations can afford. Still, it does sound like Phoenix is a step forward from the company that promises "Search made for today. Not 1999." Today's "search" dates back a half century, but who is interested in history?
Cynthia Murrell, September 15, 2021
Mainframes are robust, powerful, and cost-effective computing tools, but they still have their doubters. Planet Mainframe explores why mainframes are the best option with statistical data to verify their claim: "The IBM Mainframe: The Most Powerful And Cost-Effective Computing Platform For Business."
It is true that Microsoft, Google, and Amazon do not use mainframes, instead they use commodity servers. Hardware is cheaper on commodity servers, but maintenance, software, and operational costs are cheaper in the long run on mainframes. IT expenses are an increasing part of ongoing business costs. Different industries have different operating costs and technology needs, but mainframes still prove to be the cheaper option.
Mainframes also offer a competitive advantage:
"Any large company interested in maximizing computing power AND controlling cost will clearly enjoy a competitive advantage over a similar company that just seeks to avoid mainframe technology in favor of server farms. This advantage translates directly to the bottom line, shareholders and investors. And for a company considering a mainframe migration project as a means for cutting costs, this information could be seen as "found money.""
Anyone who claims that a mainframe is not the superior system is simply ignorant or biased towards commodity servers. Organizations that could benefit from a mainframe system are not upgrading, because they are told it is not cost-effective and it is easier to continue using their older systems.
So Amazon, Google, and Microsoft have not upgraded to a mainframe system, because they do have the money, because they do not want to take the time to change. The "logical" approach is too much trouble.
Wow, I want a mainframe in my home office which is a small closet.
Whitney Grace, September 15, 2021
I read "The Irony of Facebook's VR Collaboration Debacle" authored by a wizard whom I associate with IBM. I am not sure why the author's observations trigger images of Big Blue, mainframes, and blazing history of Watson.
The angle in this essay is:
Collaboration is a social process where people get together to collectively solve problems. But Facebook sucks at social. A more accurate descriptor is that Facebook is a gossip platform at scale, which has done considerable harm to several countries and put them at considerable existential risk.
Yikes. "Sucks." "Gossip platform." And "harm to several countries."
The write up zips into Zoom-land which Facebook allegedly wants to reimagine as a virtual reality metaverse.
Where is the analysis of "Facebook sucks" heading? Here's a clue:
Facebook's Horizon Workrooms is not collaboration. Microsoft Teams would be a better solution for information sharing because you'd see Zuckerberg, not an avatar that looks nothing like him.
I think I have it. The write up is a rah-rah for Teams. I was hoping that the conclusion would point to IBM video services.
Nope, it's Microsoft a company I presume which does not suck, is not a gossip platform, and has not done harm to several countries?
Stephen E Arnold, September 7, 2021
I read "Intel Unveils Details of 100B-Transistor AI Chip and Alder Lake Hybrid Processor." Interesting. The write up explains a chip with 100 billion transistors. Like IBM's latest, the chip will include artificial intelligence. Like Lego blocks, "plates" can be snapped together.
Here's the passage in "Alder Lake Extravaganza: Intel Unloads Details on its Next-Gen CPU" I found somewhat sobering
After six years stuck on 14nm, Intel needs to demonstrate that it can recapture process and performance leadership.
Who will fab these chips? Intel's planned facilities in water-starved Arizona. TSMC? Existing facilities owned by Intel? An acquisition's facilities?
When will these chips become available? After Horse chip leaves the stable?
Stephen E Arnold, August 30, 2021