Facebook is currently under scrutiny unlike any it has seen since the 2018 Cambridge Analytica scandal. Ironically, much of the criticism cites research produced by the company itself. The Verge discusses "Why These Facebook Research Scandals Are Different." Reporter Casey Newton tells us about a series of stories about Facebook published by The Wall Street Journal collectively known as The Facebook Files. We learn:
"The stories detail an opaque, separate system of government for elite users known as XCheck; provide evidence that Instagram can be harmful to a significant percentage of teenage girls; and reveal that entire political parties have changed their policies in response to changes in the News Feed algorithm. The stories also uncovered massive inequality in how Facebook moderates content in foreign countries compared to the investment it has made in the United States. The stories have galvanized public attention, and members of Congress have announced a probe. And scrutiny is growing as reporters at other outlets contribute material of their own. For instance: MIT Technology Review found that despite Facebook's significant investment in security, by October 2019, Eastern European troll farms reached 140 million people a month with propaganda — and 75 percent of those users saw it not because they followed a page but because Facebook's recommendation engine served it to them. ProPublica investigated Facebook Marketplace and found thousands of fake accounts participating in a wide variety of scams. The New York Times revealed that Facebook has sought to improve its reputation in part by pumping pro-Facebook stories into the News Feed, an effort known as 'Project Amplify.'"
Yes, Facebook is doing everything it can to convince people it is a force for good despite the negative press. This includes implementing "Project Amplify" on its own platform to persuade users its reputation is actually good, despite what they may have heard elsewhere. Pay no attention to the man behind the curtain. We learn the company may also stop producing in-house research that reveals its own harmful nature. Not surprising, though Newton argues Facebook should do more research, not less—transparency would help build trust, he says. Somehow we doubt the company will take that advice.
A legacy of the Cambridge Analytica affair is the concept that social media algorithms, perhaps Facebook's especially, is reshaping society. And not in a good way. We are still unclear how and to what extent each social media company works to curtail false and harmful content. Is Facebook finally facing a reckoning, and will it eventually extend to social media in general? See the article for more discussion.
Cynthia Murrell October 19, 2021
A leitmotif, if I remember the required music appreciation course in 1962 is a melodic figure that accompanies a person, a situation, or a character like Brünnhilde from a special someone's favorite composer.
My question this morning on October 18, 2021, is:
"Is there a leitmotif associated with some of the Big Tech "we are not monopolies" outfits?"
You can decide from these three examples or what Stephen Toulmin called "data." I will provide my own "warrant", but that's what the Toulmin's model says to do.
Here we go. Data:
The Wall Street Journal asserts that William "Bill" Gates learned from some Softie colleagues suggested Mr. Gates alter his email behavior to a female employee. Correctly or incorrectly, Mr. Gates has been associated with everyone's favorite academic donor, Jeffrey Epstein, according to the mostly-accurate New York Times.
Facebook does not agree with a Wall Street Journal report that the company is not doing a Class A job fighting hate speech. See "Facebook Disputes Report That Its AI Can't Detect Hate Speech or Violence Consistently."
The trusty Thomson Reuters reports that "Amazon May Have Lied to Congress, Five US Lawmakers Say." The operative word is lied; that is, not tell the "truth", which is, of course, like "is" a word with fluid connotations.
Now the warrant:
With each of the Big Tech "we're not monopolies" a high-profile individual defends a company's action or protests that "reality" is different from the shaped information about the individual or the company.
Let's concede that these are generally negative "data." What's interesting is that generally negative and the individuals and their associated organizations are allegedly behaving in a way that troubles some people.
That's enough Stephen Toulmin for today. Back to Wagner.
Leitmotifs allowed that special someone's favorite composer to create musical symbols. In that eminently terse and listenable Der Ring des Nibelungen, Wagner delivers dozens of distinct leitmotiv. These are possible used to represent many things.
In our modern Big Tech settings, perhaps the leitmotif is the fruits of no consequences, fancy dancing, and psychobabble.
Warrant? What does that mean? I think it means one thing to Stephen Toulmin and another thing to Stephen E Arnold.
Stephen E Arnold, October 18, 2021
Slap shot! Upper left corner of the net. The goalie did not react.
That's how I interpreted "New 'Stop Facebook' Campaign Demands Ban on Data Harvesting and Corporate Surveillance."
The write up explains:
A new campaign is calling for federal action to "shut down Facebook's surveillance machine" including passing legislation to ensure strong data privacy protections.
The write up continues:
The campaign argues that the fuel driving Facebook's business model is the trove of user data the company amasses to power algorithms that generate ad revenue and corporate profits.
I am not sure if regulation can do the trick. There's lobbying, funding, and speaking engagements in play. Plus a job for a loser middle child can be an inducement for some politicians to adopt interesting postures. At least, the kid is not in the basement playing video games and watching Twitch Pools' content.
Worth watching, of course. Will the campaign work? I am on the fence.
Stephen E Arnold, October 18, 2021
Facebook is working to make one of its properties more profitable. The Next Web reports, "WhatsApp Reinvents the 'Yellow Pages' and Proves there Are No New Ideas." The company will test out a new business directory feature in San Paulo, Brazil, where local users will be able to search for "businesses nearby" through the app. Writer Ivan Mehta reports:
"For years, Facebook and Instagram have been trying to connect you to businesses and make your shop through their platforms. While the WhatsApp Business app has been around, you couldn't really search for businesses using the app, unless you've interacted with them previously. WhatsApp already offers payment services in Brazil. So it makes sense for it to provide discovery services for local businesses, so you can shop for goods in person, and pay through the platform. The chat app doesn't have any ads, unlike Facebook and Instagram, so business interactions and transactions are one of the biggest ways for Facebook to earn some moolah out of it. In June, the company integrated its Shops feature in WhatsApp. So, we can expect more business-facing features in near future."
India and Indonesia are likely next on the list for the project, according to Facebook's Matt Idema. We are assured the company will track neither users' locations nor the businesses they search for. Have we heard similar promises before?
Cynthia Murrell, October 14, 2021
Finally, after 17 years a dim light flickers on. Vox Recode reports, "It's Getting Harder for People to Believe that Facebook Is a Net Good for Society." Though experts have been sounding the alarm for years, Facebook has insisted its ability to bring folks together far outweighs any damage perpetuated by its platforms. Now, though, more people are challenging that defense. Writer Shirin Ghaffary tells us:
"A new series of reports from the Wall Street Journal, "The Facebook Files," provides damning evidence that Facebook has studied and long known that its products cause measurable, real-world harm — including on teenagers' mental health — and then stifled that research while denying and downplaying that harm to the public. The revelations, which only strengthen the case that a growing chorus of lawmakers and regulators have been making for breaking up Facebook or otherwise severely limiting its power as a social media giant, could represent a turning point for the company. Already, the Journal's reporting has prompted consequences for Facebook: A bipartisan Senate committee is investigating [Facebook-owned] Instagram's impact on teenagers, and a group of legislators led by Sen. Ed Markey (D-MA) is calling for Facebook to halt all development of its Instagram for Kids product for children under 13, which BuzzFeed News first revealed the company was developing in March."
Ghaffary reminds us the wheels of government turn slowly and, often, to little effect. The investigations are in early stages and may not lead to any real changes or meaningful consequences. At least some politicians are more willing to question Facebook about the harm it causes, as some did at recent Congressional hearings. Unfortunately, Facebook is inclined to withhold damaging information even at the request of elected officials. We learn:
"When Rep. Rodgers and other Republicans followed up with Facebook and asked about the company's internal research on the effects of its products on mental health, the company did not share the Instagram research results, according to Bloomberg, nor did it share them with Sen. Ed Markey when his office also asked Facebook to provide any internal research on the matter in April, according to letters provided by Markey's office to Recode."
But wait, there's more. The Journal's reporting also reveals the company's VIP program, through which certain celebrities and politicians can break its rules (such as they are). It also shows that, in 2018, Facebook modified its algorithm to encourage the sharing of angrier content. Anything to generate traffic and revenues, whatever the consequences, it seems.
Cynthia Murrell, October 14, 2021
What's Facebook thinking about its data future?
A partial answer may be that the company is doing some contingency planning. When regulators figure out how to trim Facebook's data hoovering, the company may have less primary data to mine, refine, and leverage.
The solution?
Synthetic data. The jargon means annotated data that computer simulations output. Run the model. Fiddle with the thresholds. Get good enough data.
How does one get a signal about Facebook's interest in synthetic data?
Facebook, according to Venture Beat, the responsible social media company acquired AI.Reverie.
Was this a straight forward deal? Sure, just via a Facebook entity called Dolores Acquisition Sub, Inc. If this sounds familiar, the social media leader may have taken its name from a motion picture called "Westworld."
The write up states:
AI.Reverie — which competed with startups like Tonic, Delphix, Mostly AI, Hazy, Gretel.ai, and Cvedia, among others — has a long history of military and defense contracts. In 2019, the company announced a strategic alliance with Booz Allen Hamilton with the introduction of Modzy at Nvidia's GTC DC conference. Through Modzy — a platform for managing and deploying AI models — AI.Reverie launched a weapons detection model that ostensibly could spot ammunition, explosives, artillery, firearms, missiles, and blades from "multiple perspectives."
Booz, Allen may be kicking its weaker partners. Perhaps the wizards at the consulting firm should have purchased AI.Reverie. But Facebook aced out the century old other people's business outfit. (Note: I used to labor in the BAH vineyards, and I feel sorry for the individuals who were not enthusiastic about acquiring AI.Reverie. Where did that bonus go?)
Several observations are warranted:
Synthetic data is the ideal dating partner for Snorkel-type machine learning systems
Some researchers believe that real data is better than synthetic data, but that is a fight like spats between those who love Windows and those who love Mac OSX
The uptake of "good" enough data for smart statistical systems which aim for 60 percent or better "accuracy" appears to be a mini trend.
Worth watching?
Stephen E Arnold, October 13, 2021
Remember Cambridge Analytica? I think that some in the UK do. There's been some suspicion that the Brexit thing may have been shaded by some Cambridge Analytica magic, and that may ignite the modern equivalent of the Protestant-Catholic excitement of the 16th century. Not religion this time. Social media, Facebook style.
The increasingly commercial BBC or Beeb published "Facebook Whistleblower to Appear before UK Parliament." The write up states:
Frances Haugen, the Facebook whistleblower who accuses the technology giant of putting profit ahead of safety, will give evidence to the UK Parliament later this month. Ms Haugen will appear before the Online Safety Bill committee on 25 October. It is examining a law to impose obligations on social-media companies to protect users, especially children.
Kids are a big deal, but I think the Brexit thing will makes some snorting sounds as well.
The write up states:
Damian Collins, who chairs the committee reviewing the draft legislation, said Ms Haugen's information to date had "strengthened the case for an independent regulator with the power to audit and inspect the big tech companies".
Will Facebook's PR ace get a chance to explain Facebook? What about the Zuck?
Interesting because Ms. Haugen may be asked to do some sharing with EU regulators and the concerned officials in Australia, Canada, and New Zealand too.
Stephen E Arnold, October 13, 2021
The unthinkable happened on October 4, 2021, when Facebook went offline. Despite all the bad press Facebook has recently gotten, the social media network remains an important communication and business tool. The Facebook Engineering blog explains what happened with the shutdown in the post: "More Details About The October 4 Outage." The outage happened with the system that manages Facebook's global backbone network capacity.
The backbone connects all of Facebook's data centers through thousands of miles of fiber optic cable. The post runs down how the backbone essentially works:
"When you open one of our apps and load up your feed or messages, the app's request for data travels from your device to the nearest facility, which then communicates directly over our backbone network to a larger data center. That's where the information needed by your app gets retrieved and processed, and sent back over the network to your phone.
The data traffic between all these computing facilities is managed by routers, which figure out where to send all the incoming and outgoing data. And in the extensive day-to-day work of maintaining this infrastructure, our engineers often need to take part of the backbone offline for maintenance — perhaps repairing a fiber line, adding more capacity, or updating the software on the router itself."
A routine maintenance job issued a command to assess the global backbone's capacity. Unfortunately it contained a bug the audit system did not catch and it terminated connections between data centers and the Internet. A second problem made things worse. The DNS servers were unreachable yet still operational. Facebook would not connect to their data centers through the normal meals and loss of DNS connections broke internal tools used to repair problems.
Facebook engineers had to physically visit the backbone facility, which is armed with high levels of security. The facility is hard to enter and the systems are purposely designed to be difficult to modify. It took awhile, but Facebook diagnosed and resolved the problems. Baby Boomers were overjoyed to resume posting photos of their grandchildren and anti-vaxxers could read their misinformation feeds.
Perhaps this Facebook incident and the interesting Twitch data breach illustrate that big is tricky? Too big to fail become too big to keep working in a reliable way.
Whitney Grace, October 12, 2021
Time to unfollow or defriend or just erase the Zuck?
"Facebook Is Nearing a Reputational Point of No Return" illustrates the turning of the capitalistic worm. The newspaper which sure looks like a magazine to me states:
Facebook is nearing a reputational point of no return.
Then this wowza:
If rational argument alone is no longer enough to get Facebook out of its hole, the company should look hard at its public face. Mark
Zuckerberg, Facebook's all-powerful founder, made a reasoned statement after this week's wave of anger. He was ignored or ridiculed and increasingly looks like a liability.
Facebook has been chugging along since 2004. Finger pointing, legal action, and the Winkelvossing have been stirred into Cambridge Analytica, apologies, and savories like WhatsApp as a new Dark Web.
Suddenly the Zuck is a liability.
Seventeen years and counting. Insight takes time to arrive.
Stephen E Arnold, October 8, 2021
I read "Facebook's Oversight Board to Review Xcheck System Following Investigation of Internal System That Exempted Certain Users." Is this a story created for the satirical information service Onion, MAD Magazine, or the late, lamented Harvard Lampoon?
I noted this passage:
For certain elite users, Facebook's rules don't seem to apply.
I think this means that there is one set of rules for one group of users and another set of rules for another group of users. In short, the method replicates the tidy structure of a medieval hierarchy; to wit: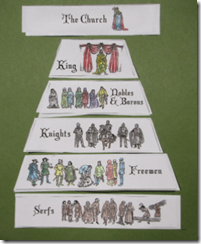 The "church" would probably represent the Zuck and fellow technical elite plus a handful of fellow travelers. The king is up for grabs now that the lean in expert has leaned out. The nobles and barons are those who get a special set of rules. The freemen can buy ads. The serfs? Well, peasants are okay for clicks but not much else.
Now the oversight board which is supposed to be overseeing will begin the overseeing process of what appears to be a discriminatory system.
Obviously the oversight board is either in the class of freemen or serfs. I wonder if this Onionesque management method is a variant of the mushroom approach; that is, keep the oversight board and users in the dark and feed them organic matter rich in indole, skatole, hydrogen sulfide, and mercaptans?
That Facebook is an Empyrean spring of excellence in ethics, management, and business processes. My hunch is that not even the outfits like the Onion can match this joke. Maybe Franz (Happy) Kafka could?
Stephen E Arnold, October 7, 2021