Years ago a colleague of mine and I spent a couple of days with Pat Gunkel. Ah, you don't know him? Depending on whom one asks, he was either an interesting person or a once-in-a-generation genius. I have in front of me a copy of "The Efflorescent World View." (Want to buy a copy handed to me by Mr. Gunkel? Just write us at benkent2020 at yahoo dot com. It's a collectible because only a few of Mr. Gunkel's books are findable in our wonderful, search-tastic online world.) The image below shows what an actual Gunkel book from his office looks like: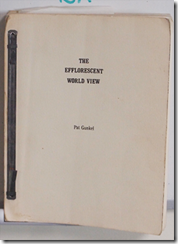 I thought about Mr. Gunkel when I read "Meta Shares Plunged 14% This Week, Falling Close to Their Pandemic Low." Mr. Gunkel's method involved creating lists. Lots of lists. I think he would have found the challenge of cataloging Mr. Zuck's impressive achievements; for example:
The reference stock plunge
Implementing an employee management technique in which employees learn that some of them should not be Zuckers
The "make friends with your neighbors in Hawaii" actions
The elimination of personal cubes and work spaces in Meta's offices
The renaming of the company to celebrate the billions invested in what eGame developers have been doing for — yeah, how long — for decades
Thinking about charging for its unpopular clone of a really popular app. (Genius with a twist of Zuck? Yes!)
But what's an "efflorescence"? Some may ask. I have a big fat book on the subject. Let me summarize: One might say a gradual flowering. Others might suggest that it represents a culmination.
My hunch is that the year 2022 marks the efflorescence of the Zuckbook, the knock off of TikTok, and the push to make WhatsApp a superapp for good and evil.
The efflorescence of Zucking. Too bad Mr. Gunkel is no longer with us to undertake this project. He was, I must say, very interesting.
Stephen E Arnold, September 19, 2022
Before college textbooks are an annoyance because they are heavy and mean homework. Once college comes around, however, they are akin to the devil. Textbook publishers can charge hundreds of dollars for a single textbook, adding more fees to already astronomical education costs. One way to save money is purchasing used or digital textbooks, but that could change Bloomberg wrote in: "Pearson Says Blockchain Could Make It Money Every Time E-Books Change Hands."
Pearson Plc. Is one of the world's largest textbook publishers and the CEO wants to use blockchain and non-fungible tokens to make a profit off the secondary and digital market. The digital tokens would allow Pearson to track ownership of a book file, then take a cut if it is sold more than once:
"'The move to digital helps diminish the secondary market, and technology like blockchain and NFTs allows us to participate in every sale of that particular item as it goes through its life,' by tracking the material's unique identifier on the ledger from "owner A to owner B to owner C,' said [Andy] Bird, a former Disney executive.'
By moving entirely to digital, Pearson would save on printing costs but would lose profits off its already sky-high books. Pearson is developing a textbook subscription service instead of individual fees for books. If the service saves students money and works similar to a digital library, then Pearson should go for it! And students, get a loan.
Whitney Grace, September 16, 2022
I read "Breaking Dow the Cost of an Oligarch's Yacht." Interesting stuff. I noted that the rule of thumb calculation for operating a super yacht was included in the write up:
Keeping a yacht in operation costs around 10 percent of its original price.
There's not much detail, but I think the 10 percent may be low, and it certainly does not include legal fees if the yacht sinks or gets caught playing footloose and fancy free with its transponder gizmo. Then the yacht has to be upgraded because trendy interiors look untrendy after a year or so in the bling world. Furthermore the 10 percent number does not include recovery in the event the yacht sinks or burns — accidentally, of course.
Now what about that trivial omission?
I noted that the cited article does not include the bound phrase "money laundering." Gee, I wonder why.
Stephen E Arnold, September 8, 2022
Though cybercrime continues to grab headlines, it seems the old-fashioned kind is still a thing. Eight months after a Canadian heist was executed, reveals Smithsonian Magazine, "Hotel Discovers Its Famous Churchill Portrait Was Swapped with a Fake." Readers may recognize the Roaring Lion as the much-reproduced photograph taken by Yousuf Karsh in 1941. The iconic image even made it onto England's five-pound note in 2016. One of Karsh's original, signed prints was proudly displayed at Ottawa's Fairmont Château Laurier until some grinch replaced it with a forgery around last year's winter holidays. It was the frame that, eventually, gave the imposter away. Reporter Ella Feldman writes:
"On the night of August 19, an employee at the hotel, the Fairmont Château Laurier, noticed that the frame containing their prized print did not match the other frames on the wall. The hotel called Jerry Fielder, director of Karsh's estate, who requested a photo of the signature. 'I've seen that signature for 43 years. So it took me just one second to know that someone had tried to copy it,' Fielder tells the Guardian's Leyland Cecco. 'It was a fake.' Hotel officials say that the photograph was stolen about eight months ago. Genevieve Dumas, the hotel's general manager, tells CTV News that based on images submitted by the public, they've narrowed down the date of the heist to somewhere between December 25, 2021 and January 6, 2022. The hotel is asking anyone who has images of the photograph taken around that time to send them in."
To put the loss in economic perspective, another signed original print of the portrait sold at auction for $62,500 in 2020. But it is about much more than money for the venerable hotel, which had close ties with Karsh. The photographer held his first exhibition there in 1936 and, in 1972, moved his photography studio to the site. Eight years later the Fairmont became home to Karsh and his wife Estrellita, who gifted the original print to the hotel after her husband's death in 2002. An investigation into the theft is under way. We hope the eight-month trail has not grown too cold.
Cynthia Murrell, September 8, 2022
It appears YouTube is eager to jump onto the podcast bandwagon. The Hustle ponders whether "YouTube = Future Podcast Champ?" Maybe, but Google will have to maintain interest; otherwise, another Google Plus type situation may emerge. Writer Juliet Bennett Rylah reports:
A new podcasts homepage is now available to US users, going live sans fanfare in late July. TechCrunch speculates YouTube is waiting for its creator event next month to make a formal announcement. But YouTube also:

Hired podcast exec Kai Chuk in 2021 Offered podcasters and networks $50k-$300k to create videos
Discussed audio ads and new analytics for audio-centric creators in a leaked document
Partnered with NPR to bring on 20+ of its most popular shows.
Why's it matter? While YouTube is often seen as a video-first platform, YouTube Music had 2B+ monthly users and 50m+ paid subs as of September 2021. Though competitors including Spotify, Apple, and Amazon have made big moves in the space, a Cumulus Media analysis found YouTube is America's most popular podcast platform, capturing 24.2% of listeners compared to Spotify's 23.8% and Apple's 16%."
Rylah, fittingly, points us to a podcast for another perspective. On an episode of Marketing Against the Grain, HubSpot's Kipp Bodnar and Kieran Flanagan assert YouTube subscribers are now the most valuable subscribers on the Internet. They also make a few predictions. For example, the pair believes YouTube's discovery platform will give its podcasters a leg up. They also suspect the site's background listening feature is about to become free for everyone, as it currently is in a Canadian pilot program. At the same time, the site may push both podcasts and the brands that support them toward a more visual format. But wouldn't that just turn them into more video content? What makes a podcast a podcast? Perhaps that is a philosophical question beyond the ken of this humble, text-based content creator.
Cynthia Murrell, September 6, 2022
There is something called a special action underway in Eastern Europe. The knock on effects are interesting. I thought about how Google will pay a fine to a country involved in a dust up, operating under sanctions, and functioning without some of the banking services available to more acceptable nation states; for example, Luxembourg, Monaco, and a number of others. This thought was sparked by the allegedly accurate information in "Russia Fines Google $358 Million for Not Removing Banned Info." The cited article states:
Due to the multiple violations of the same legal requirement, the following fine would be revenue-based, reaching as high as 10% of the firm's annual turnover. Roskomnadzor clarifies that the massive fine of $358 million was indeed calculated on the basis of the company's annual business turnover in Russia.
The write up added:
Following the Russian invasion of Ukraine and the sweeping anti-fake news laws enacted in the country, the Russian Google subsidiary, Google LLC, was forced to file for bankruptcy, claiming incapacity to continue business after a series of massive fines and, ultimately, asset confiscation.
Several questions:
What happens to the Russian YouTube content providers' money? Will Google "hold" the money and invest it? Who gets the payout?
Will Google dip into its bag of non – US currencies and pay Russia or will that create an additional legal headache and increased financial costs?
Will Sergey Brin explore a ride on a Russian rocket once the possibly-improper fine is resolved?
How many violations can Russian officials identify? What will the price tag be if future violations of Russia's laws, rules, and regulations are identified and levied?
And those lost advertising dollars? Yikes. That's not good for Alphabet Google YouTube DeepMind stakeholders? Does DeepMind have a solution? Will Russian YouTube content providers trust DeepMind's unbiased answer?
Stephen E Arnold, July 28, 2022
The numbers tossed around about the cost of a security breach are interesting. I have formed the opinion that the cost estimates are a result of what I have called spreadsheet fever. Plug in numbers, make them flow, and go, baby, go. I read "Razer Seeks $7m from Capgemini for 2020 Data Breach." The write up explains:
The Singapore-born gaming firm is seeking compensation of nearly US$7 million in damages, which also includes a US$2,000 reward to the security researcher who discovered the breach under the company's bug bounty program.
What outfit is the target of the litigation? The write up says:
In its lawsuit, Razer alleged that the security breach was the result of a misconfiguration of the "ELK Stack," caused by one of Capgemini's employees.
The ELK is not the majestic animal. The ELK in the cyber context represents open source software glued together to deliver a range of security features. The trick is the configuration. Get a setting wrong, and the ELK is less healthy than some observers suspect. An unhealthy ELK can be problematic. This is not a big dead animal in the climate changed world. This creature puts revenue and others at risk of catching a bad disease themselves; for example, standing in the unemployment line, working the phone to reclaim their identity, and apply for a job at one of the booming cyber security vendors. Well, maybe not that particular angle.
The outcome of the lawsuit may provide some more data about the cost of a cyber screw up and details about the how of the alleged misstep.
Stephen E Arnold, July 19, 2022
Short- and mid-term decisions may not be the optimal ones. Who cares about that pawn? Maybe in the end game, that pawn was on steroids. The player willing to give it up was unwilling to think about what lurks in the future.
I read "FedEx to Close Data Centers, Retire All Mainframes by 2024, Saving $400m." The main idea is that mainframes are not suited to the zippy world of today. Furthermore, programmers –despite high-tech's enthusiastic reduction in force moves – are not into the oddities of big iron. Those who do get jazzed with total-code working environments are rarer than a certain prince's attending a female 15 year-old's birthday party at the country club pool in Oxfordshire.
The write up reports:
Speaking during the FedEx investor day, FedEx CIO Rob Carter said the company is aiming for a 'zero data center, zero mainframe' environment based in the cloud, which will result in $400 million in savings annually. "We've been working across this decade to streamline and simplify our technology and systems," he said. "We've shifted to cloud…we've been eliminating monolithic applications one after the other after the other…we're moving to a zero data center, zero mainframe environment that's more flexible, secure, and cost-effective."
One way to view IBM's approach to computing in the pre-person computer days was a person in handcuffs. IBMers disagree with my view. No problem. I also see cloud computing as a variation of the IBM approach to computing: Lock in and change are business benefits. Leasing mainframes and buying services each year is the equivalent of high-tech's discovery of subscription-centric revenue models.
FedEx does not see the cloud as a variation on the mainframe strategy and its pricing structure. I thought one of the FedEx wizards was a Harvard MBA wizard.
The write up notes:
FedEx has previously said it planned to work with Intel and Switch to build Edge data centers at FedEx locations across the US. Whether this has actually been rolled out is unclear.
Trendy I suppose. I want to point out that there are some interesting comments about this alleged decision in the Y Combinator Hacker News comments. You can find these at this link.
One comment resonated with me: "Change gives the illusion of progress."
Stephen E Arnold, July xx, 2022
I read "One of the Most Prominent Crypto Hedge Funds Just Defaulted on a $670 Million Loan." I also read some of the reports about the company. You can refresh your understanding of "real" analysts at work. Try this link even though the main Three Arrows' site is throwing 404s.
I then read "10 Differences between Amateurs and Professional Analysts." (You may have spit up an email or pay to read this estimable essay about differences in data wrangling pony riders.) I considered each of the points of differentiation. Here are three, but you will have to consult the original article yourself to be further enlightened.
Handling lots of data. Yeah, let's ask Dr. Timnit Gebru about that. My experience is that those better at analytics can make those data perform like trained ponies at the Barnum & Bailey Circus.
Immunity to data science bias. Yeah, let us check out how the AI demos respond to requests for certain topics. Try Crungus on DALL-E. Working good, right?
Refusing to be a data charlatan. And Three Arrows? Just an anomaly, perhaps?
Net net: No difference unless measured in ångströms and an happy ignorance of poisoned data when sucking down alternative information. What could go wrong? Answer: Three Arrows.
Stephen E Arnold, July 5, 2022
I read "Singapore Regulator Vows to Be Unrelentingly Hard on Crypto." The approach seems to be a bit different from the control mechanisms used in the US. (You will have to pay to read the orange newspaper's story.) The write up states:
Singapore will be "brutal and unrelentingly hard" on bad behavior in the crypto industry, according to its fintech policy chief, marking a stark shift in rhetoric after years of the city-state courting the sector.
The report suggests that Singapore sees value in a central bank digital currency and a "platform" for financial activities.
From my perspective, [a] Singapore understands the potential upsides and downsides of crypto currency and wants to be a player, [b] Singapore sees a void because certain leading nation states are dithering, and [c] there's money to be made.
Money, control, and filling a void — Good reasons perhaps.
Stephen E Arnold, June xx, 2022