I read "This Chart Might Explain Why CNN Plus Shut Down Early." The chart may be semi accurate but it is like one of those weird stone knobs on Ollantaytambo's megalithic walls. The numbers are visible, but the mystery of the stone making remains.
CNN Plus was the exact opposite of the video derby — TikTok. CNN Plus paid people. TikTok allows people to monetize. CNN Plus required expensive cameras and accoutrements. TikTok requires a smartphone. CNN Plus was the equivalent of a mud flap on a 1950 Ford truck with patina (translation: rust).
What is interesting is that the real news analysis noted:
We don't know the exact logic that caused CNN to pull the plug, but seeing how CNN Plus only had 150,000 subscribers and apparently needed to burn $1 billion for a chance at that $800 million a year, it's not hard to see what was at stake. Instead, CNN got out early.
Okay, insightful. And the cited source and CNN are going to shape the future of journalism?
Stephen E Arnold, May 3, 2022
Twitter matters to a modest number of self promoters. Nah, I won't name those who are laboring away in the self branding rock climbing event. I think software posts when one of my research team cranks out a story for the Beyond Search blog. I suppose I should know, but I am not a digital rock climber.
I read "New Study: TikTok Industry Engagement Benchmarks for 2022." Since I don't know much about Twitter "twaddle," the factoid in the write up which caught my attention explores the much-desired notion of "engagement."
The TikTok outfit with some connection to China has an engagement score of six percent. I am not sure what the other 94 percent means. Maybe those folks are in non engagement mode? If the data in the write up are on the money, other big name social services are breathing the fumes from the Chinese coal burning video platform; to wit:
Facebook:  0.83 percent

Instagram:  0.13 percent

Twitter: 0.05 percent
The write up includes a nifty chart: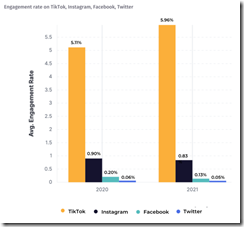 What's interesting is that an outfit which I thought was a Big Dog (YouTube) was not included.
Will the rocket guy with trendy golf carts jazz up the Tweeter's engagement score? I find it amusing that the wall climbers avoid TikTok, yet express considerable delight when Top Tweeters meet at the gym to talk about their achievements.
If the other social media companies are not delivering "engagement," will CNN Plus or whatever it was, make a comeback?
Perhaps some Chinese thinking would help? Here's an example for the Tweeters to ponder?
Navigate to "Tiktok Dominates in Tech Earnings, Digital Ad Giants Struggle to Compete." Consider this passage:
Based on Insider Intelligence's forecast, TikTok will garner 755 million monthly users globally in 2022, and its market share in social networking could top 20% this year or nearly 25% by 2024. The short-video-based platform's immense popularity is exactly the reason why it is making the competition field harder for other platforms.
Maybe the Tweeters should TikTok?Maybe traditional media companies should emulate TikTok?
Stephen E Arnold, May2, 2022
We wonder whether China will more aggressively exploit TikTok's ability to influence. The New York Post describes "How TikTok Has Become a Dangerous Breeding Ground for Mental Disorders." Apparently, tiktoks discussing mental health conditions are trending, especially among teen girls. This would be a good thing—if they were all produced by medical experts, contained good information, and offered guidance for seeking professional help when warranted. Instead influencers, many of whom are teenagers themselves, purport to help others self-diagnose their mental conditions. As one might imagine, this rarely goes well. Writer Riki Schlott tells us:
"After nearly two years of lockdowns and school closures, lonely teens are spending more time online, and many inevitably come across mental health content on TikTok. When they do, the platform's algorithm kicks in, serving suggestible young girls even more videos on the topic. While mental health awareness is surely a good thing, well-meaning influencers are inadvertently harming young, impressionable viewers, many of whom seem to be incorrectly self-diagnosing with disorders or suddenly manifesting symptoms because they are now aware of them."
The author continues, expanding her warning to include social media in general:
"Eating disorders have also been shown to spread within friend groups. As a member of Gen Z, I've watched firsthand what social media has done to a generation of young women — it even left behind self-harm scars on many of my peers' wrists. I know a terrifying number of peers who have self harmed, many of whom were habitual social media users. Rates of depression have doubled among teen girls between 2009 and 2019, and self-harm hospital admissions have soared 100 percent for girls aged 10 to 14 during the rise of social media between 2010 and 2014, the most recently available data."
Clearly a solution is needed, but Schlott knows where we cannot turn—politicians are too "clueless" to craft effective regulations and the platforms are too greedy to do anything about it. Instead it falls to parents to take responsibility for their teens' media consumption, as difficult as that may be. Citing psychology professor and author on the subject Dr. Jean Twenge, the write-up advises a few precautions. First parents must recognize that, unlike playing age-appropriate games or texting friends on their devices, social media is completely inappropriate for children, tweens, and young teens. The platforms themselves officially limit accounts to those 13 and older, but Twenge suggests holding off until a child is 16 if possible. She also proposes a household rule whereby everyone, including parents, stops using electronic devices an hour before bedtime and leaves their phones outside their bedrooms at night. Yes, parents too—after all, leading by example is often the only way to convince teens to comply.
Cynthia Murrell, April 29, 2022
TikTok, according to its champions, is in the words of Ernie (Endurance) Hemingway:
You do not understand. This is a clean and pleasant café. It is well lighted. (Quote from "A Clean, Well-Lighted Place")
No, I understand. If the information in "TikTok under US Government Investigation on Child Sexual Abuse Material" is on the money, the Department of Justice and the US Department of Homeland Security, TikTok may not be a "clean and pleasant café."
The paywalled story says that TikTok is a digital watering hole for bad actors who have an unusually keen interest in young people. The write up points out that TikTok is sort of trying to deal with its content stream. However, there is the matter of a connection with China and that country's interest in metadata. Then there is the money which just keeps flowing and growing. (Facebook and Google are now breathing TikTok's diesel exhaust. Those sleek EV-loving companies are forced to stop and recharge as the TikTok tractor trailer barrels down the information highway.
For those Sillycon Valley types who see TikTok as benign, check out some of TikTok's offers to young people. Give wlw a whirl. Oh, and the three letters work like a champ on YouTube. Alternatively ask some young people. Yeah, that's a super idea, isn't it. Now about unclean, poorly illuminated digital spaces.
Stephen E Arnold, April 15, 2022
The online news service Mashable may be in gear for April's Fool Day early. The story "YouTube Added 1,500 Free Movies, But Good Luck Finding Them" makes clear that Google YouTube search doesn't work.
The write up reports:
YouTube has also made browsing its free titles much more annoying than it needed to be. The platform won't just show you all its free titles and let you scroll through them to find your next binge watch. It certainly won't let you filter them, so you can't narrow your search to all of YouTube's free action movies, or free romantic comedies. Rather, YouTube's algorithm selects a few hundred ad-supported titles to show you in its "free to watch movies" section, hiding the rest.
The Mashable take is definitely not Googley. A new age, Silicon Valley like information service should be able to make sense of Google YouTube's brilliant approach. A casual user will have access to some, smart software selected content. The desire for a way to browse a comprehensive result set is irrelevant. The Googley person will recognize:
Paying for Google's TV service delivers a better experience. Presumably that experience includes a listing of available content. On second thought, I am kidding myself. Smart software does not understand exceptions unless the system was trained to implement fine grained user classification.
There are Google Dorks available to make quick work of narrowing Google result sets. Not familiar with Google Dorks? Well, certain individuals in Russia are and possibly a bright 12 year old near your home has this expertise.
The results you see represent "all the world's information." The fact that you have knowledge which indicates a partial result set makes one point and only one point: You take what you get.
Oh, those contractors and interns are enhancing the search experience again whilst doing no evil.
I hope this explains why Mashable does not understand the brilliant method Google uses to remain in close contact with its humanoid users.
Stephen E Arnold, April 8, 2022
Chris Westphal is the Chief Analytics Officer of DataWalk, a firm providing an investigative and analysis tool to commercial and government organizations. The 12-minute interview covers DataWalk's unique capabilities, its data and information resources, and the firm's workflow functionality. The video can be viewed on YouTube at this location.
Stephen E Arnold, March 29, 2022
TikTok has some unique characteristics. Mostly they enable lighthearted fun. Other times they can lead to the spread of dangerous falsehoods. Fast Company warns, "On Ukrainian War TikTok, Even Experts Struggle to Distinguish Truth from Hoaxes." But surely smart software can do the work, right? If only. The article cites a new report from Harvard's Shorenstein Center that details the reasons TikTok makes such a good a misinformation superspreader.
The researchers began documenting Ukraine-related TikToks the day Russia invaded (February 24) and, by March 9, clocked more than 26.8 billion views of content tagged #ukraine. That might be a good thing if all the posts could be trusted. But built-in tools encourage users to manipulate their videos, including the addition of repurposed audio. Not only that, but it is very difficult to track the original source of either video or audio and posters are practically anonymous. And though TikTok has cut off users based in Russia, pro-Russian groups from outside the country are still active on the platform. One can even find propaganda direct from the accounts of state-controlled media like RT. Reporter Mark Sullivan points out what makes this problem so dangerous:
"The reason this is all so worrisome is not that misleading TikToks often get wide exposure. But because both misinformation (in which users unwittingly publish falsehoods) and disinformation (in which operatives post falsehoods to manipulate public opinion) make it hard for the public to differentiate between true and legitimate and false and misleading narratives about an event, such as an invasion. As the weeks go by, people grow tired of trying to dismiss the lies and find the truth. Exhausted and confused, they become politically neutralized. Propagandists don't have to prove a point or win over majorities, they simply have to spread a critical mass of doubt. As the researchers put it: '[T]hese videos continue to go viral on TikTok, raking in millions of views. This results in a 'muddying of the waters,' meaning it creates a digital atmosphere in which it is difficult—even for seasoned journalists and researchers—to discern truth from rumor, parody, and fabrication.'"
The piece notes Facebook is also facing a Ukraine-related kerfuffle. It seems the Zuck thought it wise to allow users in Ukraine to post death threats against Russian soldiers. While we understand the impulse, it does not seem like a good business decision. Unsurprisingly, Russia has labeled Facebook's now-parent company Meta an "extremist organization" in response. Certainly the propagandists on TikTok and elsewhere must be enjoying that little morsel.
Cynthia Murrell, March 24, 2022
Video is expensive. Bandwidth is a killer. Even storage is a problem at scale. Then there is marketing, customer acquisition, customer retention, and paying those who deserve the big bucks. Vimeo wants to generate revenue, and it has been struggling to be upfront about its predicament: Money.
A couple of years ago, I put my DarkCyber videos on Vimeo. I was curious about the platform. I think I had a dozen or so 12 minute programs on the service. I received an email explaining that because I was a commercial customer, I had to pay a lot of money. I liked that angle crafted by 20 somethings sitting in a cramped, uncomfortable conference room figuring out who was commercial and who was not.
My criteria were:
I was retired
My videos contained zero advertising
I made the programs available to those attending my lectures at FLETC, the ISS Telestrategies' conferences, and the National Cyber Crime Conferences, among others
I don't sell anything any more.
The Vimeo automated system informed me that I had to pay up or have my videos deleted. I cancelled my account and deleted the videos. I mentally noted that Vimeo was floundering. Where is that life preserver? Ooops. Not near me.
I read "Vimeo Is Sorry, and Here's How It's Changing." The write up dances around the central problem of Vimeo: Making money. There's hand waving from Vimeo management. There's information about Vimeo's contradictory statements about "policies." There's information about exceptions for special people.
Enough. Vimeo is stuck. Vimeo's management is apparently rudderless. And most important, I find the firm's splashing around in the pool mildly amusing. Will it gulp water and drown? Will it become the new Rumble or BitChute? Will the firm's decisive management team knock YouTube for a loop.
Splish. Splash. Vimeo is taking a bath and there is no party going on.
Stephen E Arnold, March 25, 2022
I will keep this brief. Navigate to "TikTok under Investigation in US over Harms to Children." The article explains why an Instagram probe is now embracing TikTok. From my point of view, this "harm" question must be addressed. Glib statements like "Senator, I will send you a report" have allowed certain high technology firms to skate with the wind at their backs. Now the low friction surface is cracking. The "environment" of questioning is changing. Will the digital speed skaters fall into chilly water or with the help of legal eagle glide over the danger spots? Kudos to the US attorneys general who, like me, believe that more than cute comments are needed. Note: I will be speaking at the 2022 National Cyber Crime Conference. The professionals at the Massachusetts' Attorney General's office are crafting another high value program.
Stephen E Arnold, March 10, 2022
What do most people under the age of 30 want to watch? YouTube? Sure, particularly some folks in Eastern Europe for whom YouTube is a source of "real news" and tips for surviving winter in Siberia. (Tip: Go to Sochi.)
"TikTok videos Will Be Playing at Restaurants, Gyms, Airports Soon" reports:
TikTok partnered with Atmosphere to bring short-form videos to the background of your next gym session, restaurant meal, or airport visit. Startup Atmosphere streams news and entertainment to commercial locations such as restaurants, airports, hotels, doctors' waiting rooms, and other venues. That content is sourced from a host of free, ad-supported networks, including YouTube, Red Bull TV, AFV TV, World Poker Tour, The Bob Ross Channel, and, now, TikTok—making its out-of-home video service debut.
The airport venue may not be A Number One with a Bullet today, but it has promise, particularly when paired with those surveillance centric smart TVs from some folks in South Korea and elsewhere.
My thought is that the short form video looks like the future of entertainment. Instead of smash cuts, the new programs will be structured like TikTok videos. The idea will be to create an impression with the individual videos providing the shaped or weaponized content.
Dystopia? Nah, just the normal progression of information when new tools, techniques, capabilities, and methods become available. In the case of TikTok, the addition of a China-linked approach adds spice. Perhaps it is time to think in terms of managing the content streams which are set to displace what Boomers and other old timers find reliable.
That requires understanding, will, and commitment. Those are qualities on display in many seats of government, aren't they?
Stephen E Arnold, January 11, 2022