Even before AI assistance, employers were considering applicants' social media presence in the hiring process. According to Fast Company, that may be a good thing for companies and workers alike. Writer Tomas Chamorro-Premuzik describes "How Social Media Data Secretly Reveals Your Personality to Hiring Managers." The premise is that embracing the phenomenon can lead workers into more satisfying careers. We're told:
"A constant feature throughout this time has been organizations lamenting their inability to find the right talent, and, on the other side of the problem, too many talented people complaining about meaningless or uninspiring jobs. … Our notions of talent have not evolved to keep up with the times. When university credentials have become disconnected from job-relevant knowledge, hard skills quickly become outdated, and what we know is less important than what we can learn, organizations are often left looking for talent in all the wrong places. This also harms their desire to create a diverse and inclusive workforce. When your main talent currency is still the resume, and the value of a resume depends on outdated talent currencies like college qualifications or past experience, it is hard to avoid hiring the same type of people over and over again, optimizing for 'culture fit' rather than diversity. In this context, social media emerges as a promising alternative to the dominant currency for talent. Its data acts as a talent bitcoin capable of redefining human capital more inclusively and meritocratic. Our social media activity already reveals a great deal of information about our deep character traits, precisely the type of stuff employers need to know (and at times also want to know) before they decide to hire us."
Chamorro-Premuzik gives some examples to support his premise, from Facebook and Twitter to TikTok and Spotify. He admits to the ethical and legal issues here, but suggests they could be addressed with transparency and an option for applicants to opt in. We wonder, though, how optional would that really feel (or be) for most job hunters. We are reminded this use of data is happening anyway, so we might as well welcome the process and make it official. It is true that old hiring methods are woefully out of touch, but the idea that this trend is the best solution may be a stretch.
Cynthia Murrell, July 30, 2021
DarkCyber is a twice-a-month video news program about the Dark Web, lesser known Internet services, and cyber crime. You can view the program at this link or use the viewer on the Beyond Search splash page. The DarkCyber for July 13, 2021, discusses the new US GAO report on facial recognition. Plus a 2019 report, with numerous FR vendors and accuracy tests, provides data not in the 2021 report. Also, in this program are stories about: [a] what cohort (age group) is most susceptible to online scams, [b] Amazon eCommerce vulnerabilities, and [c] a report about the US Navy's autonomous mid-air refueling drone. DarkCyber is produced by Stephen E Arnold.
Kenny Toth, July 13, 2021
I spotted an interesting article called "Hong Kong to Censor Films Under National Security Law." The write up appears to make Hong Kong separate from China. That's not my understanding. Some in Hong Kong may not agree with me. British stiff upper lip, horse racing, and tea – absolutely.
The write up states:
The government said the changes that give the film censor authority to ban films perceived as promoting or glorifying acts or activities that could endanger national security take effect from Friday. The Film Censorship Authority should stay "vigilant to the portrayal, depiction or treatment of any act or activity which may amount to an offence endangering national security", the government said in a statement. "Any content of a film which is objectively and reasonably capable of being perceived as endorsing, supporting, promoting, such act or activity" will be censored, according to the guideline.
What's not clear is the scope of the law. Will frisky TikTok creators find themselves and their work reviewed? What happens if a Chinese citizen studying in the US appears in a video which the Chinese government finds a danger to national security?
Observations of course:
Prudence, the voice on my shoulder, says, "Self censor or risk some time in a state controlled factory. Better yet a few years in a re-education program." Will those Chinese students listen to my Prudence?
The context of "national security" is interesting. The law suggests that TikTok and similar creator centric video programs pose sufficient threat to move beyond routine blurring of objectionable items, restricting distribution, or levying a fine. A question arises, "What about TikTok itself?" A threat or a source of information for some governments?
Net net: Some governments emulating the Great Firewall method will observe the downstream impact of this law. If the idea seems like a good one, information control may become more popular in some circles. Jack Ma is unlikely to invest in motion picture and video productions I think.
Stephen E Arnold, June 15, 2021
DarkCyber is a video news program issued every two weeks. The June 15, 2021, show includes five stories:
Pentest tools you can download and use today for free
A free report that explains Britain's cyber weaknesses
Additional information about the E2EE revolution
Another tip for finding flexible developers and programmers who will do exactly what you want done
The FireScout, a drone with a 100 mile range and the ability to drop sonobuoys and other devices, perform surveillance, and remain aloft for up to 10 hours.
The DarkCyber video news program contains information presented in Stephen E Arnold's lectures to law enforcement and intelligence professionals. His most recent lecture was the New Dark Web. He presented his most recent research findings to a group of more than 100 cyber fraud investigators working in Connecticut for a variety of LE and related organizations. The
The June 15, 2021, DarkCyber video program is available from Mr. Arnold's blog splash page and can be viewed on YouTube. One important note: The video program does not contain advertisements or sponsored content. We know that's unusual today, but the DarkCyber team prefers to operate without an invisible hand on the controls or an invisible foot on the team's neck.
Kenny Toth, June 15, 2021
DarkCyber is a video news program about the Dark Web, cyber crime, and lesser known Internet services. This edition's story line up includes a bad actor promoting on the regular Internet, a look at Europol's business process analysis for industrialized cyber crime, a University of Washington research project for a do-it-yourself IMSI sniffer, two free reports about phishing, the go-to method for compromising users' computer security, and a look at the Gaza, a new drone designed to strike at those who would wrongfully act toward certain groups. DarkCyber is produced by Stephen E Arnold with assistance from the DarkCyber research team. The programs appear twice each month. The videos are available on YouTube. You can view the video via the player on the Beyond Search blog or at https://youtu.be/f1ym19l2Y0I. No ads, no vendor supported posts, nothing but Mr. Arnold commenting on important news stories. How is this possible? No one who thumb typers knows.
Kenny Toth, June 1, 2021
How easy will it be for frisky developers and programmers to surf on Microsoft GitHub's new video feature? My hunch is that it will be pretty easy. The news of this Amazon and YouTube type innovation appears in "Video Uploads Now Available across GitHub."
The write up states:
At GitHub, we've utilized video to more concisely detail complex workflows, show our teammates where we're blocked, and inspire our colleagues with the next big idea. Today, we're announcing that the ability to upload video is generally available for everyone across GitHub. Now you can upload .mp4 and .mov files in issues, pull requests, discussions, and more.
A number of video sites present fascinating technical information. Some of those videos include helpful pointers to even more interesting content. Here's an example of a screenshot I made from a YouTube video: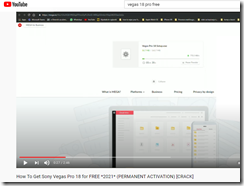 The video's title is "How to Get Sony Vegas Prog 18 for Free *2021* Permanent Activation Pack." Other services offer similar technical work flow videos.
GitHub is a go to resource for a wide range of content, including penetration testing software similar to that used by some bad actors.
But video is hot, and Microsoft is going for it.
Stephen E Arnold, May 26, 2021
I read "Twitch Launches a Dedicated Hot Tubes' Category after Advertiser Pushback." The write up states:
Twitch says its policies on what is and isn't allowed on the platform aren't changing. The company is not going to prevent people from streaming in hot tubs or swimwear. While sexually suggestive content remains banned, context-appropriate clothing — like bathing suits in a pool — is allowed. "Being found to be sexy by others is not against our rules, and Twitch will not take enforcement action against women, or anyone on our service, for their perceived attractiveness," the company wrote, in bold, in a blog post this afternoon.
The creator innovation of people in bathing attire sitting in kiddie pools is fascinating. The segregation of these creators based on advertiser feedback makes clear that Amazon's live streaming platform is moving downstream.
In our preparation for our lecture at the 2021 National Cyber Crime Conference and an upcoming talk at the Connecticut IAFCI Spotlight on Fraud event in June, we revisited the Amazon Twitch stream for iBabyRainbow. This talented performer offers content on other Web sites under the clever name of BabyRainbow. With a bit of clicking and posting, one can find fascinating content available for a fee.
Parents of young persons are, based on our research, are essentially behind a curtain of cascading data flows. Awareness of these talented performers' contributions to video art is low, vanishingly small.
Will there be advertisers who want to deliver messages to the viewers of the inflate-a-pool streams and the even more roiled data streams from iBabyRainbow's pool?
It seems as if there will be advertisers eager to dive in and bat the colorful floating animals in glee. If my references to these creators' content seem murky like a mine drainage pond, do some exploring in the digital Amazon. You might be surprised at what you find at the end of the rainbow. A new channel tailored to certain advertisers behind a dam of salaciousness.
May we suggest the curious run queries for "iBabyRainbow" on Amazon Twitch and then query the phrase "BabyRainbow" on other general purpose Web search services. Better yet, give TikTok or Twitter search a whirl.
And check out the function of Twitch tags to segregate users and content.
Stephen E Arnold, May 24, 2021
YouTube TV is a popular streaming service accessible through various sling boxes a.k.a. carriages.  Apple TV, Amazon Fire, and Roku are the top carriages that offer YouTube TV.  Roku, however, could soon be off that list says Android Police in: "Google Tells YouTube TV Customers To Spam Roku Support."
Google owns YouTube and its affiliate TV streaming service and the search engine giant is pursuing a new contract with Roku.  Google wants Roku to push YouTube TV to the front of its interface.  Roku, however, claims Google is using its monopoly power to force them into a new contract.
"…Google is looking to position YouTube as the premier streaming destination on Roku, requesting a dedicated search page, boosted music results, and a full block on search returns from other sources while the YouTube app is open. In perhaps its most brazen move, the company has reportedly asked Roku to meet specific hardware requirements to continue carrying its apps. On paper, none of these demands have anything to do with YouTube TV. Instead, Roku alleges that Google is using negotiations for its cable streaming service to gain leverage for YouTube as a whole, a move labeled "anticompetitive" in this morning's email."
Roku reasonably requests its users to petition Google to keep YouTube TV on its carriage.  Google denies that it wants access to user data or it would interfere with search results.  They also told YouTube TV subscribers to message Roku's customer support in order to keep the cable alternative.
Bicker, bicker, bicker.  Google wants more power over Roku, but the company will not cave. Solution: Just stick the YouTube TV thing into the YouTube free thing. That's a "Roku you" for sure.
Whitney Grace, May 19, 2021
DarkCyber is a twice-a-month video news program usually available on YouTube at this link. The topics in the May 18, 2021, video include a look at what the Signal subpoena "signals" about advanced US intelware systems. The program also explores ways to spy on a mobile phone. If you want to purchase your own IMSI catcher, you will find a an online ecommerce site ready to respond. (Keep in mind intercepting mobile content can be problematic in some jurisdictions.) Reluctantly we revisit the increasingly embarrassing Microsoft security software and systems. We report that a UK cyber security company has entered into a partnership with Microsoft in order to put the polish on that digital Yugo. The program profiles a not-so-clever trick to smuggle liquid meth into the United States. The scheme included a drug mule, a VW SUV, and a fuel tank available from an auto parts shop. Hint: The ploy did not work. This program's drone news explains the new features of the UAVTEK bug nano. This is a remarkable device which can operate in swarms, perform surveillance whether in the air or perched in an inconspicuous location. The new version can carry a payload; for example, additional sensors and micro-explosives.
DarkCyber is available at www.arnoldit.com/wordpress and on YouTube. (Sometimes the really smart software used to filter objectionable content becomes irritated with the video news program. Is it because the LE and intel centric content is troublesome? Is it because DarkCyber does not run ads (no big momma ads nor from individual companies), and the content is not sponsored. No wonder videos are objectionable. I mean no ads, no sponsorships, no shilling! Terrible, right?
Kenny Toth, May 18, 2021
PS. This video is available on Facebook (we think). Try this url: https://bit.ly/3wfTnNu
The 9th 2021 DarkCyber video is now available on the Beyond Search Web site. Will the link work? If it doesn't, the Facebook link can assist you. The original version of this 9th program contained video content from an interesting Dark Web site selling malware and footage from the PR department of the university which developed the kid-friendly Snakebot. Got kids? You will definitely want a Snakebot, but the DarkCyber team thinks that US Navy Seals will be in line to get duffle of Snakebots too. These are good for surveillance and termination tasks.
Plus, this 9th program of 2021 addresses five other stories, not counting the Snakebot quick bite. These are: [1] Two notable take downs, [2] iPhone access via the Lightning Port, [3] Instant messaging apps may not be secure, [4] VPNs are now themselves targets of malware, and [5] Microsoft security with a gust of SolarWinds.
The complete program is available — believe it or not — on Tess Arnold's Facebook page. You can view the video with video inserts of surfing a Dark Web site and the kindergarten swimmer friendly Snakebot at this link: https://bit.ly/2PLjOLz. If you want the YouTube approved version without the video inserts, navigate to this link.
DarkCyber is produced by Stephen E Arnold, publisher of Beyond Search. You can access the current video plus supplemental stories on the Beyond Search blog at www.arnoldit.com/wordpress.
We think smart filtering is the cat's pajamas, particularly for videos intended for law enforcement, intelligence, and cyber security professionals. Smart software crafted in the Googleplex is on the job.
Kenny Toth, May 4, 2021