A recent study by marketing firm Adam & Eve DDB examined the impact of search-result placement on brand visibility over the past six years. McLellan Marketing Group summarizes the findings in it's post, "Share of Search." A company's "share of search" is the percentage of searches for its product category that result in its site popping up near the top. The Google Analytics dashboard helpfully displays organizations' referrals for specific keywords and phrases, while the Google Keyword Tool reports overall searches for each term or phrase. The study checked out the metrics for three examples. We learn:
"[Adam & Eve DDB's Les] Binet explored three categories: an expensive considered purchase (automotive), a commodity (gas and electricity) and a lower-priced but very crowded brand segment (mobile phone handsets). The results were very telling. Here are some of the biggest takeaways:
Share of search correlates with market share in all three categories.

Share of search is a leading indicator/predictor of share of market – when share of search goes up, share of market tends to go up, and when share of search goes down, share of market falls.

This long-term prediction can also act as an early warning system for brands in terms of their market share.

Share of voice (advertising) has two effects on share of search: a significant short-term impact that produces a big burst but then fades rapidly, and a smaller, longer-term effect that lingers for a very long time.

The long-term effects build on each other, sustaining and growing over time.

Share of search could also be a new measure for brand strength or health of a brand by measuring the base level of share of search without advertising.

While share of search provides essential quantitative data, brands should also use qualitative research and sentiment analysis to get a more robust picture."
We are told that when a brand's search share surpasses its market share, growth is on the way. Yippee! How can one ensure such a result? Writer Drew McLellan reminds us that relevant content tailored to one's audience is the key to organic search performance. Or one could just take the shortcut: buying Facebook and Google ads also does the trick. But we wonder—where is the fun in that? Yippy? Yippy? Duck Ducking the search thing?
Cynthia Murrell, May 17, 2021
We spotted this news item: "Over 700,000 Pairings from the Rijksmuseum Online Copyright Free." These, according to the write up, are copyright free. The source of the money for this project was BankGiro Lottery, which is a culture lottery. I love that phrase "culture lottery." I wonder if Russian individuals of character will implement similar terminology? You can access the service at this link.
The value of any image collection is one's ability to locate a picture by artist, date, subject, and hopefully the name of the individual who made the painting possible for the museum to acquire. Art, like yachts, often has a fascinating back-story.
I ran this query: Canal boats.
The system displayed: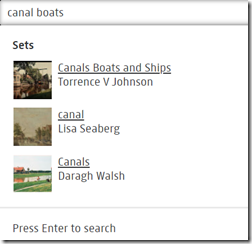 I clicked on Canals Boats and Ships. Notice that my "canal" was expanded to include "canals." The term "boats" was matched exactly.
That's a step forward considering the issues I have encountered with Internet Archive, Google Life collection, Library of Congress, and other image services.
My family was forced out of Amsterdam in 1605. Perhaps by getting image search to mostly work, the citizens are extending an olive branch to the remaining Arnolds.
Stephen E Arnold, January 22, 2021
I noted Pixeltrue's collection of Covid art. Take a look. Very good work. But — there is a but when Beyond Search looks at Covid art. One of the Beyond Search team revised the captions for several of the images so that each reflects more accurately what we call "search syndrome."
Headache: The direct result of a free Web search results page.
Plus, choking when reviewing irrelevant results:
Gag, hack, hack.
Stephen E Arnold, December 8, 2020
Check out these incredibly silly pitches for the same market study about enterprise search:
This is an example of search engine optimization gaming the Google Alert system. Ridiculous SEO play and a ridiculous report.
The offending company appears to be:
Shameful.
Stephen E Arnold, July 6, 2020
Robert David Steele, a former CIA professional, stored a video of our recent discussion about finding open source information. The main point is that findability has degraded to the point that results are generally useless. Bing, Google, and other ad-supported systems have abandoned precision and relevance. Search results are a dog's breakfast. To view the findabiity discussion, navigate to this link. The video was produced by Mr. Steele.
Stephen E Arnold, May 7, 2020
Here is a resource that makers (and aspiring makers) of video content and games will want to bookmark. CCMixter is an online community where musicians share their work through creative commons licenses. Dig.ccMixter is our search portal into that content, free to download and use even for commercial purposes. Scrolling down reveals three categories: instrumental music for film & video; free music for commercial projects; and music for video games. Clicking the "Dig!" button leads to a keyword search page, where you can search by attributes like genre, mood, and instruments. The site's About page, titled Yea, But Is It Legal? explains:
"This is a community music remixing site featuring remixes and samples licensed under Creative Commons licenses. Music on this site is licensed under a Creative Commons license. You are free to download and sample from music on this site and share the results with anyone, anywhere, anytime. Some songs might have certain restrictions, depending on their specific licenses. Each submission is marked clearly with the license that applies to it."
So there you have it—a free source of music for your projects, even ones you intend to profit from. All you have to do is give credit where credit is due.
Interestingly, developers can also access the site's ccHost Query API. We're told:
"The ccHost Query API is an open, publicly available interface that is available for public use, especially by 3rd party websites, mobile applications, smart TV appliances and any other network connected device. We here at ccMixter use it to help expose the artists that upload their Creative Commons licensed music to audiences that otherwise would not have access to. The API and software implementation is owned by ArtIsTech Media under a license agreement with Creative Commons. The music itself is owned by the individual artists that uploaded it to the site and agree, through the Creative Commons licenses to share the music through this mechanism."
Bing, Google, and Yandex are not suited for some types of music search. Enter Dig.cc Mixter. Applause, please.
Cynthia Murrell, April 22, 2020
One can buy Google ads. That may help.  But if you just want to create a listing for your business, you may have to do a bit of work. If your business does not come up in a Google query, that business may be missing out on sales. That's called leaving money on the table. Not much fun DarkCyber thinks.
Well, there's a fix. Just point your browser to this write up:
What do you do if Google My Business doesn't understand your business? Pop-up shops, mobile by design, are legitimate businesses but Google has no easy way to help you find them.
No kidding. That an SEO friendly title.
The write up points out this easy fix:
Fortunately, Google has been helpful in working with us to find a solution, which shows that Google is flexible and willing to evolve. As more companies adopt business models shorn of permanent locations, the bigger question is how will Google adapt over time? If you are one such business, you may need an advocate to work with Google – but it's worth trying. Google, to its credit, watches for patterns of behavior among its users and adapts. It behooves Google to provide the best experience to its users, and if more of its users are struggling to find businesses, Google will adapt rather than lose them to another ecosystem.
Yep, Google is helpful. But not as helpful as hiring an SEO expert. There's nothing like a "real" news story with substantive information. Fascinating. As Google's results become less and less relevant to a user's query, the SEO crowd wants to ensure that your business can be found even if the query is not relevant to your business. That's just "good" business in SEO land.
Stephen E Arnold, July 11, 2019
Hacker News presented an interesting question, "How would you build an internet scale web crawler?" We have been talking with companies which have developed Internet search systems that are not available for free Web search. Those conversations have produced some fascinating information. Some of the data will be included in my upcoming lecture for a government agency and then in my two presentations at the June 2018 Telestrategies ISS Conference in Prague.
What was interesting about this question was the few people responded. That is interesting because my team's research for my new presentations on deanonymizing encrypted chat and deanonymizing digital currency transactions pivot on comprehensive Internet indexing. In fact, more companies are indexing the Internet content than at any time in the last 10 years.
The second issue the post triggered was a realization that only a handful of people jumped on the topic. This low response to the question in itself is interesting. With more activity in indexing, why aren't more people helping out JustinGarrson? That's a question worth thinking about.
Third, one of the responses to the Hacker News question was a pointer to the YaCy.net open source project. We once included this technology in our Internet Research for Law Enforcement training program. My recollection of the system is fuzzy, so I will get one of my team to take at look.
The final thought the Hacker News' story triggered was, "Have people just accepted Bing, Google, Qwant, and a handful of metasearch systems as too dominant to challenge?" My view is that an opportunity exists to create a public facing Internet search and retrieval system. The reason? Outstanding alternatives to Bing, Google, and Qwant are available for those who qualify as customers and who are willing to pay the license fees.
My hunch is that just as enterprise search has coalesced around the open source Lucene/Solr technologies, free Web search has become "game over" because the ad supported model has won.
The problem, of course, is that a person looking for information usually does not realize that free Web search results are neither comprehensive, timely, or objective.
I hope individuals like JustinGarrison get the information needed to seize an opportunity in Internet search.
Stephen E Arnold, April 6, 2018
We like Google's Featured Snippets feature, at least when the information it serves up is relevant to the query. That is the tool that places text from, and links to, a site that (ideally) answers the user's question at the top of search results. Naturally, Search Engine Optimization pros want their clients' sites to grace these answer boxes as often as possible. That is the idea behind VolumeNine's blog post, "Featured Snippets in Search: An Overview." Writer Megan Duffy sees Featured Snippets as an opportunity for those already well-positioned in the search rankings. She explains,
There's no debate that holding the primary spot on a search engine results page helps drive a ton of traffic. But it takes a long, disciplined approach to climb to the top of an organic search result. The featured snippet provides a bit of a shortcut. The featured snippet is an opportunity for any page ranked in the top ten of results to jump straight to the top with less effort compared to building a page's search rank from, for example, from eighth to first. Having a featured snippet effectively puts you at search result zero and allows your business to earn traffic as the top search result.
Duffy goes on to make recommendations for maximizing one's chances of being picked for that Snippet spot. To her credit, she emphasizes that good content is key; we like to see that is still a consideration.
Cynthia Murrell, March 26, 2018
An interview at Forbes delves into the story behind Million Short, an alternative to Google for Internet Search. As concerns grow about online privacy, information accuracy, and filter bubbles, options that grant the user more control appeal to many. Contributor Julian Mitchell interviews Million Short founder and CEO Sanjay Arora in his piece, "This Search Engine Startup Helps You Find What Google Is Missing." Mitchell informs us:
Founded in 2012, Million Short is an innovative search engine that takes a new and focused approach to organizing, accessing, and discovering data on the internet. The Toronto-based company aims to provide greater choices to users seeking information by magnifying the public's access to data online. Cutting through the clutter of popular searches, most-viewed sites and sponsored suggestions, Million Short allows users to remove up to the top one million sites from the search set. Removing 'an entire slice of the web', the company hopes to balance the playing field for sites that may be new, suffer from poor SEO, have competitive keywords, or operate a small marketing budget. Million Short Founder and CEO Sanjay Arora shares the vision behind his company, overthrowing Google's search engine monopoly, and his insight into the future of finding information online.
The subsequent interview gets into details, like Arora's original motivation for creating Million Short—Search is too important to be dominated by a just few companies, he insists. The pair explores both advantages and challenges the company has seen, as well as a look to the future. See the article for more.
Cynthia Murrell, March 22, 2018