Time Warp: Has April Fool Returned Courtesy of the Google?
I delivered a lecture on June 16, 2022, to a group of crime analysts in a US state the name of which I cannot spell. In that talk, I provided a bit of information about faked content: Text, audio, video, and combinations thereof. I am asking myself, "Is this article "Ex-Google Worker: I Was Fired to Complaining about Wine Obsessed Religious Sect's Influence?" "real news"?
My wobbly mental equipment displayed this in my mind's eye: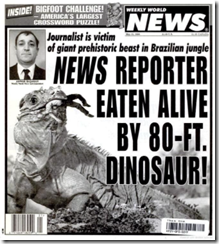 Did the Weekly World News base its dinosaur on the one Google once talked about with pride? Dear Copyright Troll, this image appears in Google's image search. I think this short essay falls into the category of satire or lousy "real journalism." In any event, I could not locate this cover on the WWN Web site. Here's a link to the estimable publication.
A dinosaur-consuming-a-humanoid news, right? Thousands of years ago, meh. The Weekly World News reported that a "real journalist" was eaten alive by 80 ft dinosaur."
What about the Google Tyrannosaurus Rex which may have inspired the cover for my monograph "Google Version 2: The Calculating Predator?" Images of this fine example of Googley humor are difficult to find. You can view one at this link or just search for images on Bing or your favorite Web image search engine. My hunch is that Google is beavering away to make these images disappear. Hopefully the dino loving outfit will not come after me for my calculating predator.
What's in the Daily Beast article about terminations for complaining about Google wine obsessed sect at the Google?
Let me provide a little reptilian color if I may:
A religious sect called the Fellowship of the Friends operates in a Google business unit and exerts influence at the company.
The Fellowship has 12 people working at the online ad giant
The Fellowship professionals have allegedly been referred to the GOOG by a personnel outfit called Advanced Systems Group
The so-called "sect" makes wine.
The point that jumps out at me is that Alphabet Google YouTube DeepMind or AGYD people management professionals took an action now labeled as a "firing" or wrongful termination.
Okay, getting rid of an employee is a core competency at AGYD. Managing negative publicity is, it appears, a skill which requires a bit more work. At least the Google dinosaur did not eat the former Google employee who raised a ruckus about a cult, wine, recruitment, etc. etc.
Stephen E Arnold, June 22, 2022
Comments