A Test to Determine Googliness
I read "After Working at Google, I'll Never Let Myself Love a Job Again." I immediately thought of the statement, "You'll Never Work in This Town Again." Did the icon Harvey Weinstein say this? I can't recall.
Okay, no loving a job. The real news "opinion" piece explains a harrowing, first-person account of harassment. Did I harass Mr. Weinstein with my use of the word "icon"? Yikes.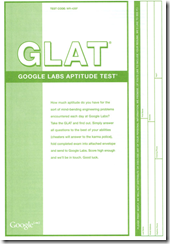 To learn about the mom-and-pop online ad agency's approach to personnel management, read the real news "opinion" article.
Here's what I gleaned from the write up:
1. Be a compliant engineer who stays within the bright white lines of behavior at the Google. What if the interactions are virtual? No matter. Bright white lines, real or imagined, are the markers.
2. Don't pick a mentor who wants to keep his / her job, bonus, stock options, and invitations to select company events. (Once some events required a ski weekend. Whoooie! Fun.) Mentors who value something other than "relationships" may provide a re-introduction to the Maslow – Google hierarchy of needs.
3. Keep quiet and avoid the human resources people management wizard. After a sales call at SHRM or something like that, I knew that modern HR was a casualty of MBA think; for example, employees are at fault. Unproductive employees are self identified. Modern organizations don't want flawed and profit-sucking humanoids. Maybe I have the human resource function wrong, but I too can have an opinion.
4. Life at the Googleplex does not dispense "Also Participated" badges like a really trendy private middle school.
These observations lend themselves to items on my "Checklist for Being Googley"; to wit:
Be smart enough to be compliant and "cooperative"
Work alone when possible delivering "good enough" outputs
Operate without official or unofficial visits to personnel professionals
Welcome inter-personal interactions warmly, enthusiastically, and without documenting such encounters
Do "what it takes" to join a hot team, get a promotion, and enter the private domains of the truly elite
Eschew interviews, book deals, and opportunities to contribute to a "real news" channel.
If you can tick off each of these items, you are ready to do a run through the Google Labs Aptitude Test. Rumored to have been retired, copies of these tests of Google grade knowledge are still available. Just search Google.com. Oh, strike that. This link returns the questions, not the attractive green of the original hard copy with the really hard questions like:
What's broken with Unix? How would you Fix it?
Beyond Search had a copy but boxer Max ate it years ago. Yes, he passed the exam.
Stephen E Arnold, April 12, 2021
Comments