The Google Reorg. Will It Output Xooglers, Not Innovations?

Note: This essay is the work of a real and still-alive dinobaby. No smart software involved, just a dumb humanoid.
My team and I have been talking about the Alphabet decision to merge DeepMind with Google Brain. Viewed from one angle, the decision reflects the type of efficiency favored by managers who value the idea of streamlining. The arguments for consolidation are logical; for example, the old tried-and-true buzzword synergy may be invoked to explain the realignment. The decision makes business sense, particularly for an engineer or a number-oriented MBA, accountant, or lawyer.
Arguing against the "one plus one equals three" viewpoint may be those who have experienced the friction generated when staff, business procedures, and projects get close, interact, and release energy. I use the term "energy" to explain the dormant forces unleashed as the reorganization evolves. When I worked at a nuclear consulting firm early in my career, I recall the acrimonious and irreconcilable differences between a smaller unit in Florida and a major division in Maryland. The fix was to reassign personnel and give up on the dream of one big, happy group.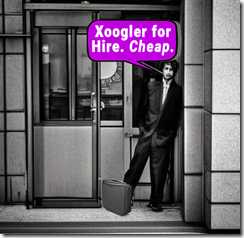 This somewhat pathos-infused image was created using NightCafe Creator and Craiyon. The author (a dinobaby) added the caption which may appeal to large language model-centric start ups with money, ideas, and a "we can do this" vibe.
Over the years, my team and I have observed Google's struggles to innovate. The successes have been notable. Before the Alphabet entity was constructed, the "old" Google purchased Keyhole, Inc. (a spin-off of the gaming company Intrinsic). That worked after the US government invested in the company. There have been some failures too. My team followed the Orkut product which evolved from a hire named Orkut Büyükkökten, who had developed an allegedly similar system while working at InCircle. Orkut was a success, particularly among users in Brazil and a handful of other countries. However, some Orkut users relied on the system for activities which some found unacceptable. Google killed the social networking system in 2014 as Facebook surged to global prominence as Google's efforts fell to earth. The company was in a position to be a player in social media, and it botched the opportunity. Steve Ballmer allegedly described Google as a "one-trick pony." Mr. Ballmer's touch point was Google's dependence on online advertising: One source of revenue; therefore, a circus pony able to do one thing. Mr. Ballmer's quip illustrates the fact that over the firm's 20-plus year history, Google has not been able to diversify its revenue. More than two-thirds of the company's money comes directly or indirectly from advertising.
My team and I have watched Google struggle to accept adapt its free-wheeling style to a more traditional business approach to policies and procedures. In one notable incident, my team and I were involved in reviewing proposals to index the content of the US Federal government. Google was one of the bidders. The Google proposal did not follow the expected format of responding to each individual requirement in the request for proposal. In 2000, Google professionals made it clear its method did not require that the government's statement of work be followed. Other vendors responded, provided the required technical commentary, and produced cost estimates in a format familiar to those involved in the contracting award process. Flash forward 23 years, and Google has figured out how to capture US government work.
The key point: The learning process took a long time.
Why is this example relevant to the Alphabet decision to blend the Brain and DeepMind units? Change — despite the myths of Silicon Valley — is difficult for Alphabet. The tensions at the company are well known. Employees and part-time workers grouse and sometimes carry signs and disturb traffic. Specific personnel matters become, rightly or wrongly, messages that say, Google is unfair. The Google management generated an international spectacle with its all-thumbs approach to human relations. Dr. Timnit Gebru was a co-author of a technical paper which identified a characteristic of smart software. She and several colleagues explained that bias in training data produces results which are skewed. Anyone who has used any of the search systems which used open source libraries created by Google know that outputs are variable, which is a charitable way of saying, "Dr. Gebru was correct." She became a Xoogler, set up a new organization, and organized a conference to further explain her research — the same research which ruffled the feathers of some Alphabet big birds.
The pace of generative artificial intelligence is accelerating. Disruption can be smelled like ozone in an old-fashioned electric power generation station. My team and I attempt to continue tracking innovations in smart software. We cannot do it. I am prepared to suggest that the job is quite challenging because the flow of new ChatGPT-type products, services, applications, and features is astounding. I recall the early days of the Internet when in 1993 I could navigate to a list of new sites via Mosaic browser and click on the ones of interest. I recall that in a matter of months the list grew too long to scan and was eventually discontinued. Smart software is behaving in this way: Too many people are doing too many new things.
I want to close this short personal essay with several points.
First, mashing up different cultures and a history of differences will act like a brake and add friction to innovative work. Such reorganizations will generate "heat" in the form of disputes, overt or quiet quitting, and an increase in productivity killers like planning meetings, internal product pitches, and getting legal's blessing on a proposed service.
Second, a revenue monoculture is in danger when one pest runs rampant. Alphabet does not have a mechanism to slow down what is happening in the generative AI space. In online advertising, Google has knobs and levers. In the world of creating applications and hooking them together to complete tasks, Alphabet management seems to lack a magic button. The pests just eat the monoculture's crop.
Third, the unexpected consequence of merging Brain and DeepMind may be creating what I call a "Xoogler Manufacturing Machine." Annoyed or "grass is greener" Google AI experts may go to one of the many promising generative AI startups. Note: A former Google employee is sometimes labeled a "Xoogler," which is shorthand for ex-Google employee.
Net net: In a conversation in 2005 with a Google professional whom I cannot name due to the confidentiality agreement I signed with the firm, I asked, "Do you think people and government officials will figure out what Google is really doing?" This person, who was a senior manager, said to the best of my recollection, "Sure and when people do, it's game." My personal view is that Alphabet is in a game in which the clock is ticking. And in the process of underperforming, Alphabet's advertisers and users of free and for-fee services will shift their attention elsewhere, probably to a new or more agile firm able to leverage smart software. Alphabet's most recent innovation is the creation of a Xoogler manufacturing system. The product? Former Google employees who want to do something instead of playing in the Alphabet sandbox with argumentative wizards and several ill-behaved office pets.
Stephen E Arnold, April 24, 2023
Comments