Google: FUD Embedded in the Glacier Strategy

Note: This essay is the work of a real and still-alive dinobaby. No smart software involved, just a dumb humanoid.
Fly to Alaska. Stand on a glacier and let the guide explains the glacier moves, just slowly. That's the Google smart software strategy in a nutshell. Under Code Red or Red Alert or "My goodness, Microsoft is getting media attention for something other than lousy code and security services. We have to do something sort of quickly."
One facet of the game plan is to roll out a bit of FUD or fear, uncertainty, and doubt. That will send chills to some interesting places, won't it. You can see this in action in the article "Exclusive: Google Lays Out Its Vision for Securing AI." Feel the fear because AI will kill humanoids unless… unless you rely on Googzilla. This is the only creature capable of stopping the evil that irresponsible smart software will unleash upon you, everyone, maybe your dog too.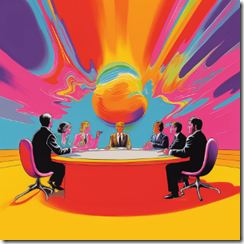 The manager of strategy says, "I think the fireball of AI security doom is going to smash us." The top dog says, "I know. Google will save us." Note to image trolls: This outstanding illustration was generated in a nonce by MidJourney, not an under-compensated creator in Peru.
The write up says:
Google has a new plan to help organizations apply basic security controls to their artificial intelligence systems and protect them from a new wave of cyber threats.
Note the word "plan"; that is, the here and now equivalent of vaporware or stuff that can be written about and issued as "real news." The guts of the Google PR is that Google has six easy steps for its valued users to take. Each step brings that user closer to the thumping heart of Googzilla; to wit:
Assess what existing security controls can be easily extended to new AI systems, such as data encryption;
Expand existing threat intelligence research to also include specific threats targeting AI systems;
Adopt automation into the company's cyber defenses to quickly respond to any anomalous activity targeting AI systems;
Conduct regular reviews of the security measures in place around AI models;
Constantly test the security of these AI systems through so-called penetration tests and make changes based on those findings;
And, lastly, build a team that understands AI-related risks to help figure out where AI risk should sit in an organization's overall strategy to mitigate business risks.
Does this sound like Mandiant-type consulting backed up by Google's cloud goodness? It should because when one drinks Google juice, one gains Google powers over evil and also Google's competitors. Google's glacier strategy is advancing… slowly.
Stephen E Arnold, June 9, 2023
Comments