According to Eric Liu, chief custodial technician at Rocket Lease, people are using Google Adwords wrong. He offers advice on how to correctly use the advertising tool in his blog post: "How To Bid For CPC Campaigns (aka "Stop Doing Adwords Wrong"). Liu states that most Adwords advice suggest users play the guessing game with bidding. By grouping keywords together and applying a consistent bidding strategy users can rely on computers to manage their ad campaigns to make the biggest profit.
Liu calculated how to maximize profits with an algebraic formula and illustrates with sample scenarios. The formula is a bit complex to follow, but play around with few numbers and it should work out.
Liu notes that his formula is entirely experimental:
"It's important to note again that you can't look up the information to set your CPC bids or calculate it theoretically — it has to be determined experimentally. There's nothing you can do to just start with the perfect campaign. You will make your best guesses, experiment, and then use the feedback to estimate the shape of the curve. That means you will start by running suboptimal campaigns, then use the information to get closer to optimal. The better your initial guesses, the less money you'll spend in the "curve discovery/estimation" part of the process."
Who says you do not use math outside of high school? By applying Liu's formula you may be able to make a little more money out of your Web site's ads and lower overhead costs.
Whitney Grace, December 06, 2013
Sponsored by ArnoldIT.com, developer of Augmentext
Google has passed an ad-revenue milestone, Business Insider reveals in, "Google Is Now Bigger than Both the Magazine and Newspaper Industries." Writer Jim Edwards tells us that Google is expected to rake in about $60 billion this year, mostly from advertising. The article includes a chart which compares Google's U.S.-based ad revenue to that of U.S. magazines and newspapers since 2004. The graph shows Google pulling ahead last year.
Edwards writes:
"In part this is because the print media has suffered such a precipitous decline. But note that Google's last full year results from 2012 are approaching the historic maximum that all magazines combined achieved back in 2007 before the crash. It's won't be long now, in other words, before Google not only eclipses magazines but also becomes bigger than magazines ever were — even when there was no Internet to compete with. That's staggering."
Is it? Personally, I don't find this revelation that surprising, though the chart is worth a look if only to examine how the fortunes of newspapers have fallen over the last nine years. Is it really so surprising that Google is on track to dominate the information field?
Cynthia Murrell, December 03, 2013
Sponsored by ArnoldIT.com, developer of Augmentext
At least there is plenty of room for improvement. Business Insider tells us that "Execs from Criteo and the Weather Channel Both Agree: Mobile Ads Still Kinda Suck." Hmm, we predict more fancy dancing around ad pricing in the future. In the meantime, The Weather Company's chief money man sums up the current state of affairs; writer Aaron Taube reports:
"Though Curt Hecht, chief global revenue officer for The Weather Company, had a more explicitly positive view of the creative offerings available on mobile platforms, he said that as it stands now, the mechanisms used to buy and sell ads on smartphones and tablets are a 'complete mess.'"
Taube notes that Hecht knows what he is talking about, considering that his company's Weather Channel app is extremely popular. What will it take to create better advertising systems for mobile devices? Greg Coleman, president of ad serving platform Criteo, points out that new technology calls for new expertise. The article informs us:
"In order for ads to improve, Coleman said, the industry would need to see advertising made by creatives who had come up with a mobile background and who possess what Coleman calls the mobile DNA. 'If you go back to the late 90s when the digital world started to crop up, every editor-in-chief wanted to be in charge of their website,' Coleman said. 'They're the last people who should have been allowed to tinker with the new medium. A new skillset is going to emerge that doesn't exist to a large degree today.'"
Coleman goes on to observe that mobile ad exchanges that fail to build or embrace that skillset quickly will be in trouble in a few years. Marketers are impatient for new ways to leverage all this data they increasingly collect, and will become more choosy as better options emerge. Mobile ad folks who want to stay in the game had better be on their toes.
Cynthia Murrell, November 27, 2013
Sponsored by ArnoldIT.com, developer of Augmentext
Ads are how many companies make money using the Internet and startups are creating other ways to monetize the Internet. The Paris-based Criteo, a company that helps retailers make their ads more personal for users, recently went public and according to "5 Reasons The Next Criteo Will Also Come From Paris" from Rude Baguette says that Venture Capitalists are on the hunt for the next Criteo. Why Paris, you may ask?
Since the merger of Publicis and Omnicom advertising agencies co-headquarters have been established in both New York and Paris. Paris, however, is now considered the advertising center of the world, because Publicis has generated more revenue than Omnicom. Also since it started being traded publicly, Criteo has been buying up AdTech startups and the new IPO has allowed them to acquire new talent and money.
Paris has also surged ahead in the big data boom:
"As we noted last month, France has a bit of a Big Data mafia springing up right now. If not evident enough by events like Datajob, a Big Data recruitment event, the dozens of big data startups that have sprung out of ex-search giant Exalead may be a better indicator of how the number of Big Data startups will explode in Paris in the coming years. Whether it's pre-, re-, or post-targeting, AdTech is powered by big data, and Paris has got the needed search expertise to create innovative solutions for AdTech startups."
Paris is also Paris. People have flocked to the city for years for its centralized location in Europe as well as many of the major brands that already call it home. It is an economic epicenter that no one has paid attention to because of Europe's recent financial crisis. Could it be that Paris is on its way to getting itself out of the red?
Whitney Grace, November 17, 2013
Sponsored by ArnoldIT.com, developer of Augmentext
Do you click on ads? Do you recognize ads? The dominance of Google translates to big money for capturing Google users' attention.
How big of a problem is online fraud? There is a partial answer in the write up "Inside Ad Tech Fraud: Confessions of a Fake Web Traffic Buyer." In addition to the revelations about online click fraud, the write up contains some fascinating quotations; for example:
Quality didn't really matter to us, though.
I learned other things from the article as well. I know that the information in the story is accurate. Why would distorted or fraud-related information appear in a story about online? I underlined this statement:
I believe publishers are willing to do anything to make their economics work.
The word "anything" is an interesting one.
A few years ago, a colleague in New York City wanted my team to prepare a seminar about online ad fraud. I refused. Among the reasons was the simple fact that I wanted to avoid the pushback from "experts."
As a result, I have avoided direct involvement in the methods that allegedly manipulate people like you, gentle reader. More recently, I have adopted the ostrich posture. I ignore what is now the norm. I prefer to live in a make believe world in which information is straight and true.
Life is simpler for me now. Online advertising is just so special. Online content benefits from the influence of advertising-supported information. Why pay for a commercial online service when the world is a click away. Ads make the content possible. In fact, ads are the point of content, right?
Stephen E Arnold, November 13, 2013
Google is always striving to improve their flagship search engine. Well, improve its profitability, anyway. Ars Technica reports that "New Banner Ads Push Actual Google Results to Bottom 12% of the Screen." These new adds do not unobtrusively hug the top of the page; for thirty companies lucky enough to be part of this "experiment," their ads can dominate the results page. Reporter Casey Johnston reminds us this is a tactic Google pledged eight years ago never to employ. Have dollar signs have weakened the company's resolve?
The article observes:
"The rollout of banner ads comes only days after Google's most recent earnings call, where financial results showed that Google is struggling with falling mobile ad sales prices. As The New York Times reported, Google sells mobile ads for half to two-thirds as much as desktop ads, but the mobile ads are only a third to a quarter as effective. It bears mentioning that before scrolling, real search results on mobile don't get much real estate, either.

Google will not publicly address any aspect of the banner ad experiment beyond saying that it is a 'very limited, US-only test, in which advertisers can include an image as part of the search ads that show in response to certain branded queries.'"
It is worth noting that last bit—". . . in response to certain branded queries." In other words, if you search for "Southwest Airlines," you might get a really big ad about Southwest Airlines. That's much more reasonable than getting such advertising if you just searched for "airplanes" or "air travel." (I would not put that evolution past them, though. Stay tuned.) Still, the tactic is bound to rub many searchers the wrong way. Johnston delves into specifics, augmenting her analysis with several screenshots. She concludes with a prediction—she will not be surprised if this experiment turns into a fixture. Neither will I.
Cynthia Murrell, November 06, 2013
Sponsored by ArnoldIT.com, developer of Augmentext
The article on Search Engine Watch titled Search Revenues Hit $8.7 Billion in First Half of 2013 shows that in spite concerns over Google's AdWords adjustments, revenue from search ads continues to rise. The ascension, illustrated with bar and pie charts with data from the last ten years, is clear. The switch to Google's enhanced campaigns has not caused the reduction that many feared was possible. The article explains,
"Mobile revenue increased by 24 percent from the first half of 2012 ($1.1 billion) compared to the first half of 2013 ($1.3 billion) showing that the mobile ad industry shows no signs of slowing down its growth."Digital has steadily increased its ability to captivate consumers and then capture the marketing dollars that follow," said Randall Rothenberg, President and CEO, IAB. "Mobile advertising's breakneck growth is evidence that marketers are recognizing the tremendous power of smaller screens. Digital video is also on a positive trajectory, delivering avid viewership and strong brand-building opportunities.""
While this is good news for Google and its advertisers, it may leave users in mid-shrug. Isn't search meant to be about the user's needs, and not about ad revenue? At this point it is unclear, especially with the Interactive Advertising Bureau's recent report that clearly demonstrates the health and robustness of the online advertising industry.
Chelsea Kerwin, October 28, 2013
Sponsored by ArnoldIT.com, developer of Augmentext
It is five pm eastern time. I am still trying to figure out who called me from 916 219 9230 and made a startling assertion even for an under employed Sacramento outfit.
Our system can deliver a number one position for your company on a Google results list.
My understanding is that Google uses a number of factors to determine what displays in response to a user's query. Google personalizes results using a user's search history. Google crunches hundreds of factors to determine relevancy. Google may, according to some disbelievers, consider advertisers and their advertisements.
Now I get a telemarketing call promising me, www.arnoldit.com, a number one ranking. I needed only to press one on my telephone keypad.
Well, I pressed one and was connected to a telemarketer who refused to answer my questions about the relationship of the company making this pitch and Google. When I asked which Google office was working with the firm calling me, the young man said, "Do you even know where Google is located?"
I probed on the method and the telemarketer promptly disconnected me.
Several observations:
SEO folks must be struggling to get work. Calling me in rural Kentucky is probably not going to result in a sale. I don't care about traffic, and I don't care about SEO.
If Google is involved, which the caller hinted was true, has the automated advertising system failed to keep the ad revenue flowing. The premise of the ad system is that a human does not get involved unless the advertiser makes a goof with the product advertised or with the language used in the ad. The human system does not get exercised too strenuously if the reports about Google's approach to certain types of products is indeed accurate. But telemarketing? That's interesting.
Perhaps the positive economic news flooding from CNBC and similar sources is not 100 percent accurate.Telemarketing reminds me of the Popeil Pocket Fisherman and fly-by-night window companies trying to get 70 year olds like me to buy a storm door after a no cost, no obligation assessment.
I wanted to document my first SEO telemarketing call. Maybe this is a trend? Maybe it is a new way to boost online advertising? Maybe it is an easy way for scam artists to hide behind a phone number like 916 219 9230.
I enjoyed the call. I like it when telemarketers get frustrated with me and hang up. Desperation from telemarketers sounds like failure.
Stephen E Arnold, October 4, 2013
I am working on my presentation for the upcoming ISS intelligence conference. One of the topics which I will be addressing is "What is possible and not possible with Google's Index"
Now don't get the addled goose wrong. The goslings and I use Google and a number of other online services each day. The reason is that online indexing remains a hit-and-miss proposition. Today's search gurus ignore the problem of content which is unindexable, servers which are too slow and time out, or latency issues which consign data to the big bit bucket in the back of the building. In addition, few talk about content which is intentionally deleted or moved to a storage device beyond the reach of an content acquisition system. Then there are all-too-frequent human errors which blast content into oblivion because back up devices cannot restore data. Clever programmers change a file format. The filters and connectors designed to index the content do not recognize the file type and put the document in the "look at this, dear human" folder or just skip the file type. And there are other issuers. These range from bandwidth constraints, time out settings, and software that does not work.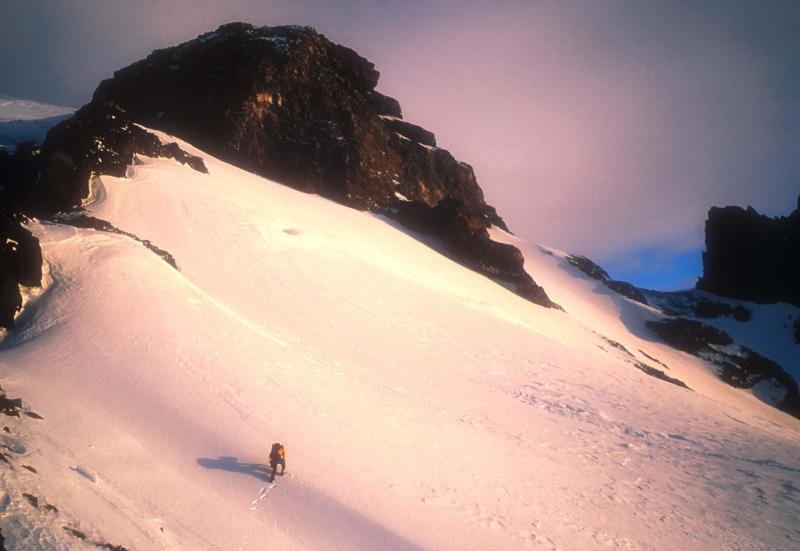 Does Google face a tough climb if online advertising falters? Image source: http://www.nps.gov/media/photo/gallery.htm?tagID=8362
Are these issues discussed? Not often. And when a person like the addled goose brings up these issues, the whiz kids just sigh and tell me that my dinosaur tail is going to knock over the capuchin machine in the conference room. No problem. Most search vendors are struggling to make sales, control costs, and keep the often-flawed systems running well enough so the licensee pays the invoices. Is this a recipe for excellence? Not in my old-fashioned notebook.
I read "The Internet's Next Victim: Advertising." I found the title interesting because I thought the Internet's next victim was a manager who used online search results without verifying the information. The article caught my attention because if it is accurate, Google is going to be forced to make some changes. The line "Everyone agrees that advertising on the Internet is broken" is one of those sweeping generalizations I find amusing. For some folks, online advertising works reasonably well. When one considers the options advertisers have, the Internet looks like a reasonable tool for certain products and services.
Evidence of this is Google's ability to fund everything from tryst jets to self driving automobiles. Google has, if I understand the financial reports, managed to generate about 95 percent of its revenue from online advertising. The job hunting Steve Ballmer pointed out that Google was a one-trick pony. Well, he might have been wrong about my love of Windows 8, but he was spot on with Google's inability to generate products and services beyond advertising.
That's why the "Next Victim" article is thought provoking. What if Salon is correct? What will Google do to generate more revenue if advertising money decreases? What will Google do if the costs of selling ads spikes by 15 percent or more?
The options for Google are plentiful; for example:
Raise ad rates
Take ads from advertisers who are now not permitted to use the Google system
Reduce staff, benefits, or salaries
Cut back on some of the investments which are essential expensive science fiction Bell Labs-type projects
Ramp up fees to customers.
There are other options, of course. But the easiest path to follow is to increase the number of sponsored messages and ads shown to users of Google's most popular services. Mobile advertising is tricky because the screen is small and the graphic approach on tablets makes the clutter of the old-style desktop display look like a 1959 Cadillac tail fin.
What happens when ads take precedence over relevant, objective results? The usefulness of the search system decreases. The good news is that most users on online search systems are happy to get some information. These users believe that information in a search result page are accurate. Who needs for-fee research systems? The free results are good enough. The downside is that for the subject matter expert, the results from most free online search systems are flawed. For many of today's professionals, this is a small price to pay for convenience. Who has time to verify search results?
Net net: if the "Next Victim" article is correct, Google may find itself facing an uphill climb. Looking at the data through Glass won't change the outlook, however.
In my ISS talk, I will be offering several concrete suggestions to those who want to verify online results displayed in response to a predictive, personalized query.
Stephen E Arnold, September 3, 2013
Sponsored by Xenky
The article LinkedIn Selling More Marketing Content Into Users' Feeds on ComputerWorld states that LinkedIn, the professionals social networking site, has recently introduced "sponsored updates". Companies are now able to purchase ad space that will appear on LinkedIn user feeds. Users have the choice of liking, ignoring, sharing or commenting on the posts. The article explains,
"The aim of the sponsored updates program is to let businesses engage select communities of LinkedIn members with useful information that can come in the form of an article, blog post, video or presentation, LinkedIn said. Marketers will be able to target any segment of the site's 225 million members based on professional profile data… There are currently more than 3 million company pages on LinkedIn."
Of course this is a common enough resource for social sites including Facebook, Twitter and Tumblr. These sites have largely dismissed the risk of annoying the users with these ads. LinkedIn will have the ability to control who gets what ads, and keep them relevant to the users based on their jobs or interests. For the past six months LinkedIn has been testing the step with such companies as Nissan and Xerox. Soon, any business with a company page will be able to buy sponsored updates, which will be clearly marked.
Chelsea Kerwin, August 24, 2013
Sponsored by ArnoldIT.com, developer of Augmentext