Before college textbooks are an annoyance because they are heavy and mean homework. Once college comes around, however, they are akin to the devil. Textbook publishers can charge hundreds of dollars for a single textbook, adding more fees to already astronomical education costs. One way to save money is purchasing used or digital textbooks, but that could change Bloomberg wrote in: "Pearson Says Blockchain Could Make It Money Every Time E-Books Change Hands."
Pearson Plc. Is one of the world's largest textbook publishers and the CEO wants to use blockchain and non-fungible tokens to make a profit off the secondary and digital market. The digital tokens would allow Pearson to track ownership of a book file, then take a cut if it is sold more than once:
"'The move to digital helps diminish the secondary market, and technology like blockchain and NFTs allows us to participate in every sale of that particular item as it goes through its life,' by tracking the material's unique identifier on the ledger from "owner A to owner B to owner C,' said [Andy] Bird, a former Disney executive.'
By moving entirely to digital, Pearson would save on printing costs but would lose profits off its already sky-high books. Pearson is developing a textbook subscription service instead of individual fees for books. If the service saves students money and works similar to a digital library, then Pearson should go for it! And students, get a loan.
Whitney Grace, September 16, 2022
Want to be like the Amazon, Facebook, and Google (nah, strike the Google) smart software whiz kids? Now you can. Just read, memorize, and recombine the methods revealed in Computational Cognitive Neuroscience, Fourth Edition. According the post explaining the book:
This is the 4th edition of the online, freely available textbook, providing a complete, self-contained introduction to the field of Computational Cognitive Neuroscience, where computer models of the brain are used to understand a wide range of cognitive functions, including perception, attention, motor control, learning, memory, language, and executive function. The first part of this textbook develops a coherent set of computational and neural principles that capture the behavior of networks of interconnected neurons, and the second part applies these principles to understand the above-listed cognitive functions.
Do the methods work? Absolutely. Now there may be some minor issues to address; for example, smart cars running over small people, false positives for certain cancers, and teachers scored as flops. (Wait. Isn't there a shortage of teachers? Smart algorithms deal with contexts, don't they.)
Regardless of your view of a small person smashed by a smart car, you can get the basics of "close enough for horse shoes analyses, biased datasets, and more. Imagine what one can do with a LinkedIn biography and work experience listing after absorbing this work.
Stephen E Arnold, September 13, 2022
I read "Absolutely Terrible Textbook Publishing Giant Pearson Wants To Make Everything Even Worse With NFTs." The write up states:
There's an oligopoly of just five giant publishers, and they long ago learned that they are in the best market ever: the buyers of their textbooks (the students) have no choice and are forced to buy the books if their professors assign them — and more such books will get sold every semester that the professor requires it. Therefore, textbook prices are insane by any imaginable standard.
I think the viewpoint is one widely held. However, why not consider the issue from the point of view of the oligopolies themselves.
First, creating textbooks is an expensive, time consuming business. Once one of these textbooks is adopted widely, then that book becomes the goose that lays golden revenue eggs semester in an semester out. A professional involved with the turgid and generally crazy economics textbook was known as "Sammy" where the professional worked. This person told me that "Sammy" was in double digit editions and would continue on this path of persistent revisions to keep that money coming in. Losing the Sammy thing, the publisher's textbook division could plunge into red ink quite rapidly. Therefore, the oligopolists want to hang on to their winners, keep others like professors who will write a book and make it available under Creative Commons or some similar nonsense, and make old editions useless to students in class now. I thought that was useful information when I learned it a decade ago. I have no reason to believe that the insight remains valid today.
Second, some countries won't buy or authorize use of US textbooks unless those books are in the languages identified by the country as acceptable. Canada, for instance, once required that Ukrainian be used in textbooks in one province because a majority of students spoke that language. Of course, the textbooks had to be available in French and English too. Translating nearly incomprehensible gibberish about economic, political science, or organic chemistry is expensive. Don't forget the workbooks, the online tutorials, and other collateral required to land the "adoption".
Third, professional publishers are not well known as businesses. One doesn't learn how to build a monopoly on legal, accounting, or government regulatory information in business school. One learns the art and craft of taking essentially jargon filled content and converting it into something that a person skilled in a field can use to justify high fees. This "learning" occurs when a person studying law gets to buy textbooks. A tiny percentage of lawyers accept work at a professional publishing house and can practice the art of monopoly.
Each of these three factors is expensive — creating books, getting adopted and conforming to buyer rules, and hiring people and letting them learn how to be professional publishers.
I remember a meeting at Cornell University years ago. The topic of publishing papers in an online journal or a peer reviewed journal would be acceptable for those on a tenure track. The answer was [a] writing a widely adopted textbook was important, [b] publishing in a peer reviewed journal owned by a professional publishing outfit was very helpful, and [c] doing anything without the blessing of the professional publishers was stupid. Today it may be different.
But high prices mean quality. Why shouldn't certifiers of the best and brightest charge a lot of money? Professional publishers will point out that that is the way oligopolistic certifiers work. Don't like it? Don't go to school. Besides NFTs are hip, and professional publishers want to be with it.
Stephen E Arnold, August 19, 2022
Proofpoint is a cyber security firm. The company published an interesting blog essay called "Above the Fold and in Your Inbox: Tracing State-Aligned Activity Targeting Journalists, Media." The write up presents allegedly accurate information that a number of nation states are targeting journalists. This makes sense because some journalists are, in effect, crime and intelligence analysts at heart. Their methods are often similar to those used as certain government organizations.
Is this a new insight from the world's intelligence professionals? I don't think so.
The write up states:
Journalists and media organizations are well sought-after targets with Proofpoint researchers observing APT actors, specifically those that are state-sponsored or state-aligned, routinely masquerading as or targeting journalists and media organizations because of the unique access and information they can provide. The media sector and those that work within it can open doors that others cannot. A well-timed, successful attack on a journalist's email account could provide insights into sensitive, budding stories and source identification. A compromised account could be used to spread disinformation or pro-state propaganda, provide disinformation during times of war or pandemic, or be used to influence a politically charged atmosphere. Most commonly, phishing attacks targeting journalists are used for espionage or to gain key insights into the inner workings of another government, company, or other area of state-designated import.
What nation states are allegedly targeting certain journalists? The article mentions by name these countries:
China

Iran

North Korea

Turkey (sic). The country's new name is Türkiye
The article includes examples of the Proofpoint analysts' identification of actions.
The write up concludes with what appears to be some free advice:
The varied approaches by APT actors—using web beacons for reconnaissance, credential harvesting, and sending malware to gain a foothold in a recipient's network—means those operating in the media space need to stay vigilant.
Many journalists, in my experience, are unaware of the nuances of staying vigilant. Targets are targets because they can be hit. Examples of what has happened are interesting. May I suggest that journalists receive appropriate instruction when learning their craft. Instruction in vigilance may need to be upgraded or enhanced. Many journalists — particularly what I call the Silicon Valley variety — are more interested in recognition, media clout, and being visible than stepping back and asking, "Have I been targeted, played, and manipulated?"
Stephen E Arnold, July 19, 2022
What could be accomplished if machine learning were harnessed to help scientists connect, collaborate, and build on each other's findings? A team of researchers ponders "Making the Collective Knowledge of Chemistry Open and Machine Actionable." Researchers Kevin Maik Jablonka, Luc Patiny, and Berend Smit hope their suggestions will bring the field of chemistry closer to FAIR principles (findable, accessible, interoperable, and reusable). The paper, published by Nature Chemistry, observes:
"Chemical research is still largely centered around paper-based lab notebooks, and the publication of data is often more an afterthought than an integral part of the process. Here we argue that a modular open-science platform for chemistry would be beneficial not only for data-mining studies but also, well beyond that, for the entire chemistry community. Much progress has been made over the past few years in developing technologies such as electronic lab notebooks that aim to address data-management concerns. This will help make chemical data reusable, however it is only one step. We highlight the importance of centering open-science initiatives around open, machine-actionable data and emphasize that most of the required technologies already exist—we only need to connect, polish and embrace them."
The authors go on to describe how to do just that using structured and open data with semantic tools. In order to make the transition as smooth as possible, the team suggests data capture should be similar to the way chemists already work. Data should also be generated in a standardized format other researchers can easily use. A formal ontology will be important here. For consistency and accessibility, the paper also recommends building a modular data-analysis platform with a common interface and standardized protocols. This open-science platform would replace the hodgepodge of different, often proprietary, tools currently in use. It would also make publication of data a seamless, and centralized, part of the process. See the paper for all the details. The authors conclude:
"We emphasize that the technology is here not only to facilitate the process of publishing data in a FAIR format to satisfy the sponsors, but also to ensure that the combination of chemical data, FAIR principles and openness gives scientists the possibility to harvest all data so that all chemists can have access to the collective knowledge of everybody's successful, partly successful and even 'failed' experiments."
Cynthia Murrell, July 14, 2022
Fake news or shoddy management? Perhaps a bit of both. Mediaite reports, "USA Today Deletes 23 Articles Following Investigation into Alleged Fabrication by Reporter." That is a lot of articles to slip past the editors, and it took a nudge from an outside source to put a stop to the allegedly fictional reporting. Writer Gabriela Miranda is also said to have interfered with the publication's inquiry into the allegations, according to the New York Times piece that broke the news. Writer Jackson Richman quotes a statement USA Today posted on its website:
"After receiving an external correction request, USA Today audited the reporting work of Gabriela Miranda. The audit revealed that some individuals quoted were not affiliated with the organizations claimed and appeared to be fabricated. The existence of other individuals quoted could not be independently verified. In addition, some stories included quotes that should have been credited to others. As a result, USA Today removed 23 articles from its website and other platforms for not meeting our editorial standards. The headlines of the articles are listed below. Miranda has resigned as a reporter for USA Today and the USA Today Network."
Well that's embarrassing. The USA Today post goes on to list steps it will take to prevent false reporting in the future, or at least to catch it sooner. The assurances also serve to indicate what may have gone wrong this time, promising to:
"1. Improve our process for those who want to lodge complaints or request corrections.

2. Ensure stories have clear and sufficient identifying information for individuals quoted.

3. Ensure that reporters take appropriate steps at all times to verify source information.

4. Ensure that institutions are contacted to provide a response or statement if they are referenced in the story.

5. Apply additional scrutiny to sources found through blind connections on social media platforms, via email, etc.

6. Reinforce our standards for crediting other outlets for their work."
We think those steps should have been fundamental to real journalism from the beginning, but what do we know? The statement ends with a list of the offending articles, in case one is curious, but clicking each headline only leads to a notice of removal. Will USA Today take its own vows seriously, or is this list just more fake news?
Cynthia Murrell, July 12, 2022
Substack is a blogging platform which makes monetization easy. The New York Times, the outfit which purchased Wordle, illustrated where it would spend its acquisition dollars: A click machine egame. Why not Substack? Maybe the Gray Lady has an instinct that selling the branded writing of former laborers in publishing's vineyard was not a good idea.
"Substack Is Laying of 14% of Its Staff" explains:
Many media companies are anticipating headwinds in the coming months as the broader economy shows signs of strain.
Ah, ha. Headwinds.
Substack has to do some adulting to control its cash outflows. The result is:
an effort to conserve cash amid an industry wide funding crunch for start-ups.
What's the New York Times' strategy? Write about outfits which sell words whilst hunting for apps which generate traffic.
Real news, star journalists and writers, and compelling content? Nope. The word of the day "crash."
Stephen E Arnold, July 7, 2022
I read "The Media Bubble Is Real: Study Shows Massive Disconnect between Journalists, Public." The write up is presenting its possibly enthusiastic view of a Pew research report. Some folks in DC say, "Pew pew pew" when the organization's actual factual data are presented.
The write up says that journalists perceive themselves as doing a bang up job of reporting "real news." And 52 percent think "real news" types are watching elected leaders.
The write up then points out:
When asked if journalists manage and correct misinformation consistently, 43 percent of those in the industry said yes, while just 25 percent of the general public agreed. Almost half (46 percent) of journalists said they felt connected to their readers and viewers, while just one-quarter of the public says they feel connected to the media outlets from which they get their news.
Perception may be reality. Self knowledge is a different kettle of fishy things, however.
Pew pew pew.
Stephen E Arnold, June 29, 2022
Russian literature stereotypically compromises Tolstoy's novels and works by scientists with unpronounceable names. Another Russian literature stereotype deals with fiction subject matter. It pokes fun at the prolonged, abject suffering of the country, how it has become the standard way of life for them, and that it makes them strong, resilient people. Despite actions by their politicians, the Russian people have a great sense of humor and love joking about their unyielding misery with themselves and foreigners.
As for their non-fiction works, especially in the sciences, there is an entire library of knowledge unknown to the majority of the world. Mathematicians, physicists, chemists, and other scientists are usually the only ones familiar with these works, but these fields have a limited audience.
Mir Books is the name of a defunct Soviet Union publisher as well as a blog maintained by a dedicated fan. The unnamed fan has made it their mission to share these out-of-print titles with the world, because of nostalgia and for posterity.
"An entire generation of Indians came of age with the titles from Mir Publications. But with the end of the Soviet era, the Mir saga came to an end. The Mir titles which at times were cheaply and easily available became scant. And finally ceased to be a part of the mainstream bookshops. The only places one could find them were in the used book shops, and that too became scarce as the years went by. This trend continues till date. To find a Mir title today even in a used book shop is nothing less than a MIRacle!! …
Many of the titles will be lost forever never to delight a new generation of readers. The knowledge that at least these books existed should not be lost. This blog is a project to make a comprehensive list of the titles published by Mir and over the years. So that the knowledge about these titles goes to the larger community, so that in the future someone can take up their digitization and / or republication. I urge and request all the people who owe even a little bit to books by Mir to contribute their knowledge about these books here…"
What is remarkable is that Mir Books published books for the Indian market. India and Russia are not normally associated with each other, but they are close neighbors and it only makes sense they are economic partners, especially in the Soviet age!
The blog creator digitized a lot of rare science texts, but the best are the children's books. The Soviet Union printed propaganda material just like communist China and Nazi Germany to indoctrinate kids, but they also published educational materials with a Soviet slant. Despite complying with propaganda rules, they do contain scientific facts. The scientists with the unpronounceable names had to get the basics somehow.
Whitney Grace, June 23, 2022
I delivered a lecture on June 16, 2022, to a group of crime analysts in a US state the name of which I cannot spell. In that talk, I provided a bit of information about faked content: Text, audio, video, and combinations thereof. I am asking myself, "Is this article "Ex-Google Worker: I Was Fired to Complaining about Wine Obsessed Religious Sect's Influence?" "real news"?
My wobbly mental equipment displayed this in my mind's eye: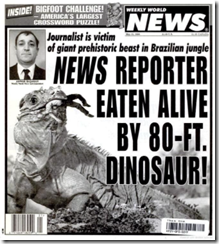 Did the Weekly World News base its dinosaur on the one Google once talked about with pride? Dear Copyright Troll, this image appears in Google's image search. I think this short essay falls into the category of satire or lousy "real journalism." In any event, I could not locate this cover on the WWN Web site. Here's a link to the estimable publication.
A dinosaur-consuming-a-humanoid news, right? Thousands of years ago, meh. The Weekly World News reported that a "real journalist" was eaten alive by 80 ft dinosaur."
What about the Google Tyrannosaurus Rex which may have inspired the cover for my monograph "Google Version 2: The Calculating Predator?" Images of this fine example of Googley humor are difficult to find. You can view one at this link or just search for images on Bing or your favorite Web image search engine. My hunch is that Google is beavering away to make these images disappear. Hopefully the dino loving outfit will not come after me for my calculating predator.
What's in the Daily Beast article about terminations for complaining about Google wine obsessed sect at the Google?
Let me provide a little reptilian color if I may:
A religious sect called the Fellowship of the Friends operates in a Google business unit and exerts influence at the company.
The Fellowship has 12 people working at the online ad giant
The Fellowship professionals have allegedly been referred to the GOOG by a personnel outfit called Advanced Systems Group
The so-called "sect" makes wine.
The point that jumps out at me is that Alphabet Google YouTube DeepMind or AGYD people management professionals took an action now labeled as a "firing" or wrongful termination.
Okay, getting rid of an employee is a core competency at AGYD. Managing negative publicity is, it appears, a skill which requires a bit more work. At least the Google dinosaur did not eat the former Google employee who raised a ruckus about a cult, wine, recruitment, etc. etc.
Stephen E Arnold, June 22, 2022