No one can accuse these scammers of not going all in. Motherboard reports, "This Fake Hitman Site Is the Most Elaborate, Twisted Dark Web Scam Yet." Reporter Joseph Cox describes the almost-certainly fake hitman-services website Besa Mafia. He writes:
Although many already suspected the site was a sham, Risk Based Security reported last week that supposedly hacked data shining more light on its behind-the-scenes dealings had been posted online. Included in that dump were alleged lists of 'hitmen,' photos of targets customers had uploaded, orders made on the site, and a large cache of messages purportedly between users and site admins.
Although the site is almost definitely a scam—and a seemingly profitable one at that—the sheer effort its creators have gone to puts Besa Mafia head and shoulders above just about anything else on the dark web."
Yes, to protect its stream of bitcoin profit (apparently about $23,000 by the time of the data dump), the site admins literally threaten to burn the cars of those who give them negative reviews. Less dramatically, they also seem to be seeding the Dark Web with positive reviews of their own non-existent services
Another interesting point from the data dump—in a hedge, the website has been supplying information on would-be clients and contractors to law enforcement. The article reports:
In one message from the dump, the admin writes that the site not only cheats people out of their bitcoin; it also provides information to law enforcement about ordered hits. 'This website is to scam criminals of their money. We report them for 2 reasons: to stop murder, this is moral and right; to avoid being charged with conspiracy to murder or association to murder, if we get caught,' the admin writes.
They certainly thought this through. See the article for more details on this fake purveyor of violent services.
Cynthia Murrell, November 16, 2017
Here we have one of the darker corners of the Dark Web. A brief but disturbing article at the UK's Birmingham Mail reports, "Birmingham University Academic Dr Matthew Falder Led Horrific Dark Web Double Life as '666devil'." The 28-year-old academic in question has pled guilty to 137 charges, most if not all, it seems, of vile crimes against children. Reporter James Cartledge writes:
Since 2010, the geophysicist, who worked at Birmingham University till September, had degraded and humiliated more than 50 victims online using the names '666devil' and 'evilmind'. … He admitted the offences at a hearing at Birmingham Crown Court on Monday. He was arrested on June 21 this year and has been held in custody since that date. Falder, of Edgbaston, Birmingham, posed as a woman on sites such as Gumtree to trick his victims into sending him naked or partially-clothed images of themselves. The disgraced geophysicist then threatened to expose his victims if they did not send severe and depraved abuse images of themselves. He then distributed the images.
It gets worse from there. We're told this is the first time the UK's National Crime Agency had delved into the Dark Web's hidden forums that share and discuss such "dark" material. Falder is scheduled to be sentenced on December 7 and shall remain in custody in the meantime.
Cynthia Murrell, November 15, 2017
Business intelligence involves many factors that range from enterprise systems to big data business analytics.  Another aspect is determining the risk of business decisions.  While a piece of software does not exist that can accurately predict the future, technology companies have come close.  Programmable Web published the article, "Flashpoint Launches V4 Of Its Business Risk Intelligence API" that describes one company's newest endeavors in business risk intelligence.
Flashpoint's business risk intelligence API is officially on its fourth version.  Dubbed Flashpoint API 4, the software provides a set of cybersecurity tools and the newest version includes a dataset for Risk Intelligence Observables (RIOs).  RIOs dig deeper than past indicators in specified activities to deliver secure insights.
The Flashpoint API aims to deliver near to real-time access to its security services. Because of RESTful API access, Flashpoint technology is available to entry-level users and enterprises alike. Through the API, users can search across Finished Intelligence, Deep & Dark Web data, and RIOs. A key component of Flashpoint's strategy is context surrounding threats, and the API's customization options allow users to define and address context to suit specific needs. Contact the Flashpoint team for more information.
Perhaps the most impressive thing about version four's release is the partner community.  These include ThreatConnect, ThreatQuotient, Silobreaker, and Anomali.  These four companies are part of Flashpoint's Strategic Partner Network and all have the goal to help companies detect cybercrime and other threats.
Whitney Grace, November 8, 2017
In November 2017, the focus of Beyond Search and HonkinNews will change. The free information services will increase their coverage of weaponized online. A preview of the type of information we will highlight appears in "Cyber Weapon Market to Reach US$521.87 Billion by the End of 2021." A summary of the report appears in the article in OpenPR. The news item asserts:
According to TMR, the global cyber weapon market stood at US$390 bn in 2014. Rising at a CAGR of 4.4% CAGR, the market is expected to reach US$521.87 bn by the end of 2021. With a share of 73.8%, the defensive cyber weapon segment dominated the market by type in 2014. Regionally, North America accounted for the leading share of 36% in the global market in 2014.
If the estimate is accurate, there is money in things cyber. Watch for our new report E Discovery for Cyber Intelligence. Previews of the report will appear in our twice a month video program "HonkinNews" starting in six weeks.
Stephen E Arnold, October 2, 2017
Arnold Information Technology has published Dark Web Notebook: Investigative Tools and Tactics for Law Enforcement, Security, and Intelligence Organizations. The 250-page book provides an investigator with instructions and tips for the safe use of the Dark Web. The book, delivered as a PDF file, costs $49.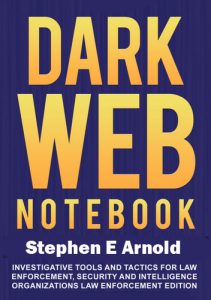 Orders and requests for more information be directed to darkwebnotebook@yandex.com. Purchasers must verify that they work for a law enforcement, security, or intelligence organization. Dark Web Notebook is not intended for general distribution due to the sensitive information it contains.
The author is Stephen E Arnold, whose previous books include CyberOSINT: Next Generation Information Access and Google Version 2.0: The Calculating Predator, among others. Arnold, a former Booz, Allen & Hamilton executive, worked on the US government-wide index and the Threat Open Source Intelligence Gateway.
The Dark Web Notebook was suggested by attendees at Arnold's Dark Web training sessions, lectures, and webinars. The Notebook provides specific information an investigator or intelligence professional can use to integrate Dark Web information into an operation.
Stephen E Arnold, author of the Dark Web Notebook, said:
"The information in the Dark Web Notebook has been selected and presented to allow an investigator to access the Dark Web quickly and in a way that protects his or her actual identity. In addition to practical information, the book explains how to gather information from the Dark Web. Also included are lists of vendors who provide Dark Web services to government agencies along with descriptions of open source and commercial software tools for gathering and analyzing Dark Web data. Much of the information has never been collected in a single volume written specifically for those engaged in active investigations or operations."
The book includes a comprehensive table of contents, a glossary of terms and their definitions, and a detailed index.
The book is divided into 13 chapters. These are:
Why write about the Dark Web?
An Introduction to the Dark Web
A Dark Web Tour with profiles of more than a dozen Dark Web sites, their products, and services
Dark Web Questions and Answers
Basic Security
Enhanced Security
Surface Web Resources
Dark Web Search Systems
Hacking the Dark Web
Commercial Solutions
Bitcoin and Variants
Privacy
Outlook
In addition to the Glossary, the annexes include a list of DARPA Memex open source software written to perform specific Dark Web functions, a list of spoofed Dark Web sites operated by law enforcement and intelligence agencies, and a list of training resources.
Kenny Toth, June 5, 2017
The article on Zawya titled Digital Shadows Continues to Make Waves with Two Prestigious Award Wins positions Digital Shadows as the juggernaut of the risk management market with its product SearchLight sweeping up honors left and right from Cyber Defense Magazine, Momentum Partners, and the 2016 SINET awards. Each accolade cites Digital Shadows cutting edge technology and strategy. What makes the company so innovative?
Digital Shadows monitors for digital risks beyond the boundary of an organization, identifying cyber threats, data leakage and reputational risk. It then notifies clients of data leaks online; hacktivists' or cybercriminals' plans to target the organization; employees or suppliers putting themselves and their company at risk; along with criminals selling company information and data on the surface and dark web.
Beyond this, the alerts themselves are verified and rated in urgency by a team of analysts who also advise the organization on how to proceed for customized threat intelligence. Alastair Paterson, CEO and Co-Founder, calls the process a "marriage" between the technology and the human team. Digital Shadows has seen monumental growth in the triple digits for the past three years including opening new offices in Dallas, San Francisco, and London and building an employee base of over 100 people.
Chelsea Kerwin, April 28, 2017
The article titled Google Will Make 'Pirated' Content Harder to Find From 1 June on The Inquirer proclaims a new approach to preventing piracy. Numerous entertainment organizations have nagged Google to set stricter rules, and even gone so far as to call Google a gateway to pirated content. The article mentions,
Google has already taken some steps to try and curb 'piracy' but has long refused to remove entire sites from search results as they may also offer legal content available for download. These days, the firm is flooded with takedown requests, last year revealing that it gets asked to remove 100,000 links to pirated content every hour.
The anti-piracy code will be adopted by Google and other unnamed search firms in cooperation with the British Intellectual Property Office. In the meantime, the article titled 7 Sites to Get Free Music (Legally!) on MakeUseOf suggests some solid options for people who want to kick the illegal pirating habit. BeSonic, Jamendo, and NoiseTrade are included on the list, and for those classical music lovers, MusOpen might have just the free content you are looking for.
Chelsea Kerwin, March 22, 2017
Law enforcement's focus on the Dark Web seems to be paying off, as we learn from the write-up, "Finland: Dark Web Drug Operation Exposed" at Hetq, an outlet of the Association of Investigative Journalists. In what was described as Finland's largest drug bust, authorities seized over a million dollars' worth of narcotics from a network selling their wares on the Dark Web. We learn:
The network is alleged to have imported €2 million (US$ 2.2 million) worth of drugs between 2014 and 2016, selling them on the dark web site Silkkitie. More than 40 kilograms of powdered narcotics, such as amphetamine, heroin and cocaine, as well as 40,000 ecstasy tablets and 30,000 LSD blotters were smuggled into Finland from the Netherlands and Germany, and then sold on the site. …

As part of the investigation, customs officers in April seized at least €1.1 million worth of heroin, cocaine, methamphetamine, MDMA and ecstasy in the coastal town of Kustavi. The same month, police arrested three Finnish citizens.
The write-up notes that Silkkitie users communicated through encrypted messages under pseudonyms, and that Bitcoin was the currency used. We're also reminded that Silkkitie, a.k.a. Valhalla, is one of the Dark Web's most popular drug marketplaces. The Finnish site was launched in 2013.
Cynthia Murrell, March 1, 2017
What is known as the Dark Web has a fair amount of myth surrounding it, thanks to a sensationalized name and a few high-profile media stories. Tech Republic shared an article called, Four misleading myths about the Dark Web, attempting to shine light on some of the common fallacies. In summary, the Dark Web is not necessarily anonymous, it's not very difficult to access, it's not all nefarious activity, and there is support for businesses and organizations seeking protection from and prevention of cybertheft and security breaches. The article explains,
The biggest mistake businesses large and small can make regarding the Dark Web is to pretend it doesn't exist. After the FBI took down the Silk Road, dozens of other niche markets took its place. With a slick interface and well organized ecommerce-like storefront, AlphaBay, one of the largest black markets on the Dark Web, makes shopping for stolen credit card data a breeze. Fortunately for companies, there's no need to track the Dark Web alone. One technology in particular, Matchlight by Terbium Labs, helps business monitor and locate stolen Dark Web data like stolen source code, employee social security numbers, and other proprietary trade documents.
The Dark Web has become almost synonymous with Tor, the seemingly most popular way to access it. Tor has actually been used since the 1990's by members of the intelligence community; it was developed by the US Naval Research Laboratory. While over the last decade or so, Tor has been surrounded by media coverage about drugs and crime, it will be interesting to see if the coverage shifts — or increases — because of emerging technologies such as Matchlight.
Megan Feil, February 22, 2017
So far, this has been a booming year for  DMCA takedown requests, we learn from TorrentFreak's article, "Google Wipes Record Breaking Half Billion Pirate Links in 2016." The number of wiped links has been growing rapidly over the last several years, but is that good or bad news for copyright holders? That depends on whom you ask. Writer Ernesto reveals the results of TorrentFreak's most recent analysis:
Data analyzed by TorrentFreak reveals that Google recently received its 500 millionth takedown request of 2016. The counter currently [in mid-July] displays more than 523,000,000, which is yet another record. For comparison, last year it took almost the entire year to reach the same milestone. If the numbers continue to go up at the same rate throughout the year, Google will process a billion allegedly infringing links during the whole of 2016, a staggering number.

According to Google roughly 98% of the reported URLs are indeed removed. This means that half a billion links were stripped from search results this year alone. However, according to copyright holders, this is still not enough. Entertainment industry groups such as the RIAA, BPI and MPAA have pointed out repeatedly that many files simply reappear under new URLs.
Indeed; copyright holders continue to call for Google to take stronger measures. For its part, the company insists increased link removals is evidence that its process is working quite well. They issued out an update of their report, "How Google Fights Piracy." The two sides remain deeply divided, and will likely be at odds for some time. Ernesto tells us some copyright holders are calling for the government to step in. That could be interesting.
Cynthia Murrell, February 10, 2017