Policeware vendors once commanded big, big bucks to match a person of interest to a location. Over the last decade prices have come down. Some useful products cost a fraction of the industrial strength, incredibly clumsy tools. If you are thinking about the hassle of manipulating data in IBM or Palantir products, you are in the murky field of prediction. I have not named the products which I think are the winners of this particular race.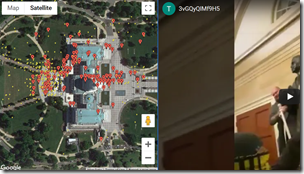 Source: https://thepatr10t.github.io/yall-Qaeda/
The focus of this write up is the useful information derived from the deplatformed Parler social media outfit. An enterprising individual named Patri10tic performed the sort of trick which Geofeedia made semi famous. You can check the map placing specific Parler uses in particular locations based on their messages at this link. What's the time frame? The unusual protest at the US Capitol.
The point of this short post is different. I want to highlight several points:
Metadata can be more useful than the content of a particular message or voice call
Metadata can be mapped through time creating a nifty path of an individual's movements
Metadata can be cross correlated with other data. (If you attended one of my Amazon policeware lectures, the cross correlation figures prominently.)
Metadata can be analyzed in more than two dimensions.
To sum up, I want to remind journalists that this type of data detritus has enormous value. That is the reason third parties attempt to bundle data together and provide authorized users with access to them.
What's this have to do with policeware? From my point of view, almost anyone can replicate what systems costing as much as seven figures a year or more from their laptop at an outdoor table near a coffee shop.
Policeware vendors want to charge a lot. The Parler analysis demonstrates that there are many uses for low or zero cost geo manipulations.
Stephen E Arnold, January 15, 2021
We hope that by now, dear reader, you understand digital privacy is an illusion. For those curious about the relationship between big tech, personal data, and law enforcement, we suggest "How Your Digital Trials Wind Up in the Hands of the Police," shared by Ars Technica. The article, originally published by Wired, begins by describing how police used a Google keyword warrant to track down one high-profile suspect. We're reminded that data gathered for one ostensible purpose, like building an online profile, can be repurposed as evidence. From the smart speakers and wearable devices that record us to apps that track location and other data, users are increasingly signing away their privacy rights. Writer Sidney Fussell notes:
"The problem isn't just any individual app, but an over-complicated, under-scrutinized system of data collection. In December, Apple began requiring developers to disclose key details about privacy policies in a 'nutritional label' for apps. Users 'consent' to most forms of data collection when they click 'Agree' after downloading an app, but privacy policies are notoriously incomprehensible, and people often don't know what they're agreeing to. An easy-to-read summary like Apple's nutrition label is useful, but not even developers know where the data their apps collect will eventually end up."
Amid protests over policing and racial profiling, several tech companies are reevaluating their cooperation with law enforcement. Amazon hit pause on sales of facial recognition tech to police even as it noted an increase in requests for user data by law enforcement. Google vowed to focus on better representation, education, and support for the Black community. Even so, it continues to supply police with data in response to geofence warrants. These requests are being made of Google and other firms more and more often. Fussell writes:
"As with keyword warrants, police get anonymized data on a large group of people for whom no tailored warrant has been filed. Between 2017 and 2018, Google reported a 1,500 percent increase in geofence requests. Apple, Uber, and Snapchat also have received similar requests for the data of a large group of anonymous users. … These warrants allow police to rapidly accelerate their ability to access our private information. In some cases, the way apps collect data on us turns them into surveillance tools that rival what police could collect even if they were bound to traditional warrants."
Civil rights groups are pushing back on these practices. Meanwhile, users would do well to pause and consider before hitting "Agree."
Cynthia Murrell, January 14, 2021
I spotted the jargon now used by Palantir for its Titan platform. No, the jargon is not platform. Here's what the policeware powerhouse states at the Titan Web page:
Titan's platform upgrade makes Gotham more performant, open, and proactive, so that the world's institutions can continue turning data into intelligence.
I once heard a Fast Search & Transfer whiz kid use the word "performant." In 2006, I asked, "What does performant mean?" The answer was, "It means fast." I asked, "Like the name of your company or fast as in speed?" The reply, "Fast." That's the type of answer that may have contributed to some of Fast Search's challenges.
I also like the Palantirish word "proactive," which seems forward leaning.
The search and business intelligence vendors have been using the phrase "turning data into intelligence" for years.
To sum up, Palantir is becoming performant in marketing its platform which converts all sorts of information into "intelligence." Now what is "intelligence"? Answer fast or performantly, please.
Stephen E Arnold, January 7, 2021
The DarkCyber video news program for December 15, 2020, is now available at this link. This week's program includes:
Fact or fiction: Work around iCloud security for an iPad
Germany opens backdoor to one encrypted email system
The Dark Web and Covid is a thing
Smart weapons and surgical strikes: The future of war
NSO Group in the spotlight again
Current information about beam weapons.
You may also view the program via the embedded player on the Beyond Search Web site at this link. Plus, no begging for dollars and no advertising.
Kenny Toth, December 15, 2020
This is a minor point. Verint has incorporated in Israel an entity named Cognyte. The trademark was filed in August 2020. Cognyte, according to this document, is:
Computer and software consulting services provided to governmental entities and enterprise organizations for use in the fields of cyber security, network intelligence, web and social intelligence, situational intelligence, video security, unifying and analyzing intelligence data, surveillance of computer, telecommunication and digital networks; Computer and software consulting services to help governments, critical infrastructure and enterprise organizations to neutralize and prevent terror, crime and cyber threats; Cybersecurity services in the nature of protecting data and information from unauthorized access, and restricting access to computer systems; Data security consultancy; Design and development of electronic data security systems; Computer security threat analysis for protecting data.
Some may confuse Verint's Cognyte with this Cognyte:
Cognyte is a marketplace helping researchers connect with academic editors across the globe – especially between Western and non-Western countries. Our aspiration is to broadly elevate scientific communication in the academic community to achieve greater impact in society.
Some lawyers maybe. If an IPO for the Verint Cognyte becomes a reality and a success, the academic Cognyte may want to change its name unless these are the same entities in Melville, NY.
Stephen E Arnold, December 14, 2020
In an interview with a policeware/intelware vendor, I learned about a financial company's view of Palantir Technologies. This is the 13 year old start up which recently went public. The company had an astounding 130 customers, about $600 million in revenue, and a modest $500 million in losses in 12 months.
Here's the comment which I chased down in its original tweeter output glossiness:
The operative phrase is:
A full casino.
If I were a Palantirian unpacking boxes in Denver, Colorado, I would hit the Yellow Pages or the Seeing Stone. An attorney might have some thoughts about a malicious metaphor disseminated via the marvelous firm managed part time by a bearded CEO.
Palantir. A full casino. Whatever does that mean?
Stephen E Arnold, December 4, 2020
"AWS Announces Panorama, a Device That Adds Machine Learning Technology to Any Camera" caught my attention. (Now don't think I ignored Amazon's work monitoring system called Monitron, a wonderful name, very Robo Cop like. I have not.) I noted the word "all" in the title. Very wide in scope. Appropriate in an era of data harvesting. Also, I quite liked the "appliance" moniker. What could me more appropriate for a company with more than one million employees, oodles of government contracts with assorted nation states, and customers hungry to know as much as possible about humanoids and other entities of interest? A toaster, a data Hoover, a device to exploit the info-pressure differential between those with the gizmo and those monitored by the gizmo.
The write up states:
…enterprises continue to clamor for new machine learning-enabled video recognition technologies for security, safety and quality control. Indeed, as the COVID-19 pandemic drags on, new protocols around building use and occupancy are being adopted to not only adapt to the current epidemic, but plan ahead for spaces and protocols that can help mitigate the severity of the next one.
And law enforcement and intelligence applications? Whoops. Not included in the write up nor in the AWS blog post. Amazon is not in the policeware and intelware business. At least, that's what I have been told.
Stephen E Arnold, December 2, 2020
About a month ago, Google rolled out its own virtual private network. The timing was mostly in sync with Facebook's expansion of encrypted services for its chat apps. Is encryption good for users, good for large technology companies, and good for law enforcement.
The story "Google One VPN: Everything You Need To Know" is representative of the coverage of Google's VPN. I noted:
Google isn't new to the world of VPNs. It actually has used one for its customers on Google Fi for many years now. Essentially with Google Fi, whenever you connected to a public WiFi network, you would automatically be connected through Google Fi's VPN. As mentioned before, this is because Public WiFi networks are not secure. So while keeping you from using a lot of data, since Fi charges per gigabyte, it also kept you protected. Now, Google is just moving its VPN to where everyone can use it. Whether they are a Fi customer or not.
The write up does not answer the question about the "goodness" of the Google service. The write up asserts:
Google has said numerous times that it will not use the VPN connection to track, log or sell your browsing activity. But then again, how will we know that Google is not doing that? We won't. And that goes for any other company too. It's up to you, whether you trust Google not to collect this data when you're using its VPN. But don't forget, that if Google really wanted that data, it could easily get it from your Android smartphone too.
As I said in response to questions posed to me by a former CIA professional (view full 20 minute video here):
Online services are inherently surveillance mechanisms.
Many will not agree with this Arnold Law. That's okay, but VPNs are particularly interesting because the user agreeing to participate in an allegedly secure and private man in the middle service. How secure is a man in the middle service?
Another good question just like "Are VPNs private?"
Stephen E Arnold, November 30, 2020
Navigate to the trustworthy Berkshire Hathaway Company Businesswire. Read "IPR Center, Amazon Launch 'Operation Fulfilled Action' to Stop Counterfeits." Note that IPR means U.S. government's National Intellectual Property Rights Coordination Center. Here's a passage I found interesting:
"Amazon conducts investigations and sidelines inventory if we suspect a product may be counterfeit, ensuring our customers are protected," said Dharmesh Mehta, vice president, Customer Trust and Partner Support, Amazon. "But we also know that counterfeiters don't just attempt to offer their wares in one store, they attempt to offer them in multiple places. Now, by combining intelligence from Amazon, the IPR Center, and other agencies, we're able to stop counterfeits at the border, regardless of where bad actors were intending to offer them. We appreciate the partnership from the IPR Center and other agencies to protect American consumers and prosecute bad actors."
Investigations? Yep. Read on.
In an effort to protect consumers, this joint operation will analyze data and conduct targeted inspections aimed at preventing counterfeit products from entering the U.S. supply chain. The IPR Center and Amazon will leverage evidence obtained during the operation to expand on-going investigations, with the goal of holding bad actors accountable to the fullest extent of the law. This operation will be led by Amazon's Counterfeit Crimes Unit, which was created earlier this year to support law enforcement investigations and to initiate civil litigation against counterfeiters.
To learn more about Amazon policeware and intelware, write benkent2020 at yahoo dot com. The DarkCyber research team offers a one hour, for fee Zoom lecture about this interesting and now quite public Amazon capability.
Plus, I found the name "fulfilled action" fulfilling.
Stephen E Arnold, November 25, 2020
Here's an interesting quote (if it is indeed accurate):
SFM [a George Soros financial structure] made this investment [in Palantir Technologies] at a time when the negative social consequences of big data were less understood," the firm said in a statement Tuesday. SFM would not make an investment in Palantir today.
The investment concerns Palantir Technologies. George Soros, who is 90 years young, according to "Soros Regrets Early Investment in Peter Thiel's Palantir," includes this statement:
Soros has sold all the shares it's permitted to sell at this time and will keep selling, according to the statement. "SFM does not approve of Palantir's business practices," the firm said.
Hindsight is 20-20. Or is it?
Hindsight bias can cause memory distortion. Because the event happened like you thought it would, you go back and revise your memory of what you were thinking right before the event. You re-write history, so to speak, and revise the probability in hindsight. Going forward, you use that new, higher probability to make future decisions. When in fact, the probabilities haven't changed at all. That leads to poor judgment.—"Innovators: Beware the Hindsight Bias"
Stephen E Arnold, November 18, 2020