I was a high school debater. I was a college debater. I did extemp. I did an event called readings. I won many cheesey medals and trophies. Also, I have a number of recollections about judges who shafted me and my team mate or just hapless, young me.
I learned:
Human judges mean human biases.
When I learned that the audience voted a human the victor over the Jeopardy-winning, subject matter expert sucking, and recipe writing IBM Watson, I knew the human penchant for distortion, prejudice, and foul play made an objective, scientific assessment impossible.
Humans may not be qualified to judge state of the art artificial intelligence from sophisticated organizations like IBM.
The rundown and the video of the 25 minute travesty is on display via Engadget with a non argumentative explanation in words in the write up "IBM AI Fails to Beat Human Debating Champion." The real news report asserts:
The face-off was the latest event in IBM's "grand challenge" series pitting humans against its intelligent machines. In 1996, its computer system beat chess grandmaster Garry Kasparov, though the Russian later accused the IBM team of cheating, something that the company denies to this day — he later retracted some of his allegations. Then, in 2011, its Watson supercomputer trounced two record-winning Jeopardy! contestants.
Yes, past victories.
Now what about the debate and human judges.
My thought is that the dust up should have been judged by a panel of digital devastators; specifically:
Google DeepMind. DeepMind trashed a human Go player and understands the problems humanoids have being smart and proud
Amazon SageMaker. This is a system tuned with work for a certain three letter agency and, therefore, has a Deep Lens eye to spot the truth
Microsoft Brainwave (remember that?). This is a system which was the first hardware accelerated model to make Clippy the most intelligent "bot" on the planet. Clippy, come back.
Here's how this judging should have worked.
Each system "learns" what it takes to win a debate, including voice tone, rapport with the judges and audience, and physical gestures (presence)
Each system processes the video, audio, and sentiment expressed when the people in attendance clap, whistle, laugh, sub vocalize "What a load of horse feathers," etc.
Each system generates a score with 0.000001 the low and 0.999999 the high
The final tally would be calculated by Facebook FAIR (Facebook AI Research). The reason? Facebook is among the most trusted, socially responsible smart software companies.
The notion of a human judging a machine is what I call "deep stupid." I am working on a short post about this important idea.
A human judged by humans is neither just nor impartial. Not Facebook FAIR.
An also participated award goes to IBM marketing.
IBM snagged an also participated medal. Well done.
Stephen E Arnold, February 13, 2019
It was a trying summer for IBM's Watson as its Oncology software received some harsh criticism. Will new leadership improve the program? We learn IBM replaced Watson Health's former head, Deborah DiSanzo, with John Kelly, previously their senior V.P. of Cognitive Solutions and Research, from Computerworld's article, "Did IBM Overhype Watson Health's AI Promise?" We would say the answer to that rhetorical question is, you bet!
Writer Lucas Mearian describes the troublesome July report published in Stat News. That report revealed that Watson Oncology, which is being used in several real-life healthcare facilities, had recommended "unsafe and incorrect" treatments for hypothetical patients. The Computerworld article touches on the company's defense (or denial, depending on who you listen to), as well as covering some early problems that plagued the program. See the piece for those details. We are reminded that it takes time to fully train machine learning software, and told the AI has simply not had enough time or quality data to meet the hype generated by the sales team. Not yet.
The article closes with a look ahead, citing IBM's relatively recent purchases of healthcare data analytics-firm Explorys, patient communications company Phytel, and Truven Health Analytics. Quoting Cynthia Burghard of IDC Health Insights, Mearian writes:
Upon completing all three acquisitions, IBM boasted its Watson Health Cloud housed "one of the world's largest and most diverse collections of health-related data, representing an aggregate of approximately 300 million patient lives acquired from three companies. They all in their own right, before they were acquired, were very successful companies and had good, strong, loyal client bases and were plugging along."… In late October, IBM announced plans to seed its new hybrid cloud model for Watson by first moving data from insurance payer systems. For that, Truven will be key. Once payer data is moved to the hybrid cloud, the electronic medical records (EMRs) acquired through the Explorys acquisition will follow, Kelly said.
IBM is not the first company to have its sales team outrun its developers, with an IBM quantum computer ready for prime time, what happens when one combines the two?
One possible answer is more marketing.
Cynthia Murrell, January 20, 2019
Big data, big data, big data! Why does everyone assume that big data analytics is going to save the world? There are limited to big data's power and most related projects have an 85% failure rate, according to Gartner. One reason is that few people know how to correctly implement big data projects, including vendors. There is hope on the horizon for big data companies, because IBM is making itself a guinea pig.
According to the Silicon Angle's article, "IBM Is Its Own AI Guinea Pig, Shares Successes From The Test Results." IBM's Big Blue has tested big data businesses and it has recorded its failures and successes in tools, technologies, and working methods. IBM is packaging what Big Blue has learned and selling it to customers.
" 'What we can do is pull together the right breadth and depth of IBM resources, deploy it and customize it to customer needs and really hopefully accelerate and apply a lot of what we've learned, a lot of what our clients have learned to accelerate their own artificial intelligence transformation journey,' said Caitlin Halferty (pictured, left), client engagement executive, global chief data office at IBM."
IBM's big data secret is metadata, because to have the right data governance plan you need to have the right metadata. IBM has a tool for that:
"IBM showcased its automated metadata generation tool at the summit. It leverages automation and AI to slice through some dense metadata-curation blocks. It shortens the often tedious, manual process of data labeling, she said. This helps data officers begin a project with clean, labeled data from the get-go."
IBM's key for big data success is buying their big data package and automated metadata tool. How much are the price tags on those? Also even if you do cough up the greenbacks for them do you actually know how to use the data?
Whitney Grace, November 22, 2018
I read "IBM Unveils Its First Commercial Quantum Computer." The write up stated with no trace of sarcasm:
we're not quite there yet, but the company also notes that these systems are upgradable (and easy to maintain).
Gentle reader, do you know how to maintain a cryogenic system? No background in low temperature physics? No experience working with super cooled fluids? Hey, no problemo. IBM offers services too.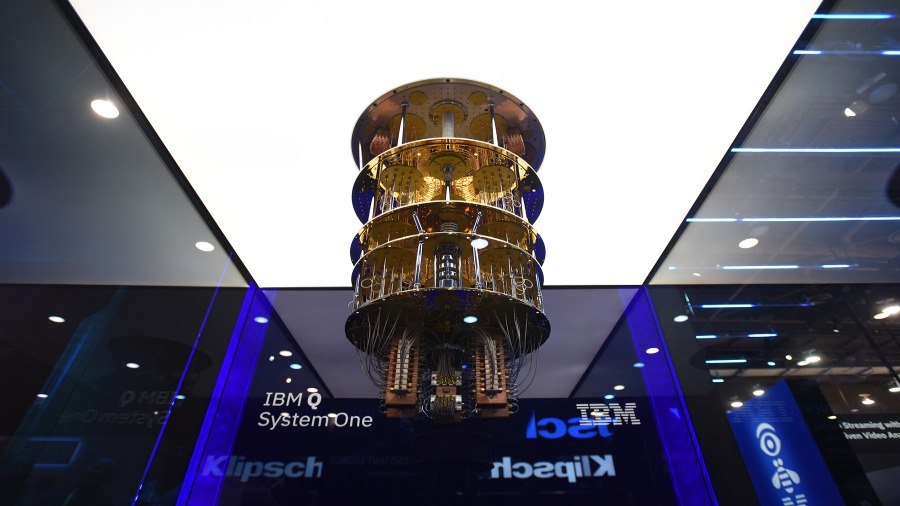 The write up points out that IBM wants the quantum computer to be a work of art. How about delivering useful computing capability?
Imagine this in your WeWork space:
It's a nine-foot-tall and nine-foot-wide airtight box, with the quantum computing chandelier hanging in the middle, with all of the parts neatly hidden away.
What is more interesting is that IBM rolled out this product at the consumer electronics show.
Quick buy IBM stock. This practical device will deliver:
Games? No.
Applications? No.
Visualizations? No.
Er, PR? Yes.
Stephen E Arnold, January 9, 2019
Yep, IBM is a consumer product company. I know this because I read "LA Sues Weather Channel App Over Stealthy Data Collection." Consumer centric outfits like Facebook and Google may operate this way. If IBM is indeed sucking and selling data from is Weather Channel App, it too must be a consumer products' company.
I noted "Struggling IBM Uses CES to Reinvent Itself." I assumed that that reinvention was selling data. But, no, once again I was incorrect, a common failing.
I learned from the write up:
At CES, Rometty is expected to emphasize IBM's (NYSE: IBM) undisputed AI chops along with its aggressive moves into the hybrid cloud market and quantum computing. But the underlying theme will be what the company characterizes as "new data," and using AI and cloud platforms to "refine" data into something useful.
I thought it was a somewhat squishy marketing opportunity, a way to disappoint stakeholders, and a cloud of fog generated about mainframes actually selling.
No CES for me. My hunch is that those seeking gadgets will have a tough time hauling away Watson on a laptop or a desktop IBM quantum computer.
See, IBM does do consumer products as long as one defines consumer in a somewhat narrow sense.
But that sneaky app thing is promising. Isn't the former head of the Weather Channel now head of Watson. The IBM revolving door makes me dizzy.
Stephen E Arnold, January 6, 2019
Apparently, it does not take just one white paper to convince people that IBM is number one—it takes 10. That is the number of publications the company shares on its AI Research page, "The New Frontiers of AI: Selected IBM Research AI Publications from 2018." The introduction to the collection reads:
"Much of the recent progress in AI has relied on data-driven techniques like deep learning and artificial neural networks. Given sufficiently large labeled training data sets and enough computation, these approaches are achieving unprecedented results. As a result, there has been a rapid gain on 'narrow AI' – tasks in areas such as computer vision, speech recognition, and language translation. However, a broader set of AI capabilities is needed to progress AI towards solving real-world challenges. In practice, AI systems need to learn effectively and efficiently without large amounts of data. They need to be robust, fair and explainable. They need to integrate knowledge and reasoning together with learning to improve performance and enable more sophisticated capabilities.
We also noted:
"Where are we in this evolution? While 'general AI' – AI that can truly think, learn, and reason like a human- is still within the realm of science fiction, 'broad AI' that can learn more generally and work across different disciplines is within our reach. IBM Research is driving this evolution. We have been a pioneer of artificial intelligence since the inception of the field, and we continue to expand its frontiers through our portfolio of research focused on three areas: Advancing AI, Scaling AI, and Trusting AI."
As the echoes of IBM tooting its own horn linger, one can glean some interesting information from the documents presented. The papers are broken into color-coded categories—Advancing AI, Scaling AI, and Trusting AI. A couple of the simpler titles include "Listening Comprehension over Argumentative Content" and "Training Deep Neural Networks with 8-bit Floating Point Numbers." Navigate to the post for all the (very) technical wisdom.
Cynthia Murrell, January 3, 2019
We find it a bit brazen for IBM to be pontificating about trust after Watson Health's recent marketing missteps. Still, on her recent visit to Brussels, that company's CEO joined the chorus criticizing certain other tech giants for violating users' privacy. Fortune reports, "A 'Trust Crisis:' IBM CEO Ginni Rometty Joins Apple's Tim Cook in Slamming Tech Abuse of User Data." She even went so far as to suggest the EU strengthen its laws to hold companies responsible for all content that crosses their platforms. We are informed:
"Without naming company names, Rometty pointed to the 'irresponsible handling of personal data by a few dominant consumer-facing platform companies' as the cause of a 'trust crisis' between users and tech companies, according to an advanced copy of her remarks. Rometty's comments, given at a Brussels event with top EU officials Monday, echoed recent statements by Apple CEO Tim Coo, who in October slammed Silicon Valley rivals over their use of data, equating their services to 'surveillance.'…
We also noted this statement:
"Seeking to separate IBM—which operates primarily at a business-to-business level—from the troubled tech companies, Rometty said governments should target regulation at consumer-facing web platforms, like social media firms and search engines."
Certainly, IBM executives and shareholders would be quite pleased to see regulations focus on consumer-facing companies and away from B2B entities like them. Rometty offers this statement to support her position:
"The power dynamic is very different in the business-to-business markets. Tackling the real problem means using a regulatory scalpel, not a sledgehammer, to avoid collateral damage that would hurt the wider, productive, and more responsible parts of the digital economy."
Interesting perspective. Cook's similar criticisms were also made in Brussels, in October. Does he hope to divert attention from Apple app store monopoly concerns? To be sure, throwing shade at the competition can redirect consumer, and regulatory, fury. The pot will always call the kettle black, it seems.
Cynthia Murrell, December 21, 2018
Do you have a son or daughter graduating from college next year. Perhaps a future as a game show winner is a good use for the thousands of dollars and hundreds of hours immersed in the college experience?
That's a career path IBM Watson followed. Since winning the Jeopardy game show (complete with post production), Watson has a real job.
Watson is now writing TV commercials. Well, one commercial for Lexus if the information in "New Lexus ES Commercial Written Entirely by Artificial Intelligence" is accurate.
The idea is that Watson cranked out a script, worked with a human to shoot footage, and craft what the write up calls a "strangely compelling" chunk of Mad Ave art. Check out the non linear messaging for a new Lexus at this link.
Check it out for yourself.
Oh, and about your college graduate who wants to move from the game show to the zippy world of making TV commercials: There's hope.
The commercial is another attempt by IBM to get some revenue juice into its over hyped Watson technology. Maybe your college grad could skip Jeopardy and just apply for a position at IBM. Help is needed it appears.
Stephen E Arnold, November 26, 2018
The US does not follow soccer, ahem, football. The rest of the world, however, does. Whether you call it soccer or football, it is the most popular sport in the world and the World Cup requires a lot of power and technology to cover it. The Medium's Global Editors Network explores how in the article, "Covering The World Cup Cup 2018 With AI And Automation."
During the World Cup, fans are ravenous for information on their teams and news networks use automation and artificial intelligence to keep up with the demand. Individual networks each did something new and amazing to cover the World Cup. The UK Times launched a World Cup Alexa Skill, Fox Sports partnered with IBM Watson to make AI-powered highlight videos, and Le Figaro created automated visual summaries.
Fox Sports's AI video highlight machine was amazing. Watson used its AI to allow users to create on-demand videos using World Cup clips from 1958 to the present.
"According to Engadget, there are 300 archived World Cup matches that Watson's AI technology is capable of analyzing. More specifically, the IBM Watson Video Enrichment, a programmatic metadata tool, analyses the footage to create metadata that identifies what is happening in a scene at any given moment with an associated timestamp. 'In essence, Watson Video Enrichment acts as an automatic metadata generator that is trained to use clues, such as facial characteristics, the presence of a red card, crowd noise, what's being said by announcers and other characteristics, to create metadata that makes the massive amount of soccer video searchable', wrote Phil Kurz on TVTechnology."
Le Figaro's innovation to generate World Cup visual summaries worked faster than any human. Dubbed Mondial Stories, the automated stories provide all the information someone needs to review a game as if they had watched the entire match.
Automation is a great tool, because the summaries do not require extra expenses, have low maintenance, it is an objective tool, and has potential for future sponsorships.
AI and automation cannot fully take over the human component of reporting on games, because they are just machines. However, they can enhance the viewer experience, increase commerce opportunities, and there are other ideas that have yet to be explored.
Whitney Grace, November 19, 2018
Machine learning and artificial intelligence is really making a dent on corporate waste. Those interested in the bottom line are sitting up and taking notice. We discovered one inventive way to shed a few pounds of corporate flab from a recent IT News Africa story, "TravelPort, IBM Launch AI Travel Platform."
According to the story:
"Delivered via the IBM Cloud, the platform uses IBM Watson capabilities to intelligently track, manage, predict and analyze travel costs in one place to fundamentally change how companies manage and optimize their travel programs… The new platform features advanced artificial intelligence, and provides cognitive computing, predictive data analytics using "what-if" type scenarios, and integrated travel and expense data."
While corporate travel might not seem like it will change your life personally, unless you own a globetrotting company, it provides insight into a bigger picture. Take, for example, how oncology is slashing costs with AI with technology that detects cancer more accurately than human eyes. There is seemingly no end to ways in which AI can help pull a company from the red to the black. Even public services, like courtrooms, have begun using this tech to speed up the sentencing process. Watch for this to seep into your world, even if you don't expect it.
Those surprising IBM Watson folks. Talented.
Patrick Roland, November 13, 2018