I read a "real news" story called "Amazon Apologizes for Lying about Pee — And Attempts to Shift the Blame." The main point of the article is that a large, essentially unregulated company creates working conditions which deny employees the right to deal with bodily functions. You can plug in the words which would get an ordinary person banned by smart software designed to protect one's sensibilities.
The write up, however, focuses on Amazon's mendacious behavior. Is it a surprise that a giant corporation distorts information so that it can continue to behave in a way that would make the author of Nicomachean Ethics slug down hemlock before finishing research for his revered tome? [Note: I included the MIT version because MIT is so darned ethical in its willingness to accept Jeffrey Epstein's blandishments and cash.] "Gimme that cup of poison. There's no hope," he might have said.
The write up states:
Amazon only apologizes for not being "accurate" enough, too — not for actually creating and contributing to situations where workers [censored] in bottles. In fact, Amazon goes so far as to suggest the whole pee bottle thing is simply a regrettable status quo, pointing out a handful of times when other companies' delivery drivers were also caught peeing in bottles, as well as embedding a handful of random comments on Twitter that happen to support Amazon's views. You can almost hear Jeff Bezos saying "Why aren't these people blaming UPS and FedEx? Let's get more people thinking about them instead."
There are several issues within this Amazon Easter egg; for example:
The ethical posture of exploitation. The US makes a big deal about China's alleged exploitation of ethnic groups, yet seems okay with the Amazon and other US entities' behavior. Interesting or hypocrisy?
The failure of regulation. Is Amazon the exception or the norm? The answer is that Amazon like other big tech outfits is the norm. I want to suggest that the norm applies to sugar cane workers in Brazil as well as to street vendors in Zagreb. Look behind the day-to-day misery and there is a Boss type, probably with an MBA. Governments have failed to protect workers. In fact large companies are the government just as Boss types are the forces which matter in many countries. No elections, lobbyists, or education needed.
Slow response to abuse. Many large tech companies have been chugging along for more than 20 years. Suddenly people care? What's this say about journalists, union organizers, and non government organizations allegedly "into" fair and equal treatment?
Dropping the Amazon Easter egg on a Friday of a holiday weekend produces what?
Here's my answer: Visible evidence that the Easter egg is made of the same indestructible plastic in which many Amazon products are packaged. Those eggs are unbreakable, and the behaviors are going to continue.
My suggestion? Stock up on large mouth plastic bottles or start innovating with modifying a Rocket Man beverage pack so it can be used as a Porta Potties using an indwelling urinary catheter instead of an outdwelling beer nozzle. Less hassle and an opportunity to become an entrepreneur selling the "innovation" on Etsy.
Stephen E Arnold, April 5, 2021
A change at the top and Amazon gets wonky. Coincidence or just a new crew of social media advisors? Who knows. "Amazon Wanted Twitter Warriors with Great Sense of Humor, Leaked Doc Shows" reveals some allegedly accurate information about the humble online bookseller.
The write up states:
Amazon sought out warehouse staffers with a "great sense of humor" to build a squad of Twitter warriors to knock down criticism of its fulfillment centers, a leaked document reveals.
Yep, warehouse workers with the skills of a tweet master like the real Borat.
The story adds:
While Amazon wanted the workers to speak for themselves, the memo shows company officials wanted a standardized format for their Twitter handles and usernames. They mulled adding an emoji to the username to "give personality, for example a small box emoji…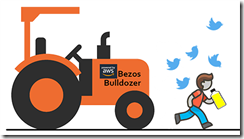 A happy Amazon worker surrounded with positive tweets is running with an "emergency necessary bottle" from the automated Bezos bulldozer and its business processes.
The write up includes what may be an April Fool joke:
"| work for Amazon and not sure about other facilities but I've never felt pressured to pee in a trash can," one trainee wrote in a draft tweet. "My managers understand when you gotta' go you gotta' go."
You can read the allegedly accurate document at this link.
Stephen E Arnold, April 1, 2021
Amazon likes to say it successfully promotes diversity and inclusion in its company, and some of the numbers it touts do represent a measure of success. However, there appears to be a lot of work left to do and not enough will to do it from the powerful "S Team." Recode discusses "Bias, Disrespect and Demotions: Black Employees Say Amazon Has a Race Problem." The extensive article begins with the story of former employee Chanin Kelly-Rae, a former global manager of diversity for AWS. She began the position with high hopes, but quit in dismay 10 months later. Reporter Meron Menghistab writes:
"Kelly-Rae, who is Black, is one of more than a dozen former and current Amazon corporate employees — 10 of whom are Black — who told Recode in interviews over the past few months that they felt the company has failed to create a corporate-wide environment where all Black employees feel welcomed and respected. Instead, they told Recode that, in their experience, Black employees at the company often face both direct and insidious bias that harms their careers and personal lives. All of the current and former employees, other than Kelly-Rae, spoke on condition of anonymity either because of the terms of their employment with Amazon or because they fear retribution from Amazon for speaking out about their experiences. Current and former Amazon diversity and inclusion professionals — employees whose work focuses on helping Amazon create and maintain an equitable workplace and products — told Recode that internal data shows that Amazon's review and promotion systems have created an unlevel playing field. Black employees receive 'least effective' marks more often than all other colleagues and are promoted at a lower rate than non-Black peers. Recode reviewed some of this data for the Amazon Web Services division of the company, and it shows large disparities in performance review ratings between Black and white employees."
Amazon, of course, disagrees with this characterization, but it is difficult to argue with all the points Menghistab considers: the many unsettling comments made to and about Black employees by higher-ups; the reluctance of management to embrace best practices suggested by their own diversity experts; the fact that diversity goals do not extend to top management positions; the rampant "down-leveling" of employees of color, its long-term effects on each worker, and the low chances of promotion; a hesitation to hire from historically Black colleges; and the problematic "Earns Trust" evaluation metric. We suggest interested readers navigate to the article to learn more about each of these and other factors.
Some minority employees say they have reason to hope. For one thing, the problems do not pervade the entire company—many teams happily hum along without any of these problems. The company is making a few small steps in the right direction, like requiring workers undergo diversity and inclusion training, participating in the Management Leadership of Tomorrow's Black Equity at Work Certification, and holding a virtual career-enrichment summit for Black, Latinx, and Native American prospective employees. There will never be a quick and easy fix for the tech behemoth, but as Kelly-Rae observes:
"Amazon is really good at things it wants to be good at, and if Amazon decided it really wanted to be good at this, I have no doubt it can be."
Time to step it up, Amazon.
Cynthia Murrell, March 11, 2021
Small businesses in India have been accusing Amazon of shady business practices for some time. Now, a report from Reuters has exposed the company's strategy to circumvent Indian regulators. Fossbytes discusses the report in, "The Great Amazon India Document Leak: All You Need to Know." We're told one internal presentation obtained by Reuters blatantly urged workers to "test the boundaries of what is allowed by law." Not a good look, Amazon. Journalist Manik Berry writes:
"According to the report by Reuters, Amazon has been bending rules just enough to not get into legal trouble in India. For instance, the Indian FDI (foreign direct investment) rules prevent Amazon or other e-commerce retailers to control inventory in India. This means Amazon can be the platform where buyers meet sellers but it cannot control how the sellers sell things. However, the report says Amazon found a way to control the inventory. …
"Amazon's internal documents reveal the creation of a 'Special Merchant (SM)' in 2014. This special merchant, namely Cloudtail, is one of the biggest sellers on Amazon, accounting for over 40% of the platform's sales. Cloudtail was created as a collaboration between Amazon and the Infosys founder, N.R. Narayana Murthy. Amazon wanted it to control more than 40% of sales on Amazon India. This would've made it a $1 billion business, whose profit would, indirectly, go to Amazon. What's alarming is that Cloudtail is created and controlled by Amazon, which means it directly flouted the Indian FDI rules."
The report also reveals that about a third of Amazon India's sales come from only 33 sellers. It seems the company has been providing those select few with support and promotion, giving them an unfair advantage. The leaked docs suggest this practice is resulting in losses for the other 66%. For more details, we direct readers to the extensive Reuters article.
Amazon is still the Bezos bulldozer. Perhaps the new driver is a streak of cleverness lacking when Mr. Bezos pulled the levers?
Cynthia Murrell, March 8, 2021
Amazon may have a new driver at the controls of the Bezos bulldozer, but the big orange machine keeps pushing monitoring technology. "Amazon's Driver Monitoring App Is an Invasive Nightmare" does not like the system the online bookstore uses to keep an eye on human delivery drivers. The write up states:
Mentor is made by eDriving, which describes the app on its website as a "smartphone-based solution that collects and analyzes driver behaviors most predictive of crash risk and helps remediate risky behavior by providing engaging, interactive micro-training modules delivered directly to the driver in the smartphone app."
From my tumble down shack in rural Kentucky, the Bezos bulldozer seems to be using technology from an outfit called eDriving. There are several options available to the online bookstore. Amazon can continue to pay eDriving. Amazon can clone the system. Amazon can acquire the company, people, or technology.
Based on my on-going research into Amazon's surveillance capabilities, the enhanced cameras, the online hook to the AWS mothership, and the use of third-parties to nudge monitoring forward is still in its early days. Amazon moves slowly and in a low profile way. Most law enforcement and intelligence organizations observe Amazon the way a tourist does a turtle in the Galapagos: Check out where the turtle is after breakfast and then note that the darned thing moved behind a rock a few fee away by noon. No big deal. Turtles move, right? Turtles are not gazelles, right?
Several observations:
Amazon chugs along in a sprightly manner behind the curtain separating public use of a system like Mentor
Amazon time makes it difficult for some observers to note significant change in a system or technology
The trick to figuring out where Amazon is headed in surveillance systems is to step back and observe the suite of systems.
What does one learn?
How about Amazon as the plumbing for many of the widely used policeware and intelware systems? Who knew that Palantir Technologies is a good Amazon customer? Maybe not IBM which inked a deal with the chipper Denver based "ride 'em cowboy" policeware firm.
How useful would Amazon's monitoring technology be if connected to a Palantir content intake system? My guess is that it would be quite useful, and it would require the Amazon cloud to work. What's that mean for cloud competitors like Google, IBM, and Microsoft?
Amazon's policeware and intelware approach is a lock in dream. Where could a Mentor-type system be useful to investigators?
Sorry. I can't think of a single use case. Ho ho ho.
Stephen E Arnold, February 17, 2021
Amazon AWS makes many things simple: Off the shelf machine learning models, buying cables, and spending money. If you want to get a sense for the complexity of pricing at AWS, take a look at "EC2 Instances.Info: Easy Amazon ED2 Instance Comparison." The effort required to compile the table was significant. In addition to the data structured by EC service, region, and other tags — there's the splash page table itself. Impressive. For those with some financial and technical expertise, a new job category now exists: Figuring out AWS pricing for a project and then determining how to minimize costs over time. From the Amazon one click patent to this pricing inventory. How far has Amazon driven the Bezos bulldozer? A long way.
Stephen E Arnold, February 11, 2021
I noted the "real" news outfit CNBC story "Amazon Is Using AI-Equipped Cameras in Delivery Vans and Some Drivers Are Concerned about Privacy." The use case is monitoring drivers. I have heard that some drivers work like beavers. Other comments suggest that some drivers play fast and loose with their time. These are lazy beavers. Other drivers misplace packages. These are crafty beavers. Another group driver like the route through the subdivision is a race. These are thrill-loving beavers. The Netradyne Driveri gizmo provides a partial solution with benefits; for example, imagery. My thought is that the Netradyne gizmo can hook into the Amazon AWS mother ship for a range of interesting features and functions. Maybe the data would be of use to those engaged in Amazon's public sector work; for example, policeware services and solutions?
The story states:
Amazon is using an AI-powered camera made by Netradyne, a San Diego-based start-up that was founded in 2015 by two former senior Qualcomm employees. The camera, called Driveri, has four lenses that capture the road, the driver, and both sides of the vehicle.
I want to step away from the Netradyne and ask a few questions to which I don't have answers at this time:
Will Amazon learn from the Netradyne deployment what product enhancements to include in the "son of Netradyne"?
What if a vehicle is equipped with multiple Netradyne type devices and shares these data with Amazon's public sector partners and customers?
What if Amazon's drone routing surveillance technology is adapted to function with Amazon delivery mechanisms; that is, robot carts, lockers at the local store, trunk centric delivery, Ring doorbells, etc.?
The drivers are the subjects of a Silicon Valley style A-B test. My hunch is that there will be further smart camera developments either by AWS itself, AWS and a partner, or a few startups taking advantage of AWS technology to provide a platform for an application of the Netradyne learnings.
Who competes with Amazon AWS in this sector? Google, Microsoft, got any ideas? Sure, you do.
Stephen E Arnold, February 4, 2021
Consumer advocates have noticed Amazon is not one to make it very simple to stop paying it money. Yahoo Finance shares the (paywalled) Bloomberg article, "Amazon Makes It Too Hard to Cancel Prime, Groups Tell FTC." Amazon Prime is the company's $119/ year membership that allows one to get free shipping and freely stream music and videos, among other benefits. We're reminded the program has contributed greatly to the company's dominance of the worldwide online retail market. Writers Matt Day and Ben Brody report:
"In a letter to the Federal Trade Commission on Thursday, a group led by Public Citizen said the steps required to cancel Prime 'are designed to unfairly and deceptively undermine the will of the consumer,' and may violate FTC rules as well as other consumer protection laws. The letter draws on a complaint by Norway's consumer protection agency, which on Thursday asked Norwegian regulators to determine whether Amazon violated local law. … The report by Forbrukerrådet, Norway's state-backed consumer protection agency, documents how Amazon riddles the process with 'dark patterns,' or manipulative techniques, including steps that nestle the choice to leave in between other options to abort the whole process or maintain their membership. The group also produced a video that demonstrates how a user who wants to cancel Prime might accidentally click buttons that actually keep them in the program. While complaints routinely land at the FTC with little action, at least one of the parties involved in Thursday's letter, the Center for Digital Democracy, has been able to push commissioners in the past."
For its part, Amazon insists it is "clear and easy" to cancel the membership. Amazon is already going through a congressional antitrust investigation and probes by the FTC, European Commission, and other regulators. The shift into the new presidential administration is unlikely to help the company's position. If Amazon suddenly makes it easier to cancel one's Prime subscription, we need not wonder why.
Cynthia Murrell, January 28, 2021
In 1955 or 1956, I lived in Campinas, Brazil. My father worked from RG LeTourneau. He had the delightful job of setting up a factory to produce what were then called sheep foot rollers. Most people are not aware of the function of a sheep's foot roller. Let me explain.
Hoot a D9 or other comparable bulldozer to two or more sheep foot rollers. Drive the bulldozer, scraper, or other heavy duty machine through a grassy field, a jungle or grassland. Crush and smash the trees, plants, and animals. What's in the wake of the snorting and roaring yellow beast is a surface almost ready for paving. That's right. The sheep foot rollers made the Trans-Amazon highway a reality.
What did the fleets of earth moving machinery do to the Hevea brasiliensis, a species of rubberwood. Well, in the case of highway deforestation, the elastic plants did not fare particularly well.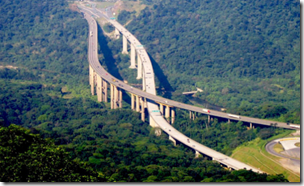 What does this slice of my life have to do with search, retrieval, log file analysis, information access, and other content related activities?
"Stepping Up for a Truly Open Source Elasticsearch" reminded me of the impact of the bulldozers and the sheep foot roller combos. The write up explains:
We launched Open Distro for Elasticsearch in 2019 to provide customers and developers with a fully featured Elasticsearch distribution that provides all of the freedoms of ALv2-licensed software. Open Distro for Elasticsearch is a 100% open source distribution that delivers functionality practically every Elasticsearch user or developer needs, including support for network encryption and access controls. In building Open Distro, we followed the recommended open source development practice of "upstream first."
Who is the "we" driving what I think of as a digital bulldozer? Why none other than Amazon.
I wrote about Elastic search's difficult decision to try to stave off the building of an information superhighway directly over the Elastic NV buildings in Amsterdam. You can find that essay in "Enterprise Search: Flexible and Stretchy. Er, No."
I think my observation that it was too late for Elastic NV. Perhaps the company can find a way to avoid the Bezos bulldozer. The sentiments about the virtues of open source software echo through the Amazon blog post and the Elastic NV explanation of its decision to be a different flavor of open source goodness.
Put that handwaving aside.
The function of the bulldozer and the sheep foot roller is to build a new trail. That trail leads to Amazon AWS revenues, service offerings, and integrated functionality.
Vrrooom. Too bad about those hyacinth macaws. My father and Mr. LeTourneau were not environmentalists. Neither was particularly elastic either. Both loved the results of big yellow machines dragging sheep foot rollers across the virgin landscape.
There's a lesson here. The Trans-Amazon highway is visible from the international space station. The rubber trees and other trivialities are not.
Stephen E Arnold, January 22, 2021
Enterprise search, the utility service, thrills users and information technology professionals alike. There are quite a few search and retrieval vendors chasing revenue. Frankly I have given up trying to keep track of outfits like Luigi's Box, Yext (yes, enterprise search!), and quite a few repackagers of Lucene; e.g., IBM, Attivio, Voyager Search, and more. There are some proprietary outfits as well.
Then there is the Compass Search sibling Elastic and its Elasticsearch. Open source search makes a great deal of sense to:
Companies wanting a no cost or low cost way to provide search and retrieval-type functionality to an application
Penny pinchers who want "the community" to fix bugs so that cash is freed up to lease fancy cars, receive bonuses, and focus on more important software features which can be offered for a fee and a license handcuff
Competitors who want to provide a familiar environment to those with cash to spend and wave the magic wand of open source in front of young believers who think proprietary software is a crime against humanity.
The history of Elasticsearch and Amazon reaches back to the era when Lucid Works (né Lucid Imagination) lost some staff to Amazon's Burlingame, California, office. That was the bell which sounded when the Bezos bulldozer decided A9 was not enough. Sure, A9 works but the folks from the Lucene/Solr outfit would map the route from A9 to a more open, folksy world of open source search.
The open source version of Lucene was the beating heart of Elastic, the now public company.
Then Amazon does what Amazon does: The company shifted the bulldozer into gear and went for open source search developers who could seamlessly (sort of) move into the newly blazed path to AWS. Once inside, the fruits of the thousand plus services, features, and functions were just a click away. Policeware vendors, start ups, and some big outfits followed the Bezos bulldozer. The updated IBM slogan reads, "Nobody gets fired for buying AWS."
Elastic was upset.
"Amazon: NOT OK – Why We Had to Change Elastic Licensing" picks up this story and explains where Elastic fits into the world crafted by the Bezos bulldozer.
The write up explains:
Our license change is aimed at preventing companies from taking our Elasticsearch and Kibana products and providing them directly as a service without collaborating with us.
Elastic's essay notes:
We think that Amazon's behavior is inconsistent with the norms and values that are especially important in the open source ecosystem. Our hope is to take our presence in the market and use it to stand up to this now so others don't face these same issues in the future.
The essay concludes:
I believe in the core values of the Open Source Community: transparency, collaboration, openness. Building great products to the benefit of users across the world. Amazing things have been built and will continue to be built using Elasticsearch and Kibana. And to be clear, this change most likely has zero effect on you, our users. And no effect on our customers that engage with us either in cloud or on premises.
Several observations:
Commercial behemoths like Amazon use open source the way my neighbor burns firewood, old carpets, and newspapers. The goal is to optimize available cash.
Amazon's move into Elastic's territory began more than five years ago. Amazon does kill off loser products like health and food delivery but it keeps others in tall cotton when it pays off.
Those completing [a] Amazon certification, [b] partner indoctrination, or [c] inputs from free or low cost Amazon training arrive ready to do the search thing Amazon's way.
Net net: Beyond Search understands Elastic's anguish and actions. Perhaps the license shift and the assumptions about open source are unlikely to stand up to the Bezos bulldozer? Open source Elasticsearch is a bargain. It may be tough to compete with free plus discounts for AWS goodies and other Amazon benefits. Legal or illegal, fair or unfair, open source or closed source — the bulldozer grinds forward.
Stephen E Arnold, January 21, 2021