We are happy to see innovative cyber-security firm Darktrace meet with success. Access AI informs us that "Darktrace Reports $125 Million in New Contracts." The post lists some of the company's diverse customers, including the Blackhawk Network, Rakuten Securities, the Church of England, and Birmingham International Airport. We also learn:
A well-performing final financial quarter has left the company with a revenue increasing 600 percent year on year. 60 countries worldwide are currently using the company's Enterprise Immune System technology. Darktrace reports that customer renewals are at 90% and that with over 360 employees, the company has doubled inside over the past year.
What makes Darktrace so special? The company is bringing machine learning and other AI tech into the cybersecurity field, where they are sorely needed. Leveraging the mathematics chops of certain Cambridge University specialists, their unique model takes inspiration from biological immune systems. The press release,"Darktrace Cyber 'Immune System' Fights Back" at PR Newswire, heralds the arrival of their product Antigena, which offers a sort of self-defense system for networks. The write-up tells us:
Darktrace is the first company in the world to arm the defenders with proven machine learning and mathematics that work without any prior knowledge of attacks, rules or signatures. With Antigena, Darktrace now spots and inoculates against unknown threats, as they germinate within organizations in real time.

'The battlefield is the corporate network – we cannot fight the battle on the border anymore. We are living through a new era of threat which is relentless and pernicious – and it's inside our networks now. Today, we have arrived at new detection that reacts faster than any security team can,' said Nicole Eagan, CEO, Darktrace. …

Darktrace Antigena is a new product innovation, which replicates the function of antibodies in the human immune system. As the Enterprise Immune System detects a threat in its tracks, Antigena modules act as an additional defense capability that automatically neutralize live threats, without requiring human intervention.
Besides automatically fending off potential threats, there's another big, but perhaps underappreciated advantage to Antigena—no time-wasting false alerts. To learn about the rest of Darktrace's products, navigate here. The company was founded in Cambridge in 2013, and now keeps a second headquarters in San Francisco and offices around the world. Darktrace puts the utmost confidence in their team's considerable expertise not only in mathematics and software development but also in intelligence gathering and cyber operations.
Cynthia Murrell, July 7, 2017
Travis Kalanick's troubles seem to be far from over. A new report suggests that Uber was in the know-how of Anthony Levandowski misdeeds at Google in IP theft.
TechCrunch in an article titled Waymo Filing Says Ex-Uber CEO Travis Kalanick Knew Engineer Had Google Info says:
In the ongoing legal case between Uber and Waymo, a new filing suggests Uber knew that Anthony Levandowski possessed Google information as of last March, before Otto's acquisition.
Levandowski who headed the AI based self-driving car division Waymo at Google left the company and started Otto. The newly founded venture was soon usurped by Uber in 2016 to propel self-driving car division. Waymo claims that this is a breach of trust and despite Uber knowing the wrongdoings of Otto's founder, still proceeded with the acquisition.
IP thefts are not uncommon in the corporate world. Apple, Samsung, Google, Microsoft, IBM every blue-chip tech firm has been accused of IP theft at one point in their lifetime. However, what needs to see is how Google that also has equity in Uber proceeds with the case.
Vishal Ingole, July 6, 2017
Consulting firm Booz Allen Hamilton is facing an inquiry by the U.S Department of Justice for irregularities in billing inappropriately its clientele mostly comprising of government agencies.
As reported by Washington Times in a news piece titled Booz Allen Hamilton Under Federal Investigation over Billing Irregularities, Contractor Says, the reporter says:
Booz Allen was notified of the probe earlier this month and is working to resolve the matter with federal investigators, the company said in a Securities and Exchange Commission filing Thursday afternoon.
This is not the first time that the consulting firm dubbed as world's most profitable spy organization has come under fire. In October 2016, an employee of the company was apprehended by federal authorities in possession of classified information. This was the second time an employee of the largest intelligence and defense contractor was arrested on charges of spying and selling classified information.
The investigation pertaining to irregularities in billing in ongoing.
Vishal Ingole, July 5, 2017
Arnold Information Technology has published Dark Web Notebook: Investigative Tools and Tactics for Law Enforcement, Security, and Intelligence Organizations. The 250-page book provides an investigator with instructions and tips for the safe use of the Dark Web. The book, delivered as a PDF file, costs $49.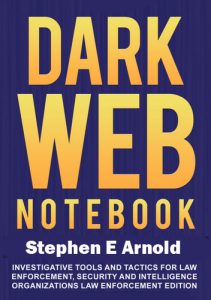 Orders and requests for more information be directed to darkwebnotebook@yandex.com. Purchasers must verify that they work for a law enforcement, security, or intelligence organization. Dark Web Notebook is not intended for general distribution due to the sensitive information it contains.
The author is Stephen E Arnold, whose previous books include CyberOSINT: Next Generation Information Access and Google Version 2.0: The Calculating Predator, among others. Arnold, a former Booz, Allen & Hamilton executive, worked on the US government-wide index and the Threat Open Source Intelligence Gateway.
The Dark Web Notebook was suggested by attendees at Arnold's Dark Web training sessions, lectures, and webinars. The Notebook provides specific information an investigator or intelligence professional can use to integrate Dark Web information into an operation.
Stephen E Arnold, author of the Dark Web Notebook, said:
"The information in the Dark Web Notebook has been selected and presented to allow an investigator to access the Dark Web quickly and in a way that protects his or her actual identity. In addition to practical information, the book explains how to gather information from the Dark Web. Also included are lists of vendors who provide Dark Web services to government agencies along with descriptions of open source and commercial software tools for gathering and analyzing Dark Web data. Much of the information has never been collected in a single volume written specifically for those engaged in active investigations or operations."
The book includes a comprehensive table of contents, a glossary of terms and their definitions, and a detailed index.
The book is divided into 13 chapters. These are:
Why write about the Dark Web?
An Introduction to the Dark Web
A Dark Web Tour with profiles of more than a dozen Dark Web sites, their products, and services
Dark Web Questions and Answers
Basic Security
Enhanced Security
Surface Web Resources
Dark Web Search Systems
Hacking the Dark Web
Commercial Solutions
Bitcoin and Variants
Privacy
Outlook
In addition to the Glossary, the annexes include a list of DARPA Memex open source software written to perform specific Dark Web functions, a list of spoofed Dark Web sites operated by law enforcement and intelligence agencies, and a list of training resources.
Kenny Toth, June 5, 2017
The article on Zawya titled Digital Shadows Continues to Make Waves with Two Prestigious Award Wins positions Digital Shadows as the juggernaut of the risk management market with its product SearchLight sweeping up honors left and right from Cyber Defense Magazine, Momentum Partners, and the 2016 SINET awards. Each accolade cites Digital Shadows cutting edge technology and strategy. What makes the company so innovative?
Digital Shadows monitors for digital risks beyond the boundary of an organization, identifying cyber threats, data leakage and reputational risk. It then notifies clients of data leaks online; hacktivists' or cybercriminals' plans to target the organization; employees or suppliers putting themselves and their company at risk; along with criminals selling company information and data on the surface and dark web.
Beyond this, the alerts themselves are verified and rated in urgency by a team of analysts who also advise the organization on how to proceed for customized threat intelligence. Alastair Paterson, CEO and Co-Founder, calls the process a "marriage" between the technology and the human team. Digital Shadows has seen monumental growth in the triple digits for the past three years including opening new offices in Dallas, San Francisco, and London and building an employee base of over 100 people.
Chelsea Kerwin, April 28, 2017
One thing that any company wants is more profit.  Companies generate more profit by selling their products and services to more clients.  Dataminr wanted to add more clients to their roster and a former Hillary Clinton wanted to use his political connections to get more clients for Dataminr of the foreign variety.  The Verge has the scoop on how this happened in, "Leaked Emails Reveal How Dataminr Was Pitched To Foreign Governments."
Dataminr is a company specializing in analyzing Twitter data and turning it into actionable data sets in real-time.  The Clinton aide's personal company, Beacon Global Strategies, arranged to meet with at least six embassies and pitch Dataminr's services.  All of this came to light when classified emails were leaked to the public on DCLeaks.com:
The leaked emails shed light on the largely unregulated world of international lobbying in Washington, where "strategic advisors," "consultants," and lawyers use their US government experience to benefit clients and themselves, while avoiding public scrutiny both at home and overseas.
Beacon isn't registered to lobby in Washington. The firm reportedly works for defense contractors and cybersecurity companies, but it hasn't made its client list public, citing non-disclosure agreements. Beacon's relationship with Dataminr has not been previously reported.
The aide sold Dataminr's services in a way that suggest they could be used for surveillance.  Beacon even described Dataminr as a way to find an individual's digital footprint.  Twitter's development agreement forbids third parties from selling user data if it will be used for surveillance.  But Twitter owns a 5% stake in Dataminr and allows them direct access to their data firehose.
It sounds like some back alley dealing took place.  The ultimate goal for the Clinton aide was to make money and possibly funnel that back into his company or get a kickback from Dataminr.  It is illegal for a company to act in this manner, says the US Lobbying Disclosure Act, but there are loopholes to skirt around it.
This is once again more proof that while a tool can be used for good, it can also be used in a harmful manner.  It begs the question, though, that if people leave their personal information all over the Internet, is it not free for the taking?
Whitney Grace, April 4, 2017
Journalist William Langewiesche at Vanity Fair presents the storied career of a hacker-turned-security expert, whom he pseudonymously calls Opsec, in the extensive article, "Welcome to the Dark Net, a Wilderness Where Invisible World Wars are Fought and Hackers Roam Free." The engaging piece chronicles the rise of the Dark Web alongside Opsec's cyber adventures, which began when he was but a child in the late '80s. It also clearly explains how some things work on and around the Dark Web, and defines some jargon. I would recommend this article as a clear and entertaining introduction to the subject, so readers may want to check out the whole thing.
Meanwhile, I found this tidbit about a recent botnet attack interesting. For background, Opsec now works for a large, online entertainment company. Langewiesche describes an intrusion the security expert recently found into that company's systems:
The Chinese [hacking team] first went into a subcontractor, a global offshore payment processor that handled credit-card transactions, and then, having gained possession of that network, quietly entered the Company through a legitimate back door that had been installed on the Company's network to administer consumer accounts. The initial breach was a work of art. The Chinese wrote a piece of customized software purely for that job. It was a one-of-a-kind 'callback dropper,' a Trojan horse that could be loaded with any of many malware modules, but otherwise stood empty, and regularly checked in with its masters to ask for instructions. Once inside the network, the Chinese were able to move laterally because the Company, for the sake of operational efficiency, had not compartmentalized its network. …

First, using 'bounce points' within the network to further obscure their presence, [the hackers] went after the central domain controller, where they acquired their own administrative account, effectively compromising 100 million user names and passwords and gaining the ability to push software packages throughout the network. Second, and more important, the Chinese headed into the network's 'build' system, a part of the network where software changes are compiled and then uploaded to a content-distribution network for the downloading of updates to customers. In that position they acquired the ability to bundle their own software packages and insert them into the regular flow, potentially reaching 70 million personal computers or more. But, for the moment, they did none of that. Instead they installed three empty callback Trojans on three separate network computers and left them standing there to await future instructions. Opsec and his team concluded that the purpose was to lay the groundwork for the rapid construction of a giant botnet.
Opsec suspects the same payment processor vulnerability was exploited at other companies, as well, as part of a plan to launch this giant botnet as part of a global cyber-war. Considering he only caught the attack due to one small error made by the hackers, the discovery is unnerving. Opsec has his ideas on how to fight such a series of attacks, but he is holding off at the behest of his employer. Officially, at least. See the article for more information.
Cynthia Murrell, March 21, 2017
Do lawmakers understand how much they do not understand about technology? An article at Roll Call tells us, "Proposed Tech-Export Rules Bashed by Companies, Researchers."  It is perfectly understandable that human-rights organizations have pressed for limits on the spread of surveillance technology and "intrusion software"—a broad term for technology that steals data from computers and mobile devices, including some tools that can hijack hardware. Several Western governments have taken up that banner, imposing restrictions designed to keep this technology out of the hands of bad actors. In fact, 41 nations pledged their commitment to the cause when they signed on to the Wassenarr Arrangement in 2013.
While the intentions behind these restrictions are good, many critics insist that they have some serious unintended side effects for the good guys. Writer Gopal Ratnam reports:
Although such technologies can be used for malicious or offensive purposes, efforts to curb their exports suggests that the regulators didn't understand the nature of the computer security business, critics say. Unlike embargoes and sanctions, which prohibit dealing with specific countries or individuals, the proposed restrictions would have forced even individual researchers working on computer security to obtain licenses, they say.

The technologies the Wassenaar agreement tried to restrict 'certainly can be used for bad purposes, but cybersecurity tools used by malicious hackers are also used for good purposes by technology companies and developers,' says John Miller, vice president for global cybersecurity and privacy policy at the Information Technology Industry Council, a Washington-based group that represents technology companies. 'Export control law usually doesn't get into making distinctions on what the technology is going to be used for.' And that's 'one of the reasons it's difficult to regulate this technology,' Miller says.
Besides, say some, the bad guys are perfectly capable of getting around the restrictions. Eva Galperin, of the nonprofit Electronic Frontier Foundation, insists human rights would be better served by applying pressure generally to repressive regimes, instead of trying to stay ahead of their hackers. Ratnam goes on to discuss specific ways restrictions get in the way of legitimate business, like hampering penetration tests or impeding communication between researchers. See the article for more details.
Cynthia Murrell, February 23, 2017
It looks like the NSA is hacking computers around the world by accessing hard-drive firmware, reports Sott in their article, "Russian Researchers Discover NSA Spying and Sabotage Software Hidden in Hard Drives." We learn that Russian security firm Kaspersky Lab found the sneaky software lurking on hard drives in 30 countries, mostly at government institutions, telecom and energy companies, nuclear research facilities, media outlets, and Islamic activist organizations. Apparently, the vast majority of hard drive brands are vulnerable to the technique. Writer Joseph Menn reports:
According to Kaspersky, the spies made a technological breakthrough by figuring out how to lodge malicious software in the obscure code called firmware that launches every time a computer is turned on. Disk drive firmware is viewed by spies and cybersecurity experts as the second-most valuable real estate on a PC for a hacker, second only to the BIOS code invoked automatically as a computer boots up. 'The hardware will be able to infect the computer over and over,' lead Kaspersky researcher Costin Raiu said in an interview.

Though the leaders of the still-active espionage campaign could have taken control of thousands of PCs, giving them the ability to steal files or eavesdrop on anything they wanted, the spies were selective and only established full remote control over machines belonging to the most desirable foreign targets, according to Raiu. He said Kaspersky found only a few especially high-value computers with the hard-drive infections.

Kaspersky's reconstructions of the spying programs show that they could work in disk drives sold by more than a dozen companies, comprising essentially the entire market. They include Western Digital Corp, Seagate Technology Plc, Toshiba Corp, IBM, Micron Technology Inc and Samsung Electronics Co Ltd."
Kaspersky did not come right out and name the NSA as the source of the spyware, but did connect it to Stuxnet, a known NSA tool. We also learn that a "former NSA employee" confirmed Kaspersky's analysis, stating these tools are as valuable as Stuxnet.
Menn notes that this news could increase existing resistance to Western technology overseas due to security concerns. Researcher Raiu specifies that whoever created the spyware must have had access to the proprietary source code for the drives' firmware. While Western Digital, Seagate, and Micron deny knowledge, Toshiba, Samsung, and IBM remain mum on the subject. Navigate to the article to read more details, or to view the four-minute video (scroll down a bit for that.)
Cynthia Murrell, February 20, 2017
A feature article on CNN recently provided some background on Dark Web marketplaces. Entitled Inside the illegal online weapons trade, this piece shares the story of Michael Andrew Ryan. Ryan adopted the moniker gunrunner and opened up a gun sales business on the Dark Web while based in a small town in Kansas. Dark Web trading statistics are tough to pinpoint. However, in comparison with other illegal online trading, gun sales on the Dark Web are less than 3% according to a Carnegie Mellon professor and researcher. The author writes,
By the way, it's entirely legal to buy guns online in the U.S. — although the process is more complicated, depending on various factors. Nonetheless, the ATF said it's taking enforcement to a new level by creating an Internet Investigations Center aimed at combating illegal online gunrunners. The center includes federal agents, legal counsel and investigators. Their job: track illegal online firearms trafficking and feed intelligence to agents in the field. It's a gigantic task, which aims to hit a constantly moving target.
While we will not comment on the sensationalizing and dramatizing of the Dark Web through Ryan's story, we can say found the concluding remarks above to be helpful. This presents a good picture of the interconnectivity between multiple layers of law enforcement. It also hints at a need for technology upgrades in this cybersecurity arena.
Megan Feil, February 14, 2017