With the rise of Bitcoin's profile the encryption platform, Blockchain, used to keep things so secret has also seen a rise in its profile. But just like Bitcoin's scrutiny under the spotlight, Blockchain's less savory side is being exposed. We learned more from a recent CoinCenter story, defending the encryption, called "Addressing The Concerns of Illicit Images on Public Blockchains."
According to the well thought out editorial,
"Bitcoin transactions allow one to add to them a short text memo. What some have done is to include encoded text in transaction memo fields and these are recorded in the Blockchain. Some of these encoded surprises on the blockchain include wedding vows, Bible verses, the Bitcoin logo and white paper, and quotes from Nelson Mandela. Unfortunately, some sick individuals have also added encoded images of child abuse."
This is, however, not a new problem for the dark web. In fact, three years ago Forbes pointed out that Blockchain was a potential safe haven for malware and child abuse. That doesn't erase the problems, though. The CoinCenter piece points out that a majority of interactions through Blockchain are on the up-and-up and that many legitimate businesses are investigating its uses. So, it's safe to say this encryption tool is not going anywhere. We just wonder how it can ethically be policed.
Patrick Roland, April 18, 2018
Cryptocurrency like BitCoin have been gaining a foothold as legitimate forms of financial transaction over the last several years. However, one of the richest areas in the world, The Middle East, has been reluctant to jump on the bandwagon. Religious beliefs have prohibited many Islamic investors from using crypto currency, though that may change according to a recent Economic Times story, "Cryptocurrency Traders Use Old Gold to Lure Islamic Investors."
According to the story, "OneGram, is issuing a gold-backed cryptocurrency — part of efforts to convince Muslims that investing in crypto currencies complies with their faith.
"But because they are products of financial engineering and objects of speculation, crypto currencies sit uneasily with Islam. Sharia principles, in addition to banning interest payments, emphasize real economic activity based on physical assets and frown on pure monetary speculation."
The Islamic world may not have to wait long. Just today a 22-page research paper was released that declared Bitcoin is compliant with Sharia Law and therefore acceptable in the Islamic religion. We are not ready to fully buy into this, since the story appeared on Bitcoin's own Web site. However, if this is true, it could mean another massive surge in investors as the cryptocurrency gains more and more momentum.
For more information, learn more about the Dark Web, check out Dark Web Notebook.
Patrick Roland, April 18, 2018
Gun sales online are prompting a lot of governmental concern, but not just in America. Australia, a nation with one of the lowest gun violence rates in the world, recently began cracking down on dark web sales of firearms with the help of US authorities. The results were promising, but still a little concerning. We learned more from a recent Daily Mail article, "Gun Trafficking Groups Selling to Australia Have Been Sentenced."
According to the story, a seller of guns that were sent to Australia recently got three years in prison for the illegal transactions. We learned:
"The Atlanta-based group advertised guns for sale on the underground website BlackMarketReloaded that operated on The Onion Router, which masks the identity of its users, according to prosecutors."
However, finding them through the murky waters of covert internet sites was nearly as tough as physically locating the guns. The story also pointed out, "In an attempt to avoid detection in the US Post or overseas the group hid the firearms in electronic equipment before placing them in packages."
The Herculean effort needed to capture this dark web gun lord sounds similar to the recent arrest of one of Europe's biggest online arms dealers, who was tracked down in Spain. This was the result of multiple countries and multiple agencies working for months to find this single person.
Clearly, the task of wiping the Dark Web clean of guns is difficult, but thankfully not impossible. We hope to hear about more success stories like this in the future. For more information, learn more about CyberOSINT (the Dark Web) here.
Patrick Roland, April 17, 2018
DarkCyber for April 17, 2018, is now available at www.arnoldit.com/wordpress and on Vimeo at https://vimeo.com/264827844
DarkCyber is a weekly video news and analysis program about the Dark Web and lesser known Internet services.
Push back from different organizations suggests that the unregulated, free wheeling days of digital currencies are winding down. France and Japan have taken action to curtail some digital currency practices. Plus Google and Twitter have banned ads for digital currencies.
In March 2018, Stephen E Arnold, producer of DarkCyber, was named to International Judicial Commission of Inquiry into Human Trafficking & Child Sex Abuse. He points out that as censorship increases, bad actors will step up their pace of innovation.
He said, "An uptick in the use of pastesites and encrypted chat make it increasingly difficult for investigators to identify and take action against those engaged in human trafficking and related crimes. Additional funding and faster cycle procurements of next generation are important priorities in the next six to nine months."
DarkCyber answers a viewer's question about the Katim secure mobile phone created by DarkMatter, a cyber security firm in the United Arab Emirates. The Katim device may be a market test or a way to determine interest in secure devices.
VPNs promise increased security for users. DarkCyber points out that a number of VPNs leak user data. Protocol flaws and VPN operators who keep logs of user behaviors make it clear that VPNs may be virtual, just not private.
For more information about DarkCyber, write us at darkcyber333 at yandex.com.
Kenny Toth, April 17, 2018
Over the years, Attivio positioned itself as more than search. That type of shift has characterized many vendors anchored in search and retrieval. We noted that Attivio has "partnered" with MC+A, a search centric company. MC+A also forged a relationship with Coveo, another search and retrieval vendor with a history of repositioning.
We learned from "Attivio and MC+A Announce Partnership to Deliver Next-Generation Cognitive Search Solutions" at Markets Insider that:
"MC+A will resell Attivio's platform, seamlessly integrate their enterprise-grade connectors into it, and provide SI services in the US market. 'Partnering with MC+A extends our ability to address organizations' needs for making all information available to employees and customers at the moment they need it,' said Stephen Baker, CEO at Attivio. 'This is particularly critical for companies looking to upgrade legacy search applications onto a modern, machine-learning based search and insight platform.' …
The story added:
"By combining self-learning technologies, such as natural language processing, machine learning, and information indexing, the Attivio platform is helping Fortune 500 enterprises leverage customer insight, surface upsell opportunities, and improve compliance productivity. MC+A has over 15 years of experience innovating with search and delivering customized search-based applications solutions to enterprises. MC+A has also developed a connector bridge solution that allows customers to leverage existing infrastructure to simplify the transition to the Attivio platform."
Attivio was founded in 2007, and is headquartered in Newton, Massachusetts. The company's client roster includes prominent organizations like UBS, Cisco, Citi, and DARPA. Attivio in its early days was similar in some ways to the Fast Search & Transfer technology once cleverly dubbed ESP. No, not extra sensory perception. ESP was the enterprise search platform.
Based in Chicago and founded in 2004, MC+A specializes in implementations of cognitive search and insight engine technology. A couple of years ago, MC+A was involved with Yippy, the former Vivisimo metasearch system. When IBM bought Vivisimio, the metasearch technology morphed into a Big Data component of Watson.
If this walk down memory lane suggests that vendors of proprietary systems have been working to find purchase on revenue mountain, there may be  a reason. The big money, based on information available to Beyond Search, comes from integrating open source solutions like Lucene into comprehensive analytic systems.
In a nutshell, the rise of Lucene and Elastic have created opportunities for some companies which can deliver more comprehensive solutions than search and retrieval anchored in old-school solutions.
More than repositioning, jargon, and partnerships may be needed in today's market place where "answers", not laundry lists are in demand. For mini profiles of vendors which are redefining information access and answering questions, follow the news stories in our new video news program DarkCyber. There's a new program each week. Plus, you can get a sense of the new directions in information access by reading my 2015 book (still timely and very relevant) CyberOSINT: Next Generation Information Access.
Stephen E Arnold,
Stephen E Arnold, April 7, 2018
In 2015, I published CyberOSINT: Next Generation Information Access. This is a quick reminder that the profiles of the vendors who have created software systems and tools for law enforcement and intelligence professionals remains timely.
The 200 page book provides examples, screenshots, and explanations of the tools which are available to analyze social media information. The book is the most comprehensive run down of the open source, commercial, and cloud based systems which can make sense of social media data, lawful intercept data, and general text and imagery content.
Companies described in this collection of "tools" include:
Cyveillance (now LookingGlass)
Decisive Analytics
IBM i2 (Analysts Notebook)
Geofeedia
Leidos
Palantir Gotham
and more than a dozen developers of commercial and open source, high impact cyberOSINT tool vendors.
The book is available for $49. Additional information is available on my Xenky.com Web site. You can buy the PDF book online at this link gum.co/cyberosint.
Get the CyberOSINT monograph. It's the standard reference for practical and effective analysis, text analytics, and next generation solutions.
Stephen E Arnold, April 5, 2018
DarkCyber has released a special video report about Grayshift's iPhone unlocking device for law enforcement forensics professionals. The GrayKey device unlocks most iPhones quickly and without the need to ship the suspect's mobile phone off site.
The video is available on Vimeo at https://vimeo.com/262858305.
The video covers the pricing for the iPhone unlocker and its key features. Plus, the video product overview identifies the challenges that Grayshift will have to overcome if it wants to become the preferred provider of plug-and-unlock iPhone devices.
Stephen E Arnold said, "Grayshift's GrayKey is important because it offers an easy-to-use iPhone unlocking system. Four digit passcode protected devices can be unlocked in two to three hours. Apple mobiles with six digit passcodes can be unlocked in two to three days. The device can be used in a mobile forensics lab and costs a fraction of some competitive solutions. GrayKey looks like the right product at the right time and at the right price."
DarkCyber is a weekly video new program for law enforcement, intelligence, and security professionals. The special report series will focus on a single product, service, or technical innovation.
This is a special report in his CyberOSINT Tools series. These special reports will be issued when notable products, services, or technologies become available to law enforcement and intelligence professionals.
Stephen E Arnold is the author of "Dark Web Notebook" and "CyberOSINT: Next Generation Information Access." He has been named as a technology adviser to the UK based Judicial Commission of Inquiry into Human Trafficking and Child Sex Abuse." Mr. Arnold also lectures to law enforcement and intelligence professionals attending the Telestrategies ISS conferences in Prague, Washington, DC, and Panama City, Panama. In recent months, he has shared his research with law enforcement and intelligence professionals in the US and Europe. His most recent lectures focus on deanonymizing chat and digital currency transactions. One hour and full day programs are available via webinars and on-site presentations.
Kenny Toth, April 5, 2018
"Sixgill" refers to the breathing apparatus of a shark. Deep. Silent. Stealthy. SIXGILL offers software and services which function like "your eyes in the Dark Web."
Based in Netanya, just north of Tel Aviv, SIXGILL offers services for its cyber intelligence platform for the Dark Web. What sets the firm apart is its understanding of social networks and their mechanisms for operation.*
The company's primary product is called "Dark-i." The firm's Web site states that the firm's system can:
Track and discover communication nodes across darknets with the capability to trace malicious activity back to their original sources
Track criminal activity throughout the cyber crime lifecycle
Operate in a covert manner including the ability to pinpoint and track illegal hideouts
Support clients with automated and intelligence methods.
The Dark-i system is impressive. In a walk through of the firm's capabilities, I noted these specific features of the Dark-i system:
Easy-to-understand reports, including summaries of alleged bad actors behaviors with time stamp data
Automated "profiles" of Dark Web malicious actors
The social networks of the alleged bad actors
The behavior patterns in accessing the Dark Web and the Dark Web sites the individuals visit.
Access to the information on Dark Web forums.
Details about the innovations the company uses are very difficult to obtain. Based on open source information, a typical interface for SIXGILL looks like this: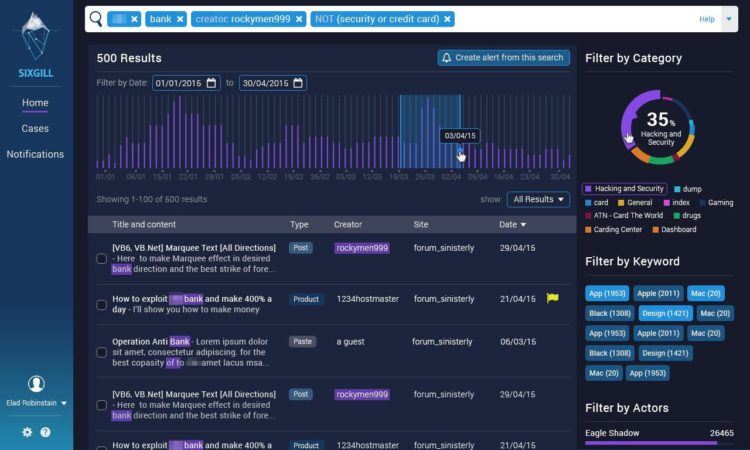 Based on my reading of the information in the screenshot, it appears that this SIXGILL display provides the following information:
The results of a query
Items in the result set on a time line
One-click filtering based on categories taken from the the sources and from tags generated by the system, threat actors, and Dark Web sources
A list of forum posts with the "creator" identified along with the source site and the date of the post.
Compared with reports about Dark Web activity from other vendors providing Dark Web analytic, monitoring, and search services, the Dark Web Notebook team pegs s SIXGILL in the top tier of services.
i read "Palantir Will Struggle to Hold On to $20 Billion Valuation, Study Says." Interesting stuff because beating up on hapless Silicon Valley companies is becoming a mini-trend. Facebook is in the dog house because it sells ads. Google is in the kennel because Europe finds its business practices less than Euro-cool. Twitter. Poor Twitter. Its part time boss is going to improve controls on the Wild West of short messages.
Now it is Palantir, the software company which offers an alternative to the IBM Analyst Notebook system. I thought Palantir was in the cat bird seat to provide technology that would deliver certain functionality to various US government agencies, financial institutions, and other organizations wanting to make sense of data.
I learned from the Bloomberg write up:
If Palantir Technologies Inc. pursues plans for a public offering and follows through by 2019, it will need to rein in spending and woo corporate customers just to be able to hang on to a $20 billion valuation it was awarded two years ago, according to a new study. It could also be worth a lot less.
Bloomberg cites a "study" which reveals that Palantir technology needs some set up and configuration before the users can make sense of digital information processed by the system.
This apparently comes as a surprise to Bloomberg and the SharesPost research team.
The reality of next generation information access systems is different from an iPhone or Android app one downloads and uses immediately. I know this is a surprise to many "experts," but next generation information access systems are complicated. I explain why in my 2015 CyberOSINT: Next Generation Information Access Systems.
What's interesting is that instead of putting the Palantir systems in a meaningful context, the report and apparently Bloomberg want to make another Silicon Valley outfit look like a bent penny.
Valuation is in the eye of the beholder and the Excels generated by whiz kids who want to buy a new Porsche.
Bloomberg quotes the report as a way to wrap up the news story with a stomp on Palantir's foot; to wit:
Palantir "is currently valued much higher than its peers in the big data and analytics space," Kulkarni wrote, adding that he believes Palantir will maintain the rich valuation if it keeps adding corporate clients and expedites cost cutting. He wrote that Palantir remains an attractive acquisition target – Oracle weighed the option last year but demurred – and estimated Palantir's low-end value in 2019 at $13.8 billion.
Is there another view of Palantir? Guess not.
Stephen E Arnold, October 18, 2017
In November 2017, the focus of Beyond Search and HonkinNews will change. The free information services will increase their coverage of weaponized online. A preview of the type of information we will highlight appears in "Cyber Weapon Market to Reach US$521.87 Billion by the End of 2021." A summary of the report appears in the article in OpenPR. The news item asserts:
According to TMR, the global cyber weapon market stood at US$390 bn in 2014. Rising at a CAGR of 4.4% CAGR, the market is expected to reach US$521.87 bn by the end of 2021. With a share of 73.8%, the defensive cyber weapon segment dominated the market by type in 2014. Regionally, North America accounted for the leading share of 36% in the global market in 2014.
If the estimate is accurate, there is money in things cyber. Watch for our new report E Discovery for Cyber Intelligence. Previews of the report will appear in our twice a month video program "HonkinNews" starting in six weeks.
Stephen E Arnold, October 2, 2017