"Sixgill" refers to the breathing apparatus of a shark. Deep. Silent. Stealthy. SIXGILL offers software and services which function like "your eyes in the Dark Web."
Based in Netanya, just north of Tel Aviv, SIXGILL offers services for its cyber intelligence platform for the Dark Web. What sets the firm apart is its understanding of social networks and their mechanisms for operation.*
The company's primary product is called "Dark-i." The firm's Web site states that the firm's system can:
Track and discover communication nodes across darknets with the capability to trace malicious activity back to their original sources
Track criminal activity throughout the cyber crime lifecycle
Operate in a covert manner including the ability to pinpoint and track illegal hideouts
Support clients with automated and intelligence methods.
The Dark-i system is impressive. In a walk through of the firm's capabilities, I noted these specific features of the Dark-i system:
Easy-to-understand reports, including summaries of alleged bad actors behaviors with time stamp data
Automated "profiles" of Dark Web malicious actors
The social networks of the alleged bad actors
The behavior patterns in accessing the Dark Web and the Dark Web sites the individuals visit.
Access to the information on Dark Web forums.
Details about the innovations the company uses are very difficult to obtain. Based on open source information, a typical interface for SIXGILL looks like this: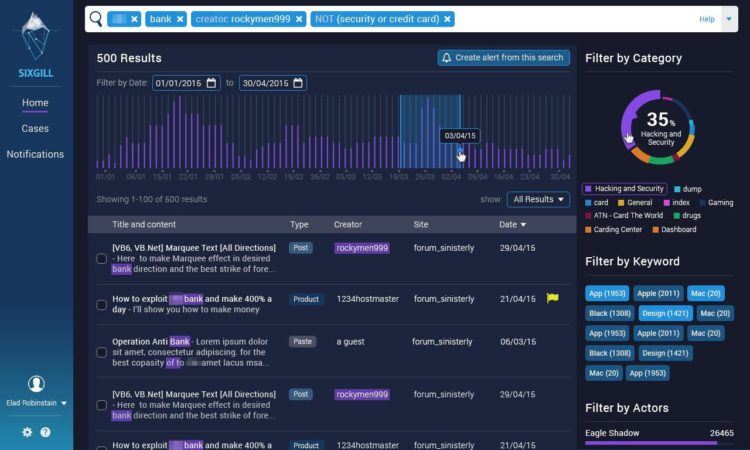 Based on my reading of the information in the screenshot, it appears that this SIXGILL display provides the following information:
The results of a query
Items in the result set on a time line
One-click filtering based on categories taken from the the sources and from tags generated by the system, threat actors, and Dark Web sources
A list of forum posts with the "creator" identified along with the source site and the date of the post.
Compared with reports about Dark Web activity from other vendors providing Dark Web analytic, monitoring, and search services, the Dark Web Notebook team pegs s SIXGILL in the top tier of services.
i read "Palantir Will Struggle to Hold On to $20 Billion Valuation, Study Says." Interesting stuff because beating up on hapless Silicon Valley companies is becoming a mini-trend. Facebook is in the dog house because it sells ads. Google is in the kennel because Europe finds its business practices less than Euro-cool. Twitter. Poor Twitter. Its part time boss is going to improve controls on the Wild West of short messages.
Now it is Palantir, the software company which offers an alternative to the IBM Analyst Notebook system. I thought Palantir was in the cat bird seat to provide technology that would deliver certain functionality to various US government agencies, financial institutions, and other organizations wanting to make sense of data.
I learned from the Bloomberg write up:
If Palantir Technologies Inc. pursues plans for a public offering and follows through by 2019, it will need to rein in spending and woo corporate customers just to be able to hang on to a $20 billion valuation it was awarded two years ago, according to a new study. It could also be worth a lot less.
Bloomberg cites a "study" which reveals that Palantir technology needs some set up and configuration before the users can make sense of digital information processed by the system.
This apparently comes as a surprise to Bloomberg and the SharesPost research team.
The reality of next generation information access systems is different from an iPhone or Android app one downloads and uses immediately. I know this is a surprise to many "experts," but next generation information access systems are complicated. I explain why in my 2015 CyberOSINT: Next Generation Information Access Systems.
What's interesting is that instead of putting the Palantir systems in a meaningful context, the report and apparently Bloomberg want to make another Silicon Valley outfit look like a bent penny.
Valuation is in the eye of the beholder and the Excels generated by whiz kids who want to buy a new Porsche.
Bloomberg quotes the report as a way to wrap up the news story with a stomp on Palantir's foot; to wit:
Palantir "is currently valued much higher than its peers in the big data and analytics space," Kulkarni wrote, adding that he believes Palantir will maintain the rich valuation if it keeps adding corporate clients and expedites cost cutting. He wrote that Palantir remains an attractive acquisition target – Oracle weighed the option last year but demurred – and estimated Palantir's low-end value in 2019 at $13.8 billion.
Is there another view of Palantir? Guess not.
Stephen E Arnold, October 18, 2017
In November 2017, the focus of Beyond Search and HonkinNews will change. The free information services will increase their coverage of weaponized online. A preview of the type of information we will highlight appears in "Cyber Weapon Market to Reach US$521.87 Billion by the End of 2021." A summary of the report appears in the article in OpenPR. The news item asserts:
According to TMR, the global cyber weapon market stood at US$390 bn in 2014. Rising at a CAGR of 4.4% CAGR, the market is expected to reach US$521.87 bn by the end of 2021. With a share of 73.8%, the defensive cyber weapon segment dominated the market by type in 2014. Regionally, North America accounted for the leading share of 36% in the global market in 2014.
If the estimate is accurate, there is money in things cyber. Watch for our new report E Discovery for Cyber Intelligence. Previews of the report will appear in our twice a month video program "HonkinNews" starting in six weeks.
Stephen E Arnold, October 2, 2017
Author predicts filtering and other restrictions on the open Internet will push more users toward secret encrypted platforms
Despite stepped-up efforts by federal and local law enforcement agencies, the Dark Web and the contraband markets that thrive there will continue to grow in the coming years. That's the conclusion shared by author and consultant Stephen E Arnold in his new book Dark Web Notebook, a practical guide for law enforcement, intelligence, and corporate security personnel.
Arnold was a featured speaker this month at the at the Techno Security & Digital Forensics Conference in Myrtle Beach, SC, where he explained how the Dark Web operates and how investigators can assume a secret identity and acquire the necessary tools to explore hidden online communities.
In his lectures, Arnold noted that governments in the UK, China, Egypt, and other countries are implementing tighter restrictions on electronic communications while private companies such as Facebook and Google are implementing more content filtering. The result, he said, is that more activities that are normally conducted on the "surface web" are migrating to the encrypted platforms offered by the Dark Web. At the same time, private citizens are adopting apps and other encryption tools to protect their personal privacy.
"It's like squeezing a sponge or a tube of toothpaste," Arnold said. "The substance has to go somewhere. The Dark Web will become more attractive to people who want to conduct their affairs in secret and that will make the Dark Web an increasing area of interest to law enforcement, security and intelligence professionals."
The Dark Web is also flashing on the radar of state and local law enforcement agencies. A June 10 article in the New York Times (https://www.nytimes.com/2017/06/10/business/dealbook/opioid-dark-web-drug-overdose.html) described how police in the resort town of Park City, UT, had to learn about the Dark Web after two 13-year-old boys died after taking a synthetic opioid called "Pinky" that was purchased on the Dark Web.
"This terrible tragedy is an example of how the influence of the Dark web is spreading into small town in the US and around the world. Law enforcement personnel at all levels are going to need to understand how this new environment functions if they hope to protect the citizens in their communities," Arnold said.
Although much has been written about the Dark Web, Arnold's book is unique in that it was created specifically for investigators. It presents step-by-step instructions that help investigators safely explore the digital underworld. The book is available as a 250-page digital download for $49 at https://gum.co/darkweb.
In addition to his lectures, Arnold also offers a hands-on tutorial for small groups of qualified participants. In these sessions, participants use a secure computer to create a "legend" identity and explore the Dark We. They also learn how to acquire other digital tools and services including Bitcoin, the digital currency favored by Dark Web vendors.
Arnold will present his lectures and tutorial again at the 2017 Techno Security & Digital Forensics Conference September 18-20 in San Antonio. Information about the conference is available at www.technosecurity.us.
About the Book
The 250-page book includes a tour of the Dark Web with profiles of vendors and markets, explanations of access tools such as the Tor browser, reviews of services for searching Dark Web content, research resources available on the public Internet, and details about commercial solutions.
Detailed descriptions of each chapter are posted at http://xenky.com/darkwebnotebook.
The book is available as a digital download for $49 at https://gum.co/darkweb.
About the Author
Stephen E Arnold's career includes work at Halliburton Nuclear Utility Services and Booz, Allen & Hamilton. He built and sold several stary-up ventures including The Point Internet Service. He and his team built the online system for the Threat Open Intelligence Gateway (TOSIG) for the US government. He is the author of The Google Legacy (2005), Google Version 2 (2007), and Google: The Digital Gutenberg (2009). In 2015, he published CyberOSINT: Next Generation Information Access. He is a Summa cum laude graduate of Bradley University and he has completed work on his PhD at the University of Illinois.
About ArnoldIT
Arnold Information Technology conducts research into online information and services. Founded by Stephen E Arnold in 1991, the company has provided technology services to organizations worldwide.
Ric Manning, June 27, 2017
Arnold Information Technology has published Dark Web Notebook: Investigative Tools and Tactics for Law Enforcement, Security, and Intelligence Organizations. The 250-page book provides an investigator with instructions and tips for the safe use of the Dark Web. The book, delivered as a PDF file, costs $49.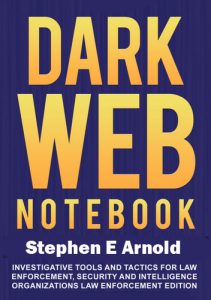 Orders and requests for more information be directed to darkwebnotebook@yandex.com. Purchasers must verify that they work for a law enforcement, security, or intelligence organization. Dark Web Notebook is not intended for general distribution due to the sensitive information it contains.
The author is Stephen E Arnold, whose previous books include CyberOSINT: Next Generation Information Access and Google Version 2.0: The Calculating Predator, among others. Arnold, a former Booz, Allen & Hamilton executive, worked on the US government-wide index and the Threat Open Source Intelligence Gateway.
The Dark Web Notebook was suggested by attendees at Arnold's Dark Web training sessions, lectures, and webinars. The Notebook provides specific information an investigator or intelligence professional can use to integrate Dark Web information into an operation.
Stephen E Arnold, author of the Dark Web Notebook, said:
"The information in the Dark Web Notebook has been selected and presented to allow an investigator to access the Dark Web quickly and in a way that protects his or her actual identity. In addition to practical information, the book explains how to gather information from the Dark Web. Also included are lists of vendors who provide Dark Web services to government agencies along with descriptions of open source and commercial software tools for gathering and analyzing Dark Web data. Much of the information has never been collected in a single volume written specifically for those engaged in active investigations or operations."
The book includes a comprehensive table of contents, a glossary of terms and their definitions, and a detailed index.
The book is divided into 13 chapters. These are:
Why write about the Dark Web?
An Introduction to the Dark Web
A Dark Web Tour with profiles of more than a dozen Dark Web sites, their products, and services
Dark Web Questions and Answers
Basic Security
Enhanced Security
Surface Web Resources
Dark Web Search Systems
Hacking the Dark Web
Commercial Solutions
Bitcoin and Variants
Privacy
Outlook
In addition to the Glossary, the annexes include a list of DARPA Memex open source software written to perform specific Dark Web functions, a list of spoofed Dark Web sites operated by law enforcement and intelligence agencies, and a list of training resources.
Kenny Toth, June 5, 2017
Telestrategies announced on January 4, 2016, a new webinar for active LEA and intel professionals. The one hour program is focused on tactics, new products, and ongoing developments for Dark Web and Tor investigations. The program is designed to provide an overview of public, open source, and commercial systems and products. These systems may be used as standalone tools or integrated with IBM i2 ANB or Palantir Gotham. More information about the program is available from Telestrategies. There is no charge for the program. In 2016, Stephen E Arnold's new Dark Web Notebook will be published. More information about the new monograph upon which the webinar is based may be obtained by writing benkent2020 at yahoo dot com.
Stephen E Arnold, January 5, 2016
The Dark Web is out there. Not surprisingly, there are a number of companies indexing Dark Web content. One of these firms is Digital Shadows. I learned in "Cyber Threat Intelligence and the Market of One" that search and retrieval has a new suit of clothes. The write up states:
Cyber situational awareness shifts from only delivering generic threat intelligence that informs, to also delivering specific information to defend against adversaries launching targeted attacks against an organization or individual(s) within an organization. Cyber situational awareness brings together all the information that an organization possesses about itself such as its people, risk posture, attack surface, entire digital footprint and digital shadow (a subset of a digital footprint that consists of exposed personal, technical or organizational information that is often highly confidential, sensitive or proprietary). Information is gathered by examining millions of social sites, cloud-based file sharing sites and other points of compromise across a multi-lingual, global environment spanning the visible, dark and deep web.
The approach seems to echo the Palantir "platform" approach. Palantir, one must not forget, is a 2015 version of the Autonomy platform. The notion is that content is acquired, federated, and made useful via outputs and user friendly controls.
What's interesting is that Digital Shadows indexes content and provides a search system to authorized users. Commercial access is available via tie up in the UK.
My point is that search is alive and well. The positioning of search and retrieval is undergoing some fitting and tucking. There are new terms, new rationale for business cases (fear is workable today), and new players. Under the surface are crawlers, indexes, and search functions.
The death of search may be news to the new players like Digital Shadows, Palantir, and Recorded Future, among numerous other shape shifters.
Stephen E Arnold, December 24, 2015
Short honk: Curious about the world of exploits available to governments and other authorized entities? You may find "Metadata Investigation: Inside Hacking Team" interesting." Keep in mind that "metadata" means indexes, entity extraction, and other controlled and uncontrolled data content. The report from Share Lab was online on November 23, 2015, when I last checked the link. I discuss Hacking Team and several other firms in my forthcoming monograph about the Dark Web.
Stephen E Arnold, November 25, 2015
I read "Zerodium Revealed Prices" (original is in Russian). the main point of the write up is that exploits or hacks are available for a price. Some of these are attacks which may not be documented by the white hat folks who monitor the exploit and malware suburbs connected to the information highway.
The paragraph I noted explained what Zerodium will pay for a fresh, juicy exploit.
Here's the explanation. Please, recognize that Russian, unlike one of my relative's language skills, is not my go to language:
For a remote control access exploit which intercepts the victim's computer through Safari or Microsoft's browser company is willing to pay $ 50 000. A more sophisticated "entry point" is considered Chrome: for the attack through Zerodium pays $ 80,000. Zerodium will pay $5,000 for a vulnerability in WordPress, Joomla and Drupal. Breaking the TorBrowser can earn the programmer about $30.000… A remote exploit bypassing the protection Android or Windows Phone, will bring its author a $100,000. A working exploit of iOS will earn the developer $500,000.
Zerodium explains itself this way:
Zerodium is a privately held and venture backed startup, founded by cybersecurity veterans with unparalleled experience in advanced vulnerability research and exploitation. We've created
Zerodium to build a global community of talented and independent security researchers working together to provide the most up-to-date source of cybersecurity research and capabilities.
The company's logo is nifty too:
The purple OD emphasizes the zero day angle. Are exploits search and information access? Yep, they can be. Not advocating, just stating a fact.
Stephen E Arnold, November 24, 2015
I know that search vendors are busy doing customer relationship management, governance, indexing, and many other jargon choked activities in an increasingly desperate attempt to grow organic revenues.
I want to highlight this news item, "Telstra First on Board as Wynyard Seals $3.2 Cyber Solution Deal." The announcement is important for the low, low profile Wynyard outfit. The company combines a range of content processing functions with a solution that delivers high value, actionable outputs.
High value means that the company reduces the costs of certain tasks and services which can be linked directly to outcomes. Value also means that the services are less expensive than a mosaic of individual content functions.
You will have to do some digging to get information about Wynyard, one of the leaders in the cyber OSINT and related disciplines. According to the write up:
According to Richardson [Wynyard CEO] , ACTA [Wynyard service] identifies cyber breaches that have compromised traditional defenses, operating inside the company network by processing big-data network logs using advanced machine learning techniques to analyze data for anomalous patterns that are out of step with usual behavior. Terms of the deal will see Telstra – one of the world's largest telecom companies – use ACTA across its internal ICT network to assist in preventing high consequence cyber crime.
Wynyard offers other interesting services. Worth paying attention to this outfit in my opinion. Real value is more than made up MBA silliness.
Stephen E Arnold, November 16, 2015