In the Honk newsletter, I have been plugging away at some of the flights of fancy that surround big data, next generation analytics, and all things predictive. I am nervous about "training wheels" on complex mathematical processes. Like the fill-in-the-blanks functions in Excel, a person without a foundation in math can fiddle around until the software spits out a number which "looks good." In one of my jobs, my boss was a master at "the flow." The idea was that numbers can be shaped to support a particular point. I recall his comment to me in 1974, "Most of our clients are not smart enough to work through the math. We have to generate outputs which flow." The idea is one that troubled me. I moved on to greener and less slippery pastures and I kept that notion of "flow" squarely in mind. Numbers should not cause the person looking at a chart or a table to say, "Wow, that number looks weird." Hence, flow allows the reasoning process to be guided.
I just read a story which I hope is not accurate. I want to document my coming across the item, however. I think it will be an interesting touchstone and search and content processing companies race to be come players in big data and analytics. The story appeared in the Hollywood Reporter, a publication about which I know little. The headline caught my attention because it resonates with advertising and advertising automatically evokes the Google logo for me. "Nielsen Sued for Billions over Allegedly Manipulated TV Ratings" carries a hard hitting subtitle too: "In a huge new lawsuit, the business of TV ratings is fingered for rampant corruption by India's largest TV news network." I know even less about India than the Hollywood Reporter.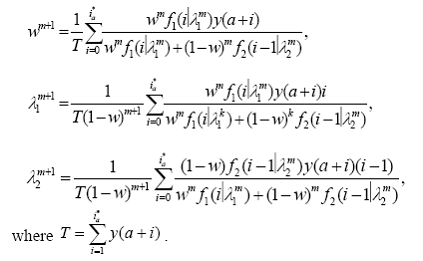 Fancy math underlies the products and services of many analytics firms which offer products and services to licensees that make interacting with data a matter of pointing and clicking. A happy quack for the equation to http://goo.gl/lBlXV
Here's the passage I noted:
In a 194-page lawsuit filed in New York court late last week, NDTV accuses Nielsen of violating the Foreign Corrupt Practices Act by manipulating viewership data in favor of channels that are willing to provide bribes to its officials. According to NDTV, rampant manipulation of viewership data has been going on for eight years, and when presented with evidence earlier this year, top executives at Nielsen pledged to make changes. But the Indian news giant says these promises have been false ones.
Like most litigation, the story will unfold slowly and perhaps not at all. The i2 Group Palantir litigation is a relatively recent example. Based on my experience with the boss who wanted numbers to flow, I can see how the possibility of tweaking could be useful to some companies. However, with the dismal state of math skills, how can I now of the problem was a result of human intent, human error, or a training wheels type system driven over rocky terrain. I can't and I bet that most people thinking about this situation cannot either.
What is interesting to me, however, are these notions:
How many other fancy math systems are open to similar allegations from their licensees?
Will this type of legal action cause some of the vendors pitching fancy math and predictive systems to modify their marketing materials to include more caveats and real world anchors instead of bold assertions?
How will the legal system deal with fancy math litigation? I don't know many attorneys. The handful with which I have some experience have been quick to point out that math, engineering, and science were not their strengths. Logic and reasoning were their strong suits.
With many search and content processing companies embracing fancy math, sentiment analysis, smart indexing and other math-based functions, will a search vendor find itself in the hot seat? I hope not but the market wants to buy fancy math. Understanding the fancy math may drive demand for individuals who can figure out if the systems and methods do what the licensee believes they do.
Oh, I like the word "billions." Big money adds to the drama of analytics risk management in my opinion.
Stephen E Arnold, July 31, 2012
I read with interest the article "How Inforbix Extends the Value of PDM/PLM Systems." For companies which create engineering drawings and other types of rich media, the cost and effort required to convert an idea into a digital object can be considerable. In my experience, most non-technical professionals do not understand the effort required to move from an idea into a digital file which, in turn, makes it possible to manufacture a part or an assembly. Not surprisingly, most enterprise information management systems do not handle engineering diagrams, CAD objects, and 3D data files particularly well. In fact, most findability systems ignore these content objects.
In an increasingly competitive world, ignoring high value engineering content can be an expensive mistake. The Inforbix article asserts:
At Inforbix we've been working on ways of giving people easy and simple access to data within their PDM/PLM system.  That way, anyone in the company, without any special skills or training can get at the data they need within their PDM/PLM system without using touching the actual system.
Professional systems used to produce a CAD object, for example, require training to use. Unlike a Web page or a mainstream office application like Microsoft Word, the interfaces and methods of performing basic tasks such as opening a project file may not be obvious.
Many non engineers do require access to specialized engineering data, information about a component, and data about suppliers. These types of information may not reside within an enterprise search system. If some of the data are present, those items may not be indexed by the project under which the items are organized.
The article continues:
Inforbix lets anyone in a company with a PDM/PLM system access data therein without touching, moving, or interacting with the actual PDM/PLM system and data. By giving anyone in a company the ability to gather and expose data within PDM/PLM systems.
If your organization wants to maintain and grow the value of its high value content, an easy to use findability system is necessary. In our search work, we know the value of the Inforbix system. You can get more information at www.inforbix.com.
Stephen E Arnold, July 31, 2012
Sponsored by HighGainBlog.com
It seems we have modified ourselves to rely on our hard drives and the Internet more than on our own memories; woe betide us if the zombie apocalypse wipes out power! ReadWriteWeb informs us, "Google Search Shapes Memory, New Research Shows." The article by Dave Copeland reports on research from Betsy Sparrow of Columbia University, Jenny Liu of the University of Wisconsin, and Daniel M. Wegner of Harvard University. The write up explains:
"The researchers set out to determine what impact, if any, access to information via Internet search engines has on memory. Their conclusion: When posed a question, people are primed to think of computers, and when they expect to have access to future information, they have lower rates of recall about the actual information and enhanced recall of where they can find the information. For example, you're not likely to remember the Six Degrees of Kevin Bacon chain of associations that leads from the actor to Marlon Brando, but you will remember that you can easily figure it out by going to IMDB."
This pattern is almost the opposite of the technique we have used for generations: the art of rote memorization which filled our heads with facts we might or might not need some day. Now the Internet serves that storage function. On the surface that doesn't seem so bad; the Web or even a single computer can hold a lot more information that a human brain. Technology has us covered, right?
Well, yes, as long as everything goes according to plan. But what if the your connection goes down, or the power is out and your device(s)out of juice? From getting the boss information she needs Right Now, to remembering how to perform certain tasks in case of emergency, there's still call for a well-trained human memory. Those of us who were educated before the computer age may have an advantage, if we can summon that training from the crevices of our minds. What about the younger generations, though, who have grown up with the world at their fingertips?
Cynthia Murrell, July 31, 2012
Sponsored by PolySpot
Yammer is what an enterprise social network tool; organizations implement it to spur collaboration between users. On the Yammer homepage we found a new application which permits Microsoft SharePoint Integration. After reading the specs, we found on the Microsoft blog about "Yammer-The Next Step for Social Networking In Schools?"
According to the post, Microsoft recently purchased Yammer. The post explains Yammer's basic functions, the dashboard mirrors Facebook's design with hints of Twitter. The post digs into how Yammer would be used in schools, basically the same way it would for any company: staff would use to communicate between departments, share content, etc. It can also be a boon for students too:
"We know that group work is a great way to encourage students to engage with their peers, but this isn't easy when they all use different social networks, clouds and systems. By joining Yammer, students can create secure groups via which they can communicate their ideas, ask questions and share files, as well as allowing for their competitive side to come out through 'Leaderboards', which show data about who has received the most likes, replies and much."
Students can perform group work, receive studying help, share content, and even praise each other within Yammer. While it can be a tool of food for students, it can also make cheating and plagiarism easier if not monitored. Yammer should install an app that will be able to detect plagiarism.
The surge of interest in social content is growing in government agencies, commercial organizations, and educational institutions. However, indexing and making this content
findable can be a challenging task. The tools an organization uses require tight integration with
a search system. Mindbreeze provides capabilities to make social content easily findable within a SharePoint environment. A Yammer style can enhance productivity. Mindbreeze offers a range of social and collaborative features and has the engineering expertise to resolve almost any search and retrieval issue. Check out the Mindbreeze social collaboration Web page for more information.
Whitney Grace, July 31, 2012
Sponsored by Mindbreeze
When search wizards multitask, challenges to comprehension may arise; yet another study shows that we aren't as good at multitasking as we think. Research News out of Ohio State University reveals, "Study Shows Why Some Types of Multitasking are More Dangerous than Others." The study, performed by Zheng Wang at Ohio State and supported by a grant from the National Science Foundation, has safety implications for the designers of tech products.
The study reinforced others which have concluded that we just aren't that good at doing multiple things at once. It seems we enjoy the feeling of control we get when, for example, we maintain a conversation with a colleague in a chat window while working on another project. Even though objective measures report that subjects in the study were less productive while multitasking, the subjects themselves reported feeling they had accomplished more. It is an illusion that is particularly dangerous on the road, because drivers think they can handle distractions just fine—until they don't. Young people, especially, must be made aware of this vulnerability.
There is some news here that can be put to good use. The study shows that mixing a visual and an auditory task works better than mixing two visual ones. The write up notes:
"The findings show that technology companies need to be aware of how people respond to multitasking when they are designing products. For example, these results suggest GPS voice guidance should be preferred over image guidance because people are more effective when they combine visual with aural tasks compared to two visual tasks.

"'We need to design media environments that emphasize processing efficiency and activity safety. We can take advantage of the fact that we do better when we can use visual and audio components rather than two visual components,' Wang said."
See the write up for specifics on the study's methodology. It seems to us, though, that those search wizards can multitask, so the research does not apply to young wizards. Except when they're driving.
Cynthia Murrell, July 31, 2012
Sponsored by PolySpot
Is an atmospheric price war coming between Amazon and Google? Could be; Wired Cloudline reports, "Google Builds Out Cloud Platform with Partner Program." Amazon has been working hard to build up its off-site platform, particularly with its attractive partner network. Now Google aims to provide some competition. Writer Mike Barton reveals:
"Google is now looking to get its cloud platform out there in the 'channel' with its partner program. 'As a business, we know you spend a lot of valuable time thinking about IT solutions. We think it's important to provide you with the best options for your business, which is why we are thrilled to introduce the Google Cloud Platform Partner Program,' Eric Morse, Head of Sales and Business Development for Google Cloud Platform, wrote in a blog post. 'This program provides our partners with the tools, training and resources they need to successfully address your business' IT needs.'"
As with Amazon, two types of partner are specified under Google's program. Service partners supply developers with consulting and implementation services for the various Google Cloud Platform products. Technology partners furnish tools that integrate with Google's platform or use one of Google's services as a foundation for their products. Navigate here to see a list of Google's cloudy partners.
Cynthia Murrell, July 31, 2012
Sponsored by PolySpot
Lotus Notes is a collaborative content management platform that warehouses an organization's content for multiple users. It does not come as a surprise, as MarketWatch tells us, that "Daegis Expands Cross-Matter Management Capabilities with Support for Lotus Notes Integration in eDiscovery Platform." It was only a matter of time before an eDiscovery provider integrated their services with a content platform. Daegis adds Lotus Notes to Daegis eDiscovery Platform integration that will be added to other data sources for litigation purposes. Daegis already has an industry noted trademark, its Cross-Matter Management methodology, which enables data to be preserved and re-purposed in a single secure environment, spanning various collaboration platforms and file types.
Adding Lotus Notes to eDiscovery integration will lower costs:
"These expanded Lotus Notes capabilities continue to build on Daegis' data-driven eDiscovery model. Using Daegis' Cross-Matter Management methodology and the Master Repository that enables it, Daegis helps clients curb the rising cost of eDiscovery by leveraging the analysis already done in prior matters and applying that work product to multiple subsequent matters. All data, regardless from which collaboration platform it originates, can be processed, reviewed, and stored in a single instance for use in multiple matters, driving down costs and improving consistency both in search results and attorney review calls regardless of the platform that was originally used to create the data."
After adding content management platforms, eDiscovery developers should concentrate on mobile eDiscovery solutions. IBM has a number of initiatives in content processing. How will the company displace the eDiscovery incumbents? Maybe predictive magic will do the trick.
Stephen E Arnold, July 30, 2012
Sponsored by Polyspot
The growing availability of cloud based and open source analytics and the resulting beefed-up security demands surrounding such easily accessible software are the topics pervasive in this week's posts on Inteltrax. As usual the nature and existence of 'big data' was discussed and the post, "Big Data is Analytics for Dummies", accurately gets to the heart of the matter using text from the Tech Week Europe article as evidence.
"The author is probably spot-on with his analysis of the 'big data' hype invading industries around the world. Being right doesn't change the fact that thanks to open source and cloud technologies more companies than ever before now have access to analytics. If the sage analysts need to dumb down their definitions then so be it. Thankfully, there are analytics providers committed to the industries and companies previously not invited into the analytics club."
All that talk of openness among comrades came to a point with the announcement that Datameer was offering their analytics free of charge to academics mired in the muck of unstructured data. As the post, "Datameer Offers Free License to Academic Researchers", quotes Market Watch,
"Academic researchers are particularly challenged by the massive amounts of data needed for their research. Collecting and analyzing data requires enormous computational effort and has typically been slow and tedious, often requiring a computer science background. Datameer offers an end-user focused tool that enables researchers themselves to integrate large quantities of data, do complex analysis in a familiar spreadsheet-like interface, and then visualize their results to easily understand, communicate and share their findings."
Open and free are great especially in the world of costly analytics but both come with a price – heightened security risks. Inteltrax author Catherine Lamsfuss tackled security concerns with the post, "Security Top Concern for Cloud Based Software". Live Mint compared cloud breaches to a door lock – it's not a question of if the door will be broken down, but when. The article summarizes the state of security surrounding today's cloud.
"These security issues should be at the forefront of companies' decision making process when it comes to choosing a cloud based analytics provider. All cloud based software is protected to some degree but if protecting sensitive information is important than a thorough investigation into a provider's security background is due."
Whether one's company is struggling with finding affordable cloud based analytics, applying open-source to existing systems or trying to strengthen security Digital Reasoning is a solid analytics provider more than capable of helping. With an extensive relationship with the intelligence community they understand the need for security but also are realistic about budgets, especially those of small and midsized businesses.
Follow the Inteltrax news stream by visiting www.inteltrax.com
Patrick Roland, Editor, Inteltrax.
July 30, 2012
Apparently a SWAT Team is just what the doctor ordered in the case of Microsoft's consumer initiatives.
Microsoft is calling upon former Clinton advisor and PR maven Mark Penn to lead a "SWAT Team" focused on consumer initiatives and developing strategic development and branding to meet consumers' changing needs. The first target of the team will be Microsoft's search engine, Bing.
A recent article on ReadWriteWeb, "Microsoft Assembling "SWAT Team" to Boost Bing," tells us more about Microsoft's decision and Penn's focus in the company. The article reports:
"'Mark has an incredible background in research, demographics, marketing and positioning and a proven history in developing unique insights that drive success,' [Microsoft CEO Steve] Ballmer said in a statement. 'With a strong set of products and an exciting pipeline for the next year, Mark's experience and out-of-the-box thinking will help us more effectively reach new consumers and grow market share.'
Despite Microsoft's best efforts, Bing is still holding steady at second in popularity to search king Google. Searching has become synonymous with "Googling," and Penn has his work cut out for him. I wonder if someone in Microsoft management used a decision engine to answer the question, "How do we catch Google in search?" Perhaps Penn will be the answer.
Andrea Hayden, July 30, 2012
Sponsored by IKANOW
By now we should all be familiar with HP's purchase of big data company Autonomy that occurred last year. Some of us have also been following what HP seems to be planning for its property. But what about Autonomy's founder? What has he been up to since the lucrative deal went through? Business Insider reports, "Looks Like Autonomy Founder Mike Lynch Will Become a Big-Shot London VC." Writer Julie Bort tells us:
"Mike Lynch, the British founder of big-data company Autonomy is about to fire up a tech venture fund in London, Bloomberg reports. . . .

"Autonomy's founder and CEO Mike Lynch joined HP at [the time of the acquisition]. But in May, during the company's last quarterly earnings call, current CEO Meg Whitman said that Autonomy's sales had been 'disappointing' and that Lynch was leaving HP.

"We haven't heard much about Lynch since."
Bort notes that, long before HP, Lynch was named Britain's first software billionaire in 2000. The life of a technology venture capitalist seems like a natural extension of that title, she observes.
Autonomy was founded in 1996, with technology that evolved from research originally performed at Cambridge University. The company maintains dual headquarters in Cambridge, UK, and San Francisco, with satellite offices worldwide.
Cynthia Murrell, July 30, 2012
Sponsored by PolySpot