Google: One Trial Balloon Up and Another Launched
I read "Alphabet Loon Internet Balloon "Other Bet" Gets Grounded Forever." Unlike the Graf Zeppelin's performance, no one appears to have been killed by the Loon balloon.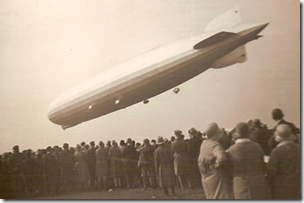 I quite like the idea of airships; however, unpredictable weather and all-too-predictable smart software make balloons bouncing Internet signals a somewhat unusual idea. Puerto Rico, Sri Lanka, and odd spots in the US once were on the globe floating Loon's itinerary. Not now. I learned:
Project Loon will be winding down operations and its remaining balloons in the coming months while employees are shuffled across Alphabet, Google, and X. It's definitely disappointing news to hear, especially given how Loon Internet played critical roles in some natural disasters in the past two to three years.
But, rejoice. There is another Google balloon which may be trialed in Australia. "Google Threatens to Remove Search from Australia over New Law" contains the company-versus-country news:
Google on Friday threatened to disable its search engine function in Australia if the government passes new regulations that would force large tech companies to negotiate with news organizations to present the content they produce.
France and Google have reached some agreement about news and money. Australia is the testing ground for a less fromage-and-wne centric rapprochement. But Australia has sheep and coal. The write up noted:
Australian Prime Minister Scott Morrison responded during a press conference later Friday, stating, "We don't respond to threats." "Let me be clear: Australia makes our rules for things you can do in Australia," he said. "That's done in our Parliament. It's done by our government and that's how things work here in Australia."
If a country will not meet Google's demands, then Google search won't find anything for the kangaroo crowd.
Wait!
Google does not find anything when some people run queries.
It is clear that Google does not want fromage-and-wine deals with other countries. The costs would be too much for the Google to stomach. Lamb chops versus fromage and wine? Is this a fair contest.
Beyond Search believes that Google's policy of threat is a trial balloon. Will that policy fly like the Loon?
Stephen E Arnold, January 25, 2020
Comments