Easier Targets for Letter Signers: Joe Rogan and Spotify
YouTube received a missive from fact checkers exhorting the online ad giant to do more to combat misinformation. Ah, would there were enough fact checkers. YouTube, despite having lots of money, is an easier target for government regulators. Poke Googzilla in the nose or pull its charming tail, and the beast does a few legal thrashes and then outputs money. France and Russia love this beast baiting. Fact checkers? Not exactly in the same horsepower class as the country with fancy chickens or hearty Siberians wearing hats made of furry creatures.
I noted "Scientists, Doctors Call on Spotify to Implement Misinformation Policy Over Claims on Joe Rogan Show." Spotify is not yet a Google-type of operation. Furthermore the point of concern is a person who was a paid cheerleader for that outstanding and humane sporting activity mixed martial arts. My recollection is that Mr. Rogan received some contractual inducements to provide content to the music service and cable TV wannabe. He allegedly has a nodding acquaintance with intravenous vitamin drips, creatine, and fish oil. You can purchase mugs from which one can guzzle quercetin liquid. Yum yum yum. Plus you can enjoy these Rogan-centric products wearing a Joe Rogan T shirt. (Is that a a mystic symbol or an insect on the likenesses' forehead?)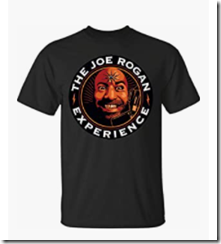 The write up states:
More than 260 doctors, nurses, scientists, health professionals and others have signed an open letter calling on the streaming media platform Spotify to "implement a misinformation policy" in the wake of controversy over podcaster Joe Rogan's promotion of an anti-vaccine rally with discredited scientist Robert Malone in an episode published on December 31st. Rogan has repeatedly spread vaccine misinformation and discouraged vaccine use. The December episode attracted attention in part because Dr. Malone falsely claimed millions of people were "hypnotized" to believe certain facts about COVID-19, and that people standing in line to get tested as the omicron variant has driven record new cases of the virus was an example of "mass formation psychosis," a phenomenon that does not exist.
Impressive. The hitch in the git along is that Mr. Rogan attracts more eyeballs and listeners than some mainstream news outlets. He is an entertainer, and one might make the case that he is a comedian, pulling the leg of guests and of some listeners. I think of him as an intellectual Adam Carolla. Note that I am aware of the academic credentials of both of these stars.
The larger issue is that these letters beef up the résumé of the publicists working on these missives. Arguments and discussions in online for a whip up eddies of concern.
There are a few problems:
Misinformation, disinformation, and reformation of factual data are standard functions of the human.
Identifying and offering counter arguments depends upon one's point of view.
Spotify receives content and makes it available. Conduits are not as efficient in modifying what an entertainer does in near real time before the entertainer entertains.
Why not tell Spotify to drop Mr. Rogan? Money, contracts, and the still functional freedom of speech thing.
Will more letters arrive this week? My hunch is that the French, Russian, et al approach might ultimately be more pragmatic. Whom does the publicity for the control Rogan letter benefit?
Maybe Mr. Rogan?
Stephen E Arnold, January 13, 2022
Comments