Cybersecurity: Are the Gloves Off?
Cybersecurity has been a magnet for investments. Threats are everywhere! Threats are increasing! Ransomware destroys businesses and yours will be next? One thousand bad actors attack in the SolarWinds' misstep, right? The sky is falling!
Frightened yet?
Changes are evident. Let me offer two examples:
Lacework
The cybersecurity outfit Lacework has just allowed about 20 percent of their workforce to find their future elsewhere. Uber, perhaps? Piece work via Fiverr.com? A for-fee blog on Substack, the blog platform with real journalists, experts, pundits, wizards, etc.?
"Cloud Security Firm Lacework Lays Off 20% of Staff
" reports:
A well-funded startup in the cybersecurity industry, Lacework, has become the latest tech firm to disclose a major round of layoffs amid fears of a broader economic slowdown. In a statement provided to Protocol, Lacework confirmed that the layoffs impacted 20% of its employees, in connection with what it called a "decision to restructure our business."
Is the number of future hunters let loose in the datasphere accurate? The article points out that Lacework used the outstanding Twitter to say, 20 percent was a "significant overestimate." Whom does one believe? In today's world, I have to hold two contradictory statements in my mind because I sure as heck don't know why a hot sector with a well funded company is making more parking available and reducing demand for the ping pong table.
Cybersecurity Does Not Work
The second example I noted an advertisement in my dead tree version of the Wall Street Journal. Here's the ad from the May 26, 2022, publication: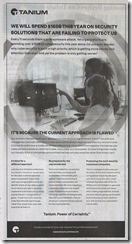 The text Tanium advertisement declares that cybersecurity systems fail their customers. The idea is that there are many cybersecurity vendors, and each offers pretty good barriers to a couple of threats. The customers of these firms' products have to buy multiple solutions. The fix? License Tanium, a "best place to work."
Stepping Back
The first example provides a hint that certain companies in the cybersecurity market are taking steps to reduce costs. Nothing works quite as well as winnowing the herd. My hunch is that Lacework is like a priest in ancient Greece poking at a sacrificial lamb and declaring, "Prepare for the pestilence and the coming famine. Have a good day."
The second example may signal that the policy of cybersecurity vendors not criticizing one another is over. Tanium is criticizing a pride of cyber lions. My hunch is that the gloves will be coming off. Saying that no other vendor can deal with cyber threats in the Wall Street Journal is a couple of levels above making snarky comments in a security trade show booth.
Net Net
Bad actors can add some of the Lacework castoffs to their virtual crimeware teams hiding behind the benign monikers of front companies in Greece and Italy, among other respected countries. The Tanium ad copy offers proof that existing cyber defense may have some gaps. The information will encourage bad actors to keep chipping away at juicy online targets. Change has arrived.
Stephen E Arnold, May 26, 2022
Comments