Tweeting in Capital Letters: Surfing on the SVB Anomaly
Like a couple of other people, I noted the Silicon Valley Bank anomaly. I have a hunch that more banking excitement is coming. In fact, one intrepid social media person asked, "Know a bank I can buy." One of the more interesting articles about the anomaly (I use this word because no other banks are in a similar financial pickle. Okay, maybe one or two or 30 are, but that's no biggie.)
"VC Podcast Duo Faces (sic) Criticism for Frantic Response to Silicon Valley Bank Collapse" reports:
The pair [Jason Calcanis (a super famous real journalist who is now a super wealthy advisor to start ups) and David Sacks (a super famous PayPal chief operating officer and a general partner in Craft Ventures)] were widely mocked outside of their circle of followers after the government stepped in and swiftly stabilized SVB. Note: Italics present a little information about the "duo."
The story quotes other luminaries who are less well known in rural Kentucky via the standard mode of documentation today, a Tweet screenshot. Here it is: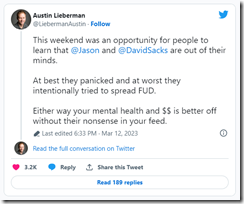 The tweet suggests that Messrs. Calcanis and Sacks were "panicked" and tried to spread that IBM sauce of fear, uncertainty, and doubt.
To add a dollop of charm to the duo, it appears that Mr. Calcanis communicated in capital letters. Yes, ALL CAPS.
The article includes this alternative point of view:
Nevertheless, supporters of the pair continued to lavish praise and credit them with helping to avert further financial chaos. "Plot twist: @Jason and @DavidSacks saw the impeding doom and rushed to a public platform to voice concerns and make sure our gov't officials saw the 2nd and 3rd order effects," another Twitter user wrote. "They and other VC's might've saved us all."
I find the idea that venture capitalists "saved us all." The only phrase missing is "existential threat."
When Messrs. Calcanis and Sacks make their next public appearance, will these astute individuals be wearing super hero garb? The promotional push might squeeze more coverage about saving us all. (All. Quite comprehensive when used in a real news story.)
Stephen E Arnold, March 16, 2023
Comments