Smart Software and a Re-Run of Paradise Lost Joined Progress

Note: This essay is the work of a real and still-alive dinobaby. No smart software involved, just a dumb humanoid.
I picked up two non-so-faint and definitely not-encrypted signals about the goals of Google and Microsoft for smart software.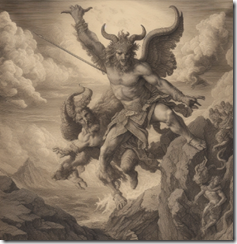 Which company will emerge as the one true force in smart software? MidJourney did not pick a winner, just what the top dog will wear to the next quarterly sales report delivered via a neutral Zoom call.
Navigate to the visually thrilling podcast hosted by Lex Fridman, an American MIT wizard. He interviewed the voluble Google wizard Chris Lattner. The subject was the Future of Programming and AI. After listening to the interview, I concluded the following:
Google wants to define and control the "meta" framework for artificial intelligence. What's this mean? Think a digital version of a happy family: Vishnu, Brahma, and Shiva, among others.
Google has an advantage when it comes to doing smart software because its humanoids have learned what works, what to do, and how to do certain things.
The complexity of Google's multi-pronged smart software methods, its home-brew programming languages, and its proprietary hardware are nothing more than innovation. Simple? Innovation means no one outside of the Google AI cortex can possibly duplicate, understand, or outperform Googzilla.
Google has money and will continue to spend it to deliver the Vishnu, Brahma, and Shiva experience in my interpretation of programmer speak.
How's that sound? I assume that the fruit fly start ups are going to ignore the vibrations emitted from Chris Lattner, the voluble Chris Lattner, I want to emphasize. But like those short-lived Diptera, one can derive some insights from the efforts of less well-informed, dependent, and less-well-funded lab experiments.
Okay, that's signal number one.
Signal number two appears in "Microsoft Signs Deal for AI Computing Power with Nvidia-Backed CoreWeave That Could Be Worth Billions." This "real news" story asserts:
… Microsoft has agreed to spend potentially billions of dollars over multiple years on cloud computing infrastructure from startup CoreWeave …
CoreWeave? Yep, the company "sells simplified access to Nvidia's graphics processing units, or GPUs, which are considered the best available on the market for running AI models." By the way, nVidia has invested in this outfit. What's this signal mean to me? Here are the flickering lines on my oscilloscope:
Microsoft wants to put smart software into its widely-used enterprise applications in order to make the one true religion of smart software. The idea, of course, is to pass the collection plate and convert dead dog software into racing greyhounds.
Microsoft has an advantage because when an MBA does calculations and probably letters to significant others, Excel is the go-to solution. Some people create art in Excel and then sell it. MBAs just get spreadsheet fever and do leveraged buyouts. With smart software the Microsoft alleged monopoly does the billing.
The wild and wonderful world of Azure is going to become smarter because… well, Microsoft does smart things. Imagine the demand for training courses, certification for Microsoft engineers, and how-to YouTube videos.
Microsoft has money and will continue to achieve compulsory attendance at the Church of Redmond.
Net net: Two titans will compete. I am thinking about the battle between the John Milton's protagonist and antagonist in "Paradise Lost." This will be fun to watch whilst eating chicken korma.
Stephen E Arnold, June 5, 2023
Comments