Does the NY Times Want Celebrity Journalists?

Note: This essay is the work of a real and still-alive dinobaby. No smart software involved, just a dumb humanoid.
I read "In the AI Age, The New York Times Wants Reporters to Tell Readers Who They Are." subtitle is definitely Google pet food:
The paper is rolling out enhanced bios as "part of our larger mission to be more transparent," says the Times' Edmund Lee, and "as generative AI begins to creep into the media landscape."
The write up states:
The idea behind the "enhanced bios," as they are being called, is to put more of a face and a name to reporters, so as to foster greater trust with readers and, as more news elsewhere is written by generative AI, emphasize the paper's human-led reporting.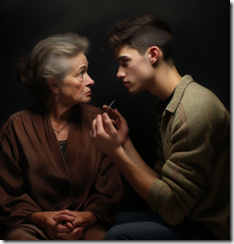 "I am sorry, mom. I cannot reveal my sources. You have to trust me when I say, 'Gran is addicted to trank.'" Thanks, MidJourney. Carry on with the gradient descent.
I have a modest proposal: Why not identify sources, financial tie ups of reporters, and provide links to the Web pages and LinkedIn biographies of these luminaries?
I know. I know. Don't be silly. Okay, I won't be. But trust begins with verifiable facts and sources as that dinobaby Walter Isaacson told Lex Fridman a few days ago. And Mr. Isaacson provides sources too. How old fashioned.
Stephen E Arnold, September 28, 2023
Comments