What Is for Lunch? A Digital Hot Dog or Burger?

Note: This essay is the work of a real and still-alive dinobaby. No smart software involved, just a dumb humanoid.
I read "EU Warns Elon Musk after Twitter Found to Have Highest Rate of Disinformation." My hunch is that the European Union did not plan on getting into the swamps of epistemological thought. But there the EU is. Knee deep. The write up includes a pointer too research about "disinformation."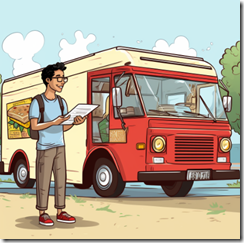 "Do I want a digital hot dog or a digital burger?" The young decider must choose when grazing online. He believes he likes both hot dogs and burgers. But what is the right choice? Mom will tell him. Thanks, MidJourney, you gradient descent master.
The cited article states:
On Twitter, she [European commissioner V?ra Jourová] said "disinformation actors were found to have significantly more followers than their non-disinformation counterparts and tend to have joined the platform more recently than non-disinformation users".
The challenge in my mind is one that occupied Henri Bergson. Now the EU wants to codify what information is "okay" and what information is "not okay." The point of view becomes important. The actual "disinformation" is "information." Therefore, the EU wants to have the power to make the determination.
Is it possible the EU wants to become the gatekeeper? Is information blocked or deleted "gone"? What about those who believe the "disinformation"? Pretty exciting and probably a bit problematic if the majority of a population believe the "disinformation" to be accurate. How does one resolve this challenge?
Another committee meeting to neutralize "disinformation" and the technologies facilitating dissemination? Sounds like a good next step? What's for lunch?
Stephen E Arnold, September 28, 2023
Comments